Last updated on March 30, 2023
Caleb Lynn has always been a builder. 
In his early years, he built things with Legos. Now, he's learning more advanced skills on how to build things as a student in Dallas College's Welding Technology program.
"I've always had a knack for building things," said Lynn, who is in his first year at Dallas College after graduating from Cedar Hill High School in 2022.
Asked what makes welding fun, Lynn didn't hesitate in saying: "It's the handiness of it … and the hard work."
Hard work? Yes, Lynn embraces it given what he's been through so far in his life.
As a two-time cancer survivor, Lynn has faced more than most his age. So, it's no surprise that he's chosen one of the more demanding professions.
How tough is welding? Just ask Dallas College instructor Teo Andrade.
"You've got to handle high heats, cold weather, long hours, long shifts," he said. "It takes a different mindset to do it."
Lynn certainly has that mindset, which became evident quickly on a recent Tuesday afternoon. Lynn honed his skills as a welder in Andrade's intro to oxyfuel welding and cutting course on the Mountain View Campus.
"Welding is not easy by any stretch," Lynn said. "I had a hard time in high school. It wasn't easy, just like my story. But, once you go through it enough times, you know how to handle it and learn."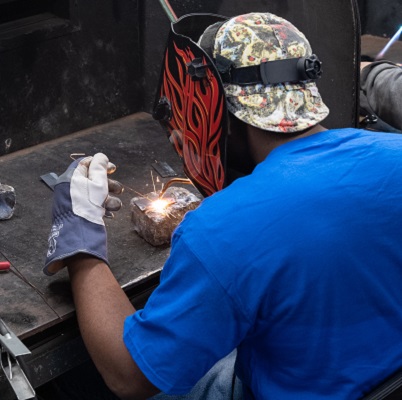 Fighting Cancer
At 8 years old, Lynn had a growth behind his right ear that grew to the size of an orange. Doctors diagnosed it as rhabdomyosarcoma, a form of cancer in the skeletal muscles. Lynn underwent the necessary treatments and was considered cancer free until it returned when he was 13 years old.
The second time around required a 16-and-a-half-hour surgery to remove a tumor and soft tissue. Lynn has also undergone multiple facial reconstruction surgeries.
Through it all, though, Lynn has kept his spirits up. He's persevered through months of chemotherapy and radiation to chase his dreams of becoming a welder.
Asked how battling cancer has put life in perspective, Lynn smiled and said: "I totally have more appreciation for it. I find it as a positive, as an extra little step. Like, I've gotten through all of that and now I'm doing this, it has taught me perseverance."
Lynn is proud of the fact that he rarely took pain medicine during his treatments, saying: "I just wanted to go through it."
Lynn's story is one of inspiration, especially given the strength and toughness he showed at a young age. Lynn, despite having limited movement in his neck following surgeries, went on to play on his high school football and baseball teams at Cedar Hill.
Even though Lynn doesn't enjoy harping on his past, he embraces the idea that his story should be shared.
"I feel that I can reach people in a different way because of what I went through," he said. "I can tell them that life is not going to be easy. It never really is, but you've got to push through. If not, you're wasting your life."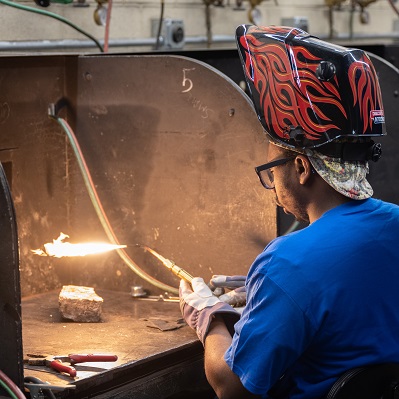 Pursuing Welding
Nobody would consider a welding career a waste these days. Metal is everywhere — cars, tools, pipes, sports medals. As Dallas College's welding program states, "Our world's infrastructure depends on metals, which means welders are in high demand."
Lynn has picked a promising profession that has a high job growth rate in the coming years with some estimating a welder shortage of 500,000 nationwide by 2030.
Most importantly for Lynn, it's a career that fits his personality as his dad, Carlos, pushed him toward a welding career.
"In high school, I didn't know what I wanted to do but we had certain pathways we had to pick, and my dad told me to do welding," Lynn said. "I've just been in it ever since."
Lynn will become the first welder in his family and is excited to be training at one of the top welding schools in Texas.
"Dallas College has been amazing. I've been able to hone my skills and do new processes," he said. "It's been good. I've been practicing and getting better."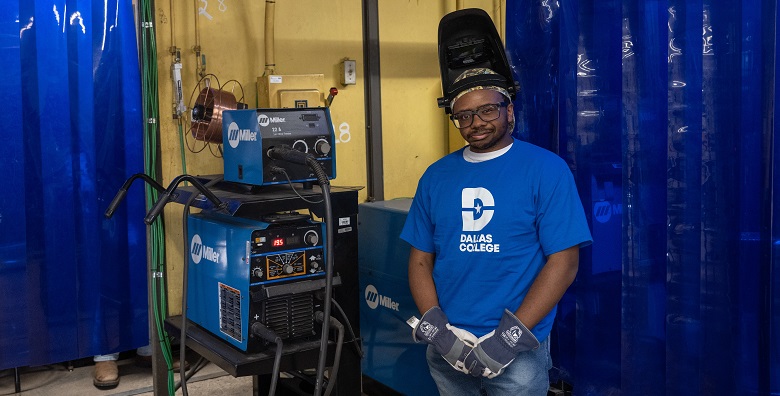 This story and others like it can be found in the Student Newsletter. Check your Dallas College email to see the latest edition.