Do you know a good candidate for the Sr. Director position?
By Georgeann Moss, Sr. Director of Sustainability
After almost 25 years of employment, I am retiring from Dallas College on Feb. 24. It has been my great honor and privilege to get to know many of you over the years since Dallas College (then called Dallas County Community College District) hosted the first Sustainable Dallas Conference in 1996.
We have accomplished a great deal during that time, but still have much more work to do. I will continue to volunteer in the community and hope to reconnect with you in the future as we seek sustainable solutions that ensure North Texas has a healthy environment, a thriving economy and equity for all!
If you know someone who would be a good candidate for the Sr. Director of Sustainability administrator position at Dallas College, please send them to our online job site.
The position should be posted within the next couple of weeks.
Dallas College Athletes Learn To Recycle at the Annual Race to Zero Waste Basketball Game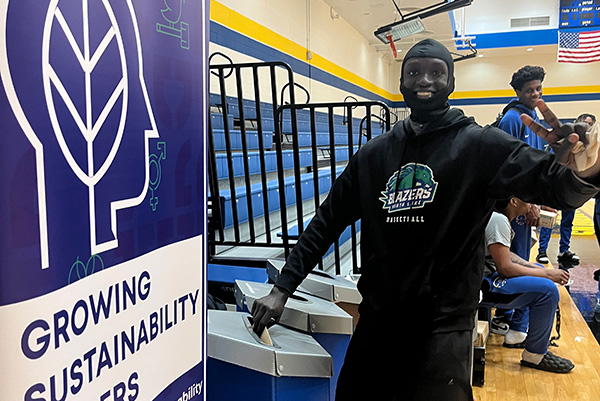 On Feb. 11, the North Lake Blazers defeated the Mountain View Lions 100-69. Both teams delivered a powerful performance on the court, and an even better one off of it. In celebration of the annual Race to Zero Waste competition, sponsored by the Dallas College Sustainability Department, the Blazers and the Lions stayed after the game to learn the basics of recycling. Faye Bajo, Assistant Director for Outreach and Engagement, Ingrid Alcocer Loredo, Sustainability Coordinator for Metrics and Recognition, and Ted Spradley, Sustainability Coordinator for Facilities and Environmental Services, were on hand to help student athletes and fans sort their waste into either compost, recycling or landfill trash bins.
The Race to Zero Waste is a friendly competition and benchmarking tool for college and university recycling programs to promote waste reduction activities. Over an eight-week period each spring, colleges across the nation report the amount of recycling and trash collected each week. In turn, they are ranked in various categories based on who recycles the most and who has the best recycling rate. The rate is the percentage of total waste and which schools generate the least amount of combined trash and recycling.
Ring Deng (pictured above), No. 21 of the North Lake Blazers, was the first to participate in the Race to Zero Waste competition on the Mountain View Campus.
Recycling can be overwhelming when there are several types of materials to dispose of. Avoid the stress and complications associated with recycling by keeping it simple and remembering the basics.
Recycle bottles, cans, paper and cardboard.
Recycling items should be as clean, empty and dry as possible
Do not recycle plastic bags
In February and March, the Dallas College Sustainability team will track the recycling and waste on each of the seven campuses. The 2023 results will serve as a benchmark for future Race to Zero Waste competitions. We hope that the bar will be set high. If you find yourself on a Dallas College campus, find the nearest recycle bins and help us win!
Look out for our April Newsletter to see the results.
Webinar: Susan Alvarez Explains the City of Dallas Comprehensive Environmental Climate Action Plan
Dallas residents are already familiar with Texas' extreme weather—from flooding and storms, to heat waves and drought. By 2050, Dallas is likely to experience a five-degree Fahrenheit increase in mean temperature during summer months if global greenhouse gas emissions continue to increase. Climate models also predict a decrease in overall annual precipitation, and an increase in the frequency, intensity and length of severe droughts.
The Comprehensive Environmental and Climate Action Plan (CECAP) was created by the City of Dallas' Office of Environmental Quality and Sustainability to address the effects of climate change in Dallas. Through the goals and concrete actions outlined in the plan, Dallas can achieve significant and measurable reductions in carbon emissions, enhance environmental quality for our most vulnerable residents and create a more sustainable infrastructure that can withstand the negative effects of climate change.
Speaker Bio: Susan Alvarez is the assistant director of the City of Dallas' Office of Environmental Quality and Sustainability. She has a bachelor's degree in civil engineering with a minor in geology from Rice University, and postgraduate work in water resources. She is a registered professional engineer in Texas and five other western states, and is a certified floodplain manager, and master naturalist in Texas. She is currently focused on implementing the Comprehensive Environmental and Climate Action Plan, the Comprehensive Food and Urban Agriculture Plan, the City's participation in the City Business Climate Alliance and other related efforts.
Upcoming Special Event: Meet Social Media Influencer Niha Elety at North Lake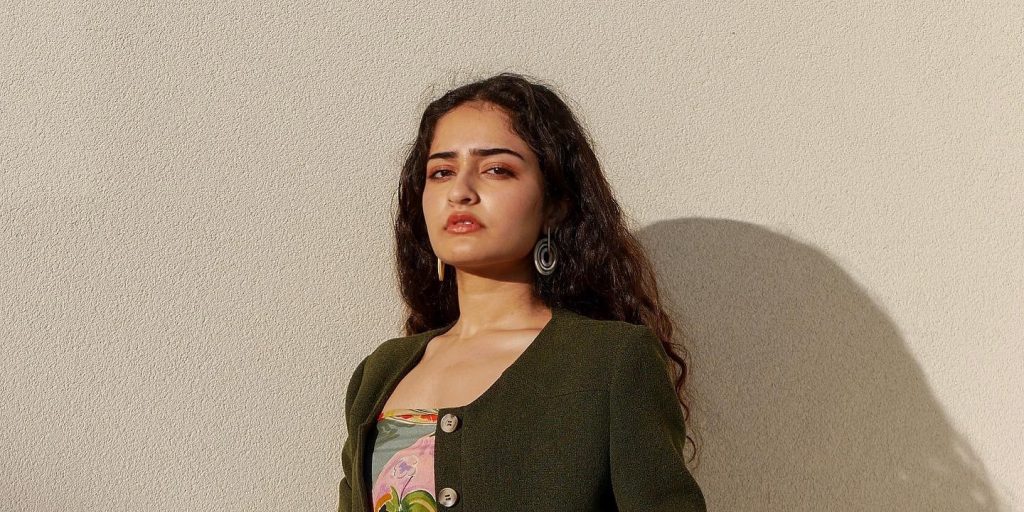 Social media influencers have opened a new front in consumer purchasing by doing cheap "fashion hauls" from fast-fashion brands such as Shein and Princess Polly. These influencers' reviews of clothing for their followers are altering our relationship with clothes and consumption. Yet, in Black, Indigenous and People of Color (BIPOC) communities, there is a rich and deep relationship with clothing and textiles that still thrives. Sustainable fashion blogger Niha Elety, who boasts more than 30,000 followers, will join us to talk about the intersection of textiles, culture and BIPOC communities and how we can implement Earth-friendly practices in our own daily fashion and consumption.
This event is co-hosted by the World Affairs Council of DFW and Dallas College Sustainability.
Dallas College students, faculty and staff can attend for free! (Enter the number of tickets needed under the Collegiate World Affairs Student option when registering.)
When: Thursday, April 13, 2023 | 6-8 p.m.
Where: Dallas College North Lake Campus
5001 N. MacArthur Blvd.
Irving, TX 75038
Join Us for the Cedar Valley Arbor Day Ceremony and Celebration!
Join the Cedar Valley Student Green Club, college employees and community volunteers to celebrate Arbor Day on the Cedar Valley Campus! Four trees, donated by the Texas Trees Foundation and 30 fruit trees, donated by The Giving Grove will be planted in honor of 2023 Arbor Day.
The day will begin with a ceremony, where we will hear from Dallas College Cedar Valley leadership, the Texas Trees Foundation, and The Giving Grove. We invite you to spend the rest of the day with us planting trees, cleaning up the campus garden, and learning how to identify trees with GIS technology.
Where: Dallas College Cedar Valley
3030 N. Dallas Ave.
Lancaster, TX 75134
(Ceremony located outside of Building I)
When: Thursday, March 2, 2023
10 a.m. to 2 p.m.
Please contact Dr. Brenda Floyd with any questions at BrendaFloyd@DallasCollege.edu.
Join the Spring Dallas College Sustainability Book Club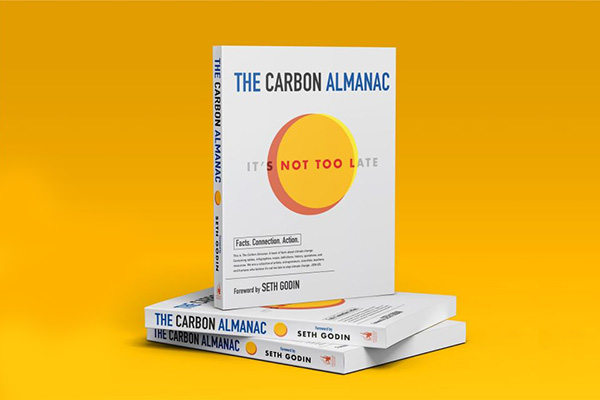 Sign up now for the Spring Dallas College Sustainability Book Club! We will read and discuss "The Carbon Almanac: It's Not Too Late" by Seth Godin.
"The Carbon Almanac: It's Not Too Late" is a book of climate change infographics and facts that was published last summer. Seth Godin compiled it with more than 300 contributors from around the world. He calls it his most important project to date because of the urgent challenge to counter climate change. He hopes it will help to "coordinate the actions of a billion people, to inspire and connect, and to rewire our economy" to slow climate change.
Rich with essays, graphs, cartoons, tables and resources, the almanac provides credible and authoritative information on carbon and its impact on the climate that is easy to access and share, and that people like us can understand.
Seth Godin recently spoke at our 12th annual Sustainability Summit, where he discussed the inspiration behind "The Carbon Almanac: It's Not Too Late" and its significance.
Join this book club to learn the basics of climate change and how we all have an impact on the environment around us.
Book club participants will meet every two weeks via Teams beginning Feb. 22.
A copy of "The Carbon Almanac: It's Not Too Late" will be provided to all participants free of charge as supplies allow.
Please contact Faye Bajo at FDavis@DallasCollege.edu to reserve your spot!
Follow Us on Social Media!
Follow Sustainable Dallas College on Facebook, Twitter and YouTube! Stay up to date on our upcoming sustainability events, and connect with other people passionate about creating a sustainable way of life.