Last updated on March 6, 2023
Iesha Jackson recalled the nerves going into Day One as a new assistant coach for the North Lake men's basketball team. At 5-foot-2, Jackson stood seven inches shorter than the shortest player on the team. And she was a woman entering what has mostly been a man's world.
"I was a little bit worried," she said. "I didn't know if they were going to respect me as a coach. I didn't know if they were going to listen to me. I didn't know if they'd trust how I wanted to develop them."
It didn't take long, though, for the nerves and worry to go away.
"After the first interaction, the players were bought in," she said, smiling. "They wanted to get coached. They wanted answers on how to develop, how to get better, how to work better. There was never an issue, which was a shock from my own expectations."
It's paid off for all involved as North Lake won the NJCAA Division III South Central District Championship and is headed to the NJCAA Division III National Tournament March 15-18 in Herkimer, New York.
North Lake is the defending NJCAA Division III national champions, and are riding a 21-game winning streak into the postseason.
As we celebrate Women's History Month in March, it's worth applauding Jackson and the impact she's made. She's among just a handful of women countrywide coaching men's basketball at the college level.
"I wasn't trying to make history by hiring her or anything like that," North Lake head coach Josh Mills said. "I just want good people in the program. It's hard to find good assistants no matter what level you're at.
"Iesha was a former head coach, I liked that. I like her perspective on the game. And she helps with a lot of things outside basketball, coming up with great graphics for our social media and staying on top of our guys academically."
Player Perspective
Most players want to become the best version of themselves in their respective sport. That means being coached up, regardless of who is doing the coaching.
North Lake has a roster full of those dedicated players, so it came as no surprise when they embraced being coached by Jackson.
"It doesn't matter who is coaching as long as they want the same thing that we want and that is to win another championship," sophomore forward Da'Ryan Williams said. "Coach Jackson is serious about what she's doing and that's the only thing that matters."
Freshman guard Randy Woolf echoed those thoughts, saying Jackson has been a positive influence on and off the court.
"She's been great to have around. She's basically another head coach," Woolf said. "It doesn't matter that she's a woman coach. If she was a male coach, it would make no difference. I'm just glad she's part of our team."
For Jackson, coaching men's basketball has been an adjustment after spending most of her days on the women's side. Basketball is basketball and players are players, but the nuances of the game are different.
"Guys can play above the rim, which changes a lot of different aspects of it," she said. "Ultimately, it's basketball, so there's a lot of similarities, but the game is different."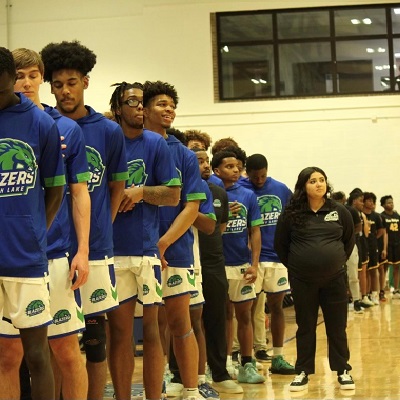 Landing at Dallas College
Jackson is a born and bred Californian. She played college basketball at William Jessup University, a private Christian university in Rocklin, California, that competes at the NAIA level. She then started her coaching career, including a stint as an assistant women's coach at Folsom Lake College, a community college in Folsom, California.
But her husband's job brought the family to Dallas-Fort Worth more than a year ago, which is when she visited the North Lake Campus. Jackson connected with former North Lake men's basketball coach Tim McGraw on her impromptu visit and was soon the "official clock person" for the 2021-22 season. Then, after McGraw retired and Mills was promoted to head coach last offseason, Jackson found herself as an assistant on Mills' staff.
"Honestly, I just walked up to North Lake looking at different colleges and seeing what was going on with athletics," Jackson said. "That's how it happened, just me showing up to campus one day. I met the right people."
It's become a perfect match, especially for someone such as Jackson. She is a firm believer in the community college experience, particularly for student athletes.
"A lot of people are like, 'D-1 or bust.' That's a common saying," Jackson said. "But, for a lot of athletes, they need an extra year or two to develop. Or they need that extra little push in how to handle academics in college. It's just that extra year or two that really helps."
Finding Inspiration
Jackson is motivated by other women who have found success coaching men's basketball.
At the NBA level, Kristi Toliver is an assistant with the Dallas Mavericks. Jenny Boucek, a former Mavs assistant, is with the Indiana Pacers. Kara Lawson was on the Boston Celtics staff before landing the head women's job at Duke, and Becky Hammon was a highly regarded assistant on the San Antonio Spurs staff for eight seasons before taking over the Las Vegas Aces of the WNBA.
In the college ranks, Tamara Moore is the head men's basketball coach at Mesabi Range College in Virginia, Minnesota. Corin "Tiny" Adams is in her third season as an assistant for Loyola University Maryland men's team.
"Knowing other women have had success like Kristi Toliver and Becky Hammon, I knew I could do it too," Jackson said. "This isn't just an unforeseen thing that hasn't happened."
Jackson is fortunate to have supportive mentors along the way, too. At Folsom Lake, she coached under Ali Mollet, who has turned that program into one of the top community college teams in California.
At North Lake, she's had the support of McGraw and Mills.
"I love Dallas College," she said. "I walked onto campus and automatically felt welcomed and a part of it. I was literally just looking to see what was going on with athletics and look what it's turned into."
Arguably the most impressive thing, though, is Jackson juggling her coaching duties while being a mother of two young children. Her son is 3 1/2 years old, and she recently welcomed a daughter in November.
"I've had to learn it's OK to do video calls when talking about academics and things like that, instead of being in person like a traditional coach," she said. "It's been about finding a balance between staying connected with the players while also being a mom and taking time to recover for myself."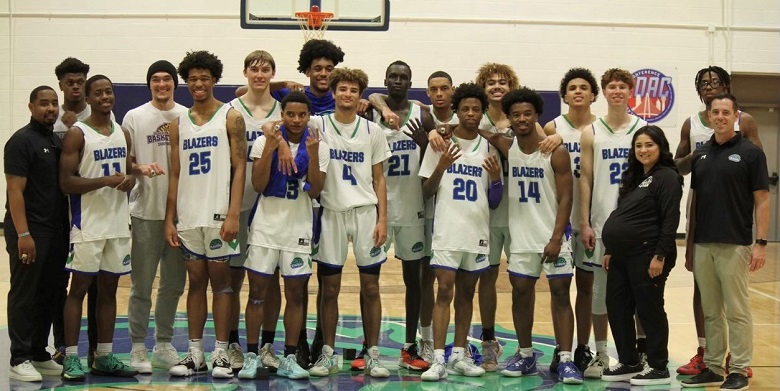 This story and others like it can be found in the Student Newsletter. Check your Dallas College email to see the latest edition.