Last updated on February 9, 2023
Albert Rodriguez is a busy man these days.
He's an assistant men's soccer coach for Dallas College's Richland Thunderducks, which won a fifth consecutive and 11th overall NJCAA DIII national championship last fall. He's a physical education teacher at Stevens Park Elementary School in Dallas. Oh, and he's the leading scorer for the Dallas Sidekicks, a professional indoor soccer team.
"My schedule is crazy," Rodriguez said, laughing. "There's days that we have 6 a.m. practices with the Sidekicks then I have to rush to Stevens Park for the day. Luckily, the spring season (at Richland) has not started yet. But here in the next month and a half, we'll see how it goes."
For now, it's going just fine. Rodriguez has a team-leading 10 goals for the Sidekicks and ranks among the top scorers in the Major Arena Soccer League (MASL) through Jan. 19.
The Sidekicks are traveling to California this weekend for two games against the Empire Strykers. The Sidekicks' next home game is Sunday, Jan. 29, at the Credit Union of Texas Event Center in Allen, with several more home games scheduled in the coming weeks as the season stretches into early April.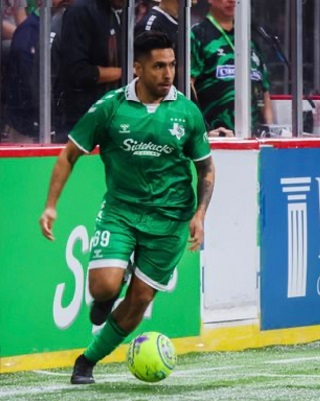 Scoring Machine
Rodriguez, a 5-foot-8-inch, 170-pound forward, has always had a knack for finding the back of the net.
Most Thunderducks fans will remember his playing days at Richland, highlighted by his legendary performance in the 2006 NJCAA DIII national championship game. Rodriguez scored all three goals — a coveted hat trick! — in a 3-1 victory over Herkimer County (New York), earning MVP honors for the postseason tournament.
The 2006 Thunderducks roster also included notable Richland alum Tito Salas and current head coach Raul Herrera. In fact, Salas is the reason Rodriguez ended up at Richland after starting his college career at Dallas College's Cedar Valley Campus.
"I've known Tito since I was 8 years old. We played on the same club team," said Rodriguez, who was born in Monterrey, Mexico, but grew up in the Oak Cliff area.
"When he graduated high school, Tito said, 'Hey, I'm going to Richland. You should come with me.' So that's how I ended up at Richland in '06."
It paid off as the team won a national championship and all three — Rodriguez, Herrera and Salas — went on to play at four-year schools.
Rodriguez landed at Midwestern State University in Wichita Falls. He earned NCAA Division II First Team All-American honors as a senior, finishing with a team-leading 17 goals.
Rodriguez, now 35, has returned to competitive soccer for the first time in several years, and has picked up where he left off. He's scored multiple goals in three of the first six games for the Sidekicks, including a four-goal performance against the Mesquite Outlaws on Dec. 29.
"It helps that I have great professional teammates on the Sidekicks. If it wasn't for them, I wouldn't be scoring as many goals as I am now," he said. "And I've always strived to be the best at what I do, whether it's on the field or teaching or coaching."
Inspiration Mode
Rodriguez making his professional indoor soccer debut at age 35 is somewhat reminiscent of former baseball player Jim Morris. Morris went from small town high school teacher in Big Lake, Texas, to MLB pitcher at age 35 in 1999, and his story landed on the big screen in the Disney movie "The Rookie."
Rodriguez's story may not reach Hollywood, but he hopes it serves as similar inspiration to current and future Thunderducks. Rodriguez hopes the players see it's possible to play at a higher level if you're willing to put in the work.
"One of our main goals at Richland is to transfer out as many players as possible to a four-year school and play at a higher level," he said. "You have to have that mentality to compete at the next level. Me doing this, hopefully it inspires, and it helps our players out whenever they leave Richland."
Conversely, returning to competitive soccer at this stage in his life has provided Rodriguez with a new perspective on what today's players go through to compete at a high level.
"I'm the one who's always telling our guys, 'Take an ice bath. Hydrate. Eat well.' It's funny in a way because now I'm having to tell myself that," Rodriguez said, chuckling. "I'm also not 18, 19, 20 years old anymore, so I have to take care of my body a little bit better than when I was younger."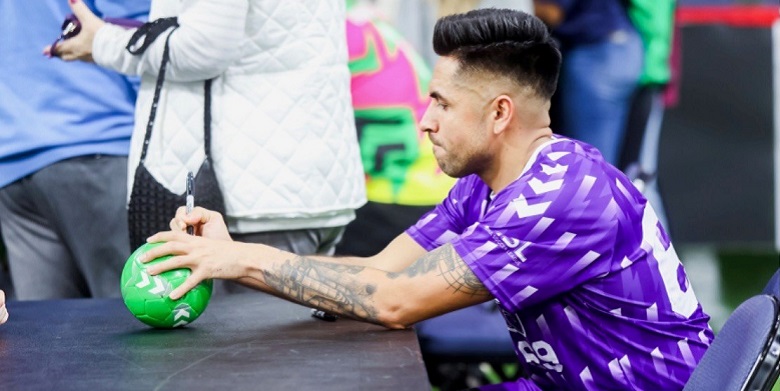 Must-See Event
Regardless of how strong your soccer interest is, the Dallas Sidekicks are a must-see event with players such as Rodriguez leading the way.
These aren't typical outdoor soccer matches, either. It's a high-scoring, fast-paced affair in a family-friendly environment.
"How I describe our game to casual fans is that indoor soccer is pretty much hockey with a soccer ball," Rodriguez said. "You have line changes. You have power plays. There's a lot of goals. You can see four or five goals in a three-minute stretch. I'm in for a 60- or 90-second shift and then I'm out. I've never done anything like it.
"It's crazy."
Kind of like Rodriguez's schedule.
This story and others like it can be found in the Student Newsletter. Check your Dallas College email to see the latest edition.