Daniel Alvarenga is a sandwich aficionado.
He loves making them. He loves eating them. He loves talking about them. Heck, he even created a sandwich "inspiration board" in the culinary program kitchen at the Dallas College El Centro Campus.
So, with National Sandwich Day approaching on Thursday, Nov. 3, there's no better student to answer the burning sandwich questions. Alvarenga is ready to settle the age-old debate on whether a hot dog is a sandwich.
"A hot dog is a sandwich, according to definition," he said. "But culturally, there's so much more to a hot dog."
Wait, so what's the answer?
"The typical definition of a sandwich would be one or more pieces of bread that contains a filling and a spread," Alvarenga said. "That's the general definition of a sandwich, in which a hot dog fits. But culturally here in America, the hot dog has become much more of a staple on its own rather than being in the same group as a sandwich."
OK, moving on to other pressing questions like if a PB&J should be cut vertically or diagonally?
"I prefer diagonal, but I think a nice vertical cut stacked up on each other looks amazing too," he said.
How about toasted or untoasted bread?
"I prefer toasted," Alvarenga said. "I like my bread warm, crunchy and crispy, but still soft inside. A good sandwich has to have that nice variable within the bread."
Is crust necessary?
"I don't particularly dislike the crust on a normal piece of white bread, but I'd rather not eat it," he said, smiling.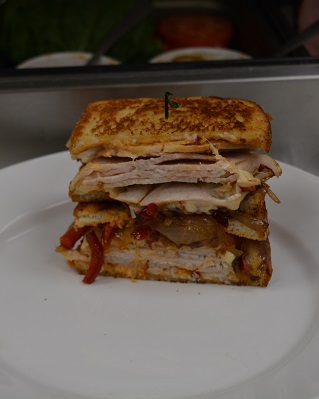 Say What? Pizza Enters Convo
Just when it seemed like Alvarenga answered every question about sandwiches imaginable, he offered this unprompted take.
"You know, if you think about it, pizza is a sandwich," he said. "We have pita and naan, which are considered sandwiches. A lean piece of dough that you put toppings on is basically a sandwich. So a pizza is a sandwich."
Upon further review of Alvarenga's "inspiration board," pizza did land on it. So did a burrito.
As he explained on the burrito front, the state of New York ruled that they are sandwiches for tax purposes. The state of Pennsylvania, however, has deemed that burritos don't fall in the sandwich category.
"There's so many kinds of sandwiches, closed and open sandwiches," Alvarenga said. "To me, a pizza is an open-faced sandwich. A burger is technically a sandwich, too. A burrito is legally a sandwich in New York. Of course, you've got your nostalgic childhood favorites like ham and cheese or PB&J."
At the end of the day, though, one sandwich still reigns supreme as far as Alvarenga is concerned — the French version of a ham and cheese.
"I love the croque monsieur," he said. "That's my favorite. It's really basic, but it's amazing."
Sandwich Passion
Alvarenga could talk about sandwiches for hours.
His passion was evident as he whipped together a cold cut ham sandwich and then made a grilled turkey sandwich with his homemade spicy chipotle mayo during this interview. Both earned enthusiastic thumbs up.
Alvarenga described his passion for cooking coming from his mom.
"She's not a restaurant cook, but she loves to cook, and she inherited that from my grandma," he said. "It's been passed down generationally."
Alvarenga was born in El Salvador but has spent the majority of his life in the United States. Still, he loves to incorporate his family's roots into his dishes.
"El Salvador is really tropical with a lot of forests and jungles," he said. "There's just a lot of freshness there, so I do take inspiration by using a lot of mangos and pineapples."
It's a passion that he's turned into a budding career, one of the many feel-good stories coming out of the Culinary, Pastry and Hospitality Center.
"I'm here at Dallas College and working full time at this amazing five-star hotel," Alvarenga said. "So I'm doing what I love."