Preston Nguyen is a freshman in the culinary program at Dallas College El Centro Campus. He's also a world champion chef.
At Monday's final round of the World Food Championships, Nguyen triumphed and claimed first place and a $7,500 prize, defeating more experienced veteran chefs from around the globe.
The second-place contestant, Fairmont Hotel executive chef Jean-François Fortin, came into the competition with 22 years of professional experience. Nguyen, who is just 18 years old, hasn't even taken baking class yet.
In the final challenge, chefs had to use an assigned featured ingredient, Minor's Masala Curry Flavor Reduction, and an X-factor of their own choosing to dazzle the judges. Nguyen honored his half-Vietnamese heritage with his X-factor: three different preparations of beef. He served cured, smoke-infused and yakitori grilled beef with kimchi cucumbers, Asian fried cauliflower rice and fresh-baked bread. Each item, even the bread, used the featured ingredient.
Nguyen says that he was initially so focused on passing the first stage, he didn't look at the rules for the finals until he had reached them. He adds, "We didn't want to jinx ourselves by looking past the first round!"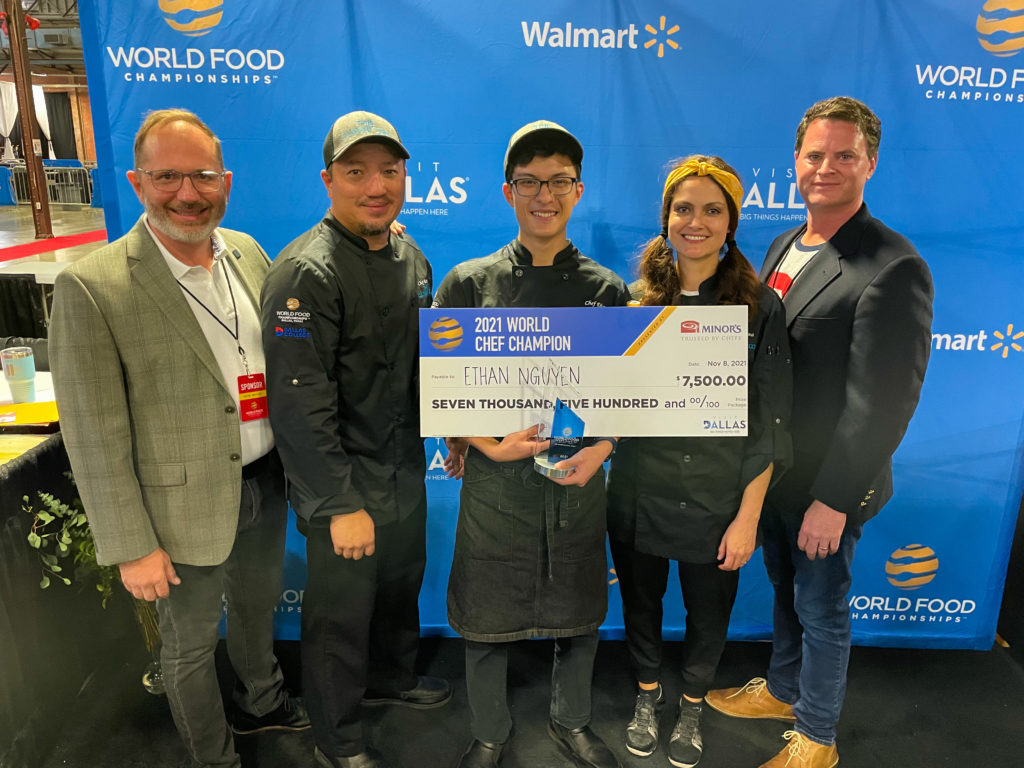 The family that cooks together
Each team consisted of a head chef and two assistants. Nguyen chose his parents. Emma Nguyen is a trained pastry chef and Peter Nguyen is an attorney and realtor; both of his parents took culinary classes at El Centro together 25 years ago. Preston calls his father "the sauce king and flavor guru," and his mom the "pastry charmer."
Peter is taking El Centro classes again now as a full-time student—right by Preston's side.
"We are actually in the same cooking classes together," Preston says. "Our relationship is probably different than most fathers and sons. We hang out and eat together when we can. He's a very talented person and knows stuff on virtually everything, so I learn as much as I can from him."
Before entering El Centro, Preston studied culinary arts at the Dan Dipert Career Training Center in Arlington. He now works part-time at Prince Lebanese Grill, one of Arlington's most beloved Mediterranean restaurants.
What's next for the champ
Nguyen's $7,500 prize winnings will mostly support fixing up a commercial kitchen to use for catering. He will also tithe 10% to his church.
He says his bigger career goals include more competitions and learning the craft by working at creative restaurants.
"Long term, I would like to be a recognized culinary expert and hopefully have a media presence," he says. He'd like to eventually have a restaurant with a focus on high-end gastronomy with creative presentations.
But first, he has more competing to do.
Nguyen competed in the Chef category, but other World Food Championships entrants participated in specialty brackets focused on barbecue, original recipes, bacon, dessert and more. At the next stage, the WFC Final Table in South Carolina, Nguyen will go up against the other categories' champions.
That event takes place on the last weekend of April. Until then, Nguyen will be learning as much as he can from his classes and his parents.
"My focus now will be fish and seafood preparation and plating," he says. "I'm actually headed to the bookstore right now to get some books for research. I hope to take some of the advanced classes at Dallas College to get more techniques."
The Final Table winner will claim a $100,000 prize.