Last updated on August 25, 2017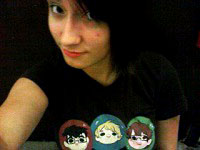 by Cherokee Bledsoe, one of our fall 2013 student bloggers, who is continuing to blog for us this spring
Hey, guys!
I'm just going to say what everyone else is thinking: Where did the year go? It seems like only yesterday I was a wide-eyed and innocent newbie at all of this college stuff. I'm sure there are several of you who are in the same boat I'm in, and you know what? I'm proud of us! Time to rock this spring semester!
There are several lessons I've learned since starting college in August. From learning that self-care is important to finding out that studying is actually beneficial, community college has given me tons of knowledge and some pretty awesome adulthood skills. Even now, when I thought I had figured out all of the fun life lessons possible, I'm still learning new things!
Taking a Chance
I'm going to fill you in a bit before I start harping in clichés. I'm not a very adventurous person. Roller coasters? Vacation plans? No, thank you! I've spent most of my life sitting happily in my little rut. The thought of trying new things always managed to stress me out before I even gave it a shot!
For some reason, I guess my brain decided that it was time to mix things up a bit. I remember the looks of absolute confusion when I told my family I was taking dance class. Dance class? Miss Cherokee "Never Leaves Her Room" Bledsoe, registering for a dance class?
I felt sick to my stomach the second I submitted my class registration. Up until class began, my head was swimming with all sorts of worries and regrets. What was I thinking? I'm the most un-athletic person I know!
For reasons I still can't wrap my head around, the second I stepped into that dance studio, every flicker of anxiety flew straight out of the door. From day one, despite the exhausting amount of exercise and the choreography that my ungraceful feet can't seem to handle, I have been having an absolute blast!
Lesson Learned
If I were able to go back in time and tell my past self how much I'm enjoying the class, I'm pretty sure that Past-Cherokee would think that all of the homework and essays have twisted my common sense! If you are in that situation, too, you might be thinking the same thing!
My first lesson of the semester: Try new things! Believe me. You might love it, or hey, maybe you won't be so keen on how it all turns out. Either way, try to step out of that cozy rut this spring and spice things up a bit!
(Geez, Cherokee. One cliché after another!)
***Read all of our student blogger posts and stay tuned for posts introducing our new spring student bloggers later this month.