Last updated on August 25, 2017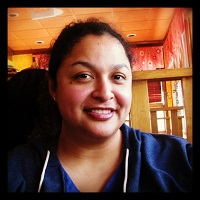 We're so excited to introduce you to one of the winners of our spring student blogger contest, Isa Booth! She will be blogging throughout the semester about college, her classes, her future plans and more. Here's more about Isa, in her own words:
My name is Isa Booth, and I attend classes at Brookhaven College. I'm a military veteran, a single mother of two teens and a full-time student. Therefore, if I am not doing homework or hanging out with my peeps (a.k.a. my kids) at the movie theater, I am sleeping, reading or binge watching whole series on Netflix.
I am taking full advantage of the Associates in Sciences degree program offered at Brookhaven because it will smooth my transfer to the University of North Texas, where I want to complete a bachelor's degree in information technology.
Getting involved in campus activities was an important part of my transition back into college life after a long hiatus. So, I joined some campus organizations: I am the secretary of the Brookhaven Student Veterans Association and a managing director for the Dallas Community Advocacy Project (a new political science club at Brookhaven).
I got to travel with the Navy and see more of the world than I would have been able to on my own. I hope to do more travel in the near future.
***Read all of our student blogger posts and stay tuned for posts from our other student bloggers later this month.