Last updated on October 8, 2019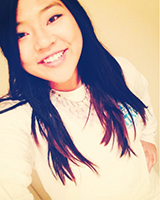 We're so excited to introduce you to one of the winners of our spring student blogger contest, Tina Tip! She will be blogging throughout the semester about college, her classes, her future plans and more.
Here's more about Tina, in her own words:
"Howdy, Friend!
My name is Tina and I am so excited to serve as a DCCCD spring blogger! I am many things: a Business Administration major (with a focus on human resources management and pre-law), a Brookhaven College student, a LeCroy Scholar, a political junkie, an avid Aggie athletics fan (GO SEC!), a frequent laugh-er and a compulsive shopper! This spring, I hope to deliver effervescent and engaging blog posts about college life and culture.
So….how did I pick my major? I interned for a company called Essilor, a contact lens manufacturer, as a human resources intern during the summer of 2011. While there, I got to learn about several functions of a human resource department: employee recruitment, training, retention, benefits, conflict resolution and compliance with employment laws. I quickly realized that my interest in business and social sciences could be merged into a practical and attractive focus: HR management! So, bam!
And, I am on the pre-law track because I am also interested in pursuing corporate and/or contract law, which, in many cases, requires direct contact with the human resources department.
I enjoy sleeping, shopping (as previously mentioned), exploring local parks with my dog Douglas, reading (mostly non-fiction books), trying out and reviewing new restaurants in the Dallas area, and being with the people I love most! What are your favorite things? Feel free to share your comments below, I'd love to get to know you!"
***Read all of our student blogger posts and stay tuned for posts introducing our other student bloggers later this month.