Last updated on October 8, 2019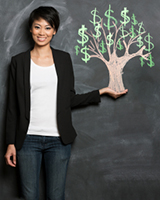 We're kicking off our Financial Literacy Week on a positive note with 10 easy steps to financial success. These steps are easy to understand, but sometimes hard to do!
We're hoping Financial Literacy Week will give you some guidance about how to be financially responsible in college and throughout your life.
Stay tuned for more Financial Literacy posts here and on social media every day this week, and let us know in the comments what you'd like us to cover.