Last updated on August 28, 2017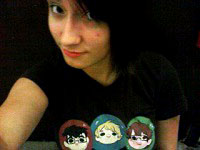 We're so excited to introduce you to one of the winners of our fall student blogger contest, Cherokee Bledsoe! She will be blogging throughout the semester about college, her classes, her future plans and more.
Here's a little more about Cherokee, in her own words:
"Hey there! My name is Cherokee Bledsoe, and I am currently at Mountain View College. I like video games, overusing commas, and being awful at talking about myself.
At the moment, I am just taking my basics, but in the future, I am hoping to go to the University of North Texas in Denton to major in special education. I want to be an elementary school special education teacher, and perhaps even open up my own center to help young children struggling with developmental disorders. I have always enjoyed writing and blogging, so I am beyond excited to be writing for DCCCD!"
***Read all of our student blogger posts and stay tuned for posts introducing our other student bloggers later this month.