What does Veterans Day mean to those who served our country?
"It's a time that most people are proud to be veterans," said Jacqueline Shorter, a Dallas College employee who served almost nine years in the Marine Corps. "When you're in, you're kind of over it and can't wait to be out. But, when you're out, there's nothing quite like the bond you made when you were serving. Transitioning to civilian life can be really difficult, but Veterans Day keeps us holding on to that identity. It plays a huge role for most people."
That identity is being part of the military family. Most veterans feel an instant connection whenever they meet a fellow veteran. They speak the same language. They have an inherent understanding of what each other went through even if the experiences and branches of service are different.
That's the type of culture and community Shorter and her fellow colleagues in Military-Connected Services are trying to build at Dallas College. As we celebrate Veterans Day this month, the school highlights four women veterans – Shorter, Maribel Cruz, Deandrea Montague and Melawn Dineen – who are working as program leads and on the front lines of the school's effort to become a welcoming place for veterans transitioning into civilian life.
"A lot of times these veterans get out of the military with no idea what the next step is," said Shorter, who based at the Eastfield Campus. "People feel lost in that transition, so I think what we do, and what we're working on, is helping these students learn how to navigate that transition."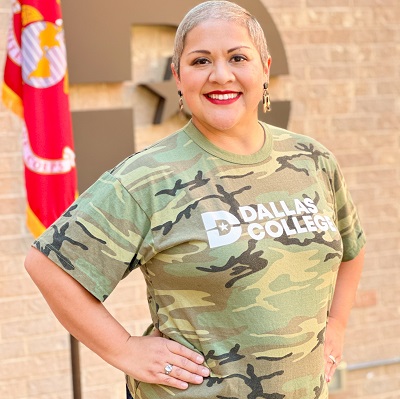 Called To Serve
The decision to join the military is unique for each individual.
Shorter mentioned her family's house burning down during her senior year of high school as a moment she did some serious "soul searching" and decided to join the Marines. Cruz was taking classes on the El Centro Campus when she visited a Navy recruiter with her younger sister and decided to join.
"I was in JROTC in high school, but I come from a very traditional Hispanic family and military was not something we did," said Cruz, who works out of the North Lake Campus. "But I reluctantly talked to a Navy recruiter and he made it seem pretty cool. My 13-year-old sister went with me and said, 'It's cool. You should do it.' So I did it."
Family played a key role in Montague's and Dineen's decisions, too, although in a different way. Montague grew up as a self-proclaimed "military brat" as both of her parents were in the Army, and her brothers and sisters also served. That's what led her to enlist in the Army.
"Being in the military is just a regular walk in the park for us," Montague said, laughing. "The military lifestyle is all I know."
For Dineen, the decision to join the Marines came when her brother returned from Iraq.
"He was injured and couldn't reenlist," she said. "So I was like, 'I guess it's my turn.'"
For all four veterans, their military experiences included highs and lows. Overall, though, it was positive with Shorter and Dineen marrying fellow Marines.
Shorter, who was stationed in Hawaii and Okinawa, Japan, worked in administration first and then became an aviation mechanic for UAVs (unmanned aerial vehicles), specifically the AAI RQ-7 Shadow.
Cruz spent the majority of her years in the Navy aboard the USS Cole, shortly after it had been restored following a terrorist attack in 2000 off Yemen. Montague was a supply specialist who served one deployment in the Middle East.
And Dineen, who now works out of the Eastfield Campus, spent her time as an aviation electrician technician working on the CH-46 helicopters.
All of them are using their military experience in bettering the Dallas College community.
"I used to troubleshoot aircrafts. It was very stressful because it was hot and everyone is yelling," Dineen said. "I come here and I'm still doing troubleshooting, but with people's lives. It's just as important.
"I know it sounds corny, but we literally change lives every day. Education really can be life-changing for our veterans."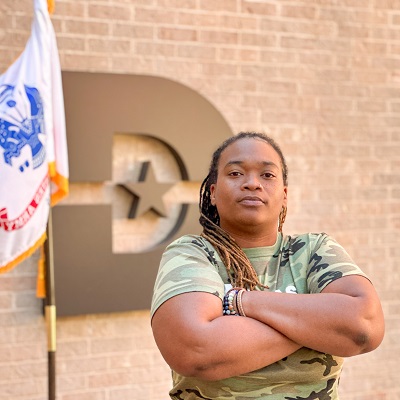 Rewarding Career
As Dineen said, even though they're no longer serving our country, these veterans have found rewarding careers at Dallas College.
Dineen and Cruz were both Dallas College students before choosing a career in the military, and later returned to school here. Dallas College is the first post-military job for Shorter. And Montague joined the team after working at Lone Star College in Houston.
Montague raved about the voice the Military-Connected Services team has when it comes to helping veterans make the transition from military to civilian life.
"When you leave the military, there's not a whole lot of guidance. You get a couple hours of briefing on how to survive," said Montague, who works out of the Cedar Valley Campus. "Realistically, that's not very sufficient. We work very hard to catch those veterans and help be the guidance they need to navigate through life as a civilian."
At the end of the day, it's about building a similar support system that veterans had in the military here at Dallas College. A safe space where veterans can reminisce about their time in the military, the good and the bad, with fellow veterans while building toward a post-military career.
"It's hard for a lot of people who weren't in the military to understand the lifestyle we were engulfed in," Cruz said. "When you come out, it feels very different. They know they're supposed to get a career and go to school, but they can feel very isolated in the classroom. Most of my students are 26- or 27-years-old, but their classmates are 18 and haven't seen or been through what they've been through.
"But when they come into our offices and a Marine meets a Marine, they instantly click. Those students continuously come back into our office. We want them to feel at home."