In This Month's Issue
How To Get Two Copies of "The Carbon Almanac" at No Charge!
Upcoming Events
Gardening With Neil: Getting Started With Your Veggie Garden
Get Two Free Copies of 'The Carbon Almanac' at the 12th Annual Sustainability Summit on Nov. 4
(if you are among the first 500 people to register)
"The Carbon Almanac: It's Not Too Late"
The afternoon keynote address will be given by Seth Godin, the organizer, instigator and coordinator of "The Carbon Almanac." Godin is a successful entrepreneur and speaker. He has written 20 best-selling books on marketing, entrepreneurship and leadership, which have been translated into 37 languages.
Godin has motivated and inspired countless people. His blog and podcasts are among the most popular in the world. He is a TED speaker and regular keynote at business and industry leadership conferences.
His latest project, "The Carbon Almanac," was undertaken because he realized that the climate crisis had a marketing problem, and he could help.
"The Carbon Almanac: It's Not Too Late" is a book of climate change infographics and facts that was published this summer. Godin compiled it with more than 300 contributors from around the world. He calls it his most important project to date because of the urgent challenge to counter climate change. He hopes it will help to "coordinate the actions of a billion people, to inspire and connect and to rewire our economy" to slow climate change.
Rich with essays, graphs, cartoons, tables and resources, the almanac provides credible and authoritative information on carbon and its impact on the climate that is easy to access and share, and that people like us can understand.
The first 500 in-person attendees to the Sustainability Summit will receive two copies (one to keep and one to give away).
"In order to undo the poison that carbon has created, we have to change the systems that created it," said Godin. He sees young people as key to speaking and acting on changing those systems. "The students at Dallas College are wise enough to know that, even if they didn't cause this problem, they're the ones that are going to lead us to the solution.
"Today, right now, is your chance to chart a new course. Because if it's not you, who will?" he said. "When we coordinate actions and focus on governance, markets and industry, it's amazing how fast the world can change."
The morning keynote will be given by Xiuhtezcatl Martinez.
The 22-year-old environmental and climate justice activist has been working on these issues since he was 6 years old. In June 2015, he spoke at the age of 15 in English, Spanish and Nahuatl before the UN General Assembly on Climate Change. Martinez urged immediate climate action saying, "What's at stake right now is the existence of my generation."
He is third-generation cofounder and former youth director of Earth Guardians, an Indigenous education and human rights advocacy organization.
A talented hip-hop artist and European MTV Generation of Change Leadership Award Winner, Martinez has been featured in numerous interviews including "The Daily Show With Trevor Noah" and "Uncommon Ground" with Van Jones.
The Dallas College Sustainability Summit is free to attendees and open to the public. Lunch will be included for those who preregister to attend. For more information and to preregister, visit the Sustainability Summit website.
Visit the Dallas College website for the Brookhaven Campus location and campus maps.
Upcoming Events
New On-Demand Video: How To Make Bokashi Compost and Fermented Onion Extract for Home or Commercial Use
Watch our latest pre-recorded Sustainable U presentation, starring Virginia Kilgore, founder of Water is Alive, and John Defillipo, director of The Wetland Center. Virginia Kilgore will take you through the exciting process of creating your own Bokashi compost and personal uses of fermented onion extract that can be made in your own kitchen. John Defillipo follows up by sharing the surprising benefits of fermented onion extract on the John Bunker Sands wetlands.
Please like this video and follow Sustainable Dallas College on YouTube to get notified instantly of new videos.
North Texas Regional Center for Expertise (RCE) Annual Summit: Nov. 9-10, 2022
Join the RCE North Texas Annual Summit on Nov. 9-10. The summit will bridge silos between education, public sector, private sector and nonprofit in support of education for sustainable development. Attendees will learn from experts who are advancing United Nations Sustainable Development Goals in North Texas, network and collaborate with sustainability leaders, and get inspired by the work of the youth network.
Gardening With Neil: Getting Started With Your Veggie Garden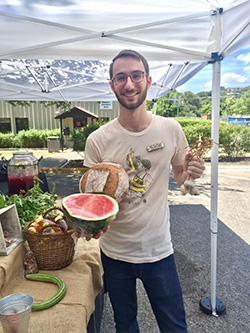 You have just finished a documentary on food waste or reading an article about personal food resiliency and have decided that you are now a gardener. Welcome to the club! The first questions you should be asking are: What do I want to get out of my garden? How much time, money and space am I willing to put into my garden? And exactly how delicious would carrot cake taste if I used carrots that I grew and harvested myself?
When it comes to the first question, this often-overlooked reflection helps to calibrate your inputs with the outputs. The kind of backyard garden that feeds the neighborhood requires an immense amount of time, talent and luck. However, if all you really want is to have a few fresh herbs on hand, there is a lot less to consider.
The resources question is the most critical. Highly productive gardens are not free: They require lots of weeding, watering, fertilizing, quality supplies, and endless learning and patience. This takes time, money and space. Quality tools and equipment will get you a lot further than their cheaper counterparts. But don't think you can buy your way to bumper crops; you still have to work for it!
When scouting for a space, keep in mind that vegetable gardens generally require more sun than your average ornamental plant — 6-8 hours of full sun per day. If you don't have a yard, consider a community garden. This all may seem daunting, so start small. Try planting a few rows and expanding from there.
It is very important that you plan ahead by at least three months. This gives you time to amend the soil, mitigate weeds and plant seeds rather than more expensive transplants. Some crops, when planted early enough, can produce a second round of vegetables. Consult the Texas AgriLife Extension Vegetable Planting Guide for specific information on when and how to plant.
There's still much more to consider before replacing your entire backyard with raised beds. For example, you should be roughly familiar with choosing crop varieties, organic fertilizer do's and don'ts, integrative pest management (IPM) and season extenders, to name a few. Successful gardeners are always learning, both from others and from the mistakes they have made in the past. Patience and curiosity are important virtues for gardeners to practice. The discipline comes from imagining how that garden-fresh carrot cake will taste.
Neil Kaufman is the Sustainable Dallas College urban agriculture assistant director. Attend the 12th Annual Sustainability Summit on Nov. 4, online or in person (Brookhaven Campus), to hear Neil discuss how you can start or improve your garden. Make sure to choose the "In the Environment" breakout session when registering.
Follow Us on Social Media!
Follow Sustainable Dallas College on Facebook, Twitter and YouTube! Stay up to date on our upcoming sustainability events, and connect with other people passionate about creating a sustainable way of life.