In This Issue
Dallas College honors its sustainability stars!
Meet Ingrid Alcocer Loredo
Upcoming Events
Sustainability Summit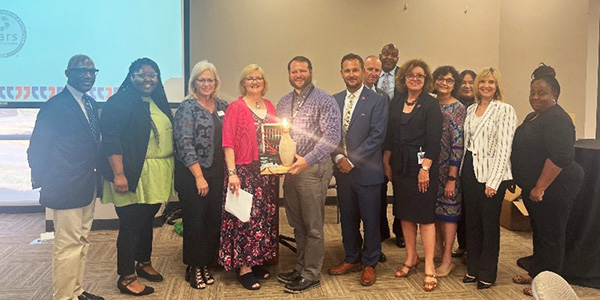 Dallas College Recognizes Employees for STARS Contributions
In a large organization like Dallas College, sustainability isn't something that can be achieved by a single person or one department. It takes dedication, hard work and commitment from across the organization.
This past spring, Dallas College earned international recognition for embedding sustainability across operations and instruction . The college received the Silver STARS rating from the Association for the Advancement of Sustainability in Higher Education (AASHE), confirming our continued commitment to sustainability. The reporting process, led by project manager Brandon Morton, assistant director of sustainability for operations, proved to be a collaborative effort. Departments across the college worked hard to collect and provide data on their sustainability efforts, and the STARS Awards Luncheon, held July 26 at the Eastfield Campus, helped us thank everyone and celebrate our collective accomplishment.
The recipients of the first STARS Leadership Awards are:
Academics: Theater Production Program

Jennifer Owen
George Hagele
Charles Self
James Gammill
Kim Jackson
Giraud Polite

Campus Engagement: Common Book Program

Brandi Harris, Chair
Harry Holden, Chair
Kenneth Chapman, Staff
Andrea Ziehm, Staff
Cynthia Simmons, Faculty
Jared Westover, Faculty
Emilie Turner, Staff
Brian Reinhart, Staff
Sherry Boyd, Faculty
George Driscoll, Faculty
Sharie Vance, Faculty
Eric Pleasant, Faculty
Ronda Hayes, Faculty
Joshua Esparza, Staff
Rachael Tiede, Faculty
Joby Leahy, Faculty

Public Engagement: Cedar Valley Green Club

Dr. Brenda Floyd and the Cedar Valley Green Club

Operations: Procurement and Strategic Sourcing Department

Charles Fennell
Jeffrey Austin
Maria Garza
Claudia Reyna
Rochelle Ragas
Keala Mikell
Eire Currie
Sheneicka Ogwuegbu
Eudocia Turner-Galvan
Tonja Belcher
Michael Smith
Serena Huvler
Brenda Avila
Joana Rangel
Gabrielle Johnson
Dora Fuentes
Adla Said

Planning and Administration: Student Care Network

Carlos Cruz
Cathy Edwards
Kaitlin Hill
Thaddeus Mantaro
Craig Satterfield
April Owens
Dalia Blell
Karen Cuttill
Cherrender Brown
Rhonda Dalrymple
Jaime Torres
Katie Neff
Kimberly Toynes
Louis Whatley
Curtis Hill
Grenalda Spears
Brandi Ragsdale
Nykesha White
Timberly Lewis
Alan Knox
Michael Serritos

Innovation and Leadership: Campus Food Pantries

Cathy Edwards
Eileen Stahlstedt
Liva Yalong
Lee Kitchens
Wendy Garner
Brittney Verdell
Kerru Kenner
Ted Spradley
Special Recognition: Garrett Rosser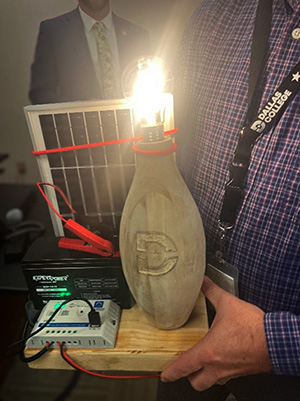 Garret Rosser, Facilities energy manager, received the coveted Energy Hero Award for his efforts to reduce consumption at Dallas College. Brandon Morton looked to tradition when handmaking his award. The Dallas College North Lake RecycleMania award was traditionally a "pinman," a recycled bowling pin made to look like a person. "Pinman" has become a mascot for sustainability. This year's Energy Hero award (pictured to the right) was handmade by Brandon Morton out of a stripped, recycled bowling pin, which was then handcarved with the Dallas College logo. The base is made of reclaimed wood and screws. The light source is powered by a solar panel, LED light and LED battery. All elements are Energy Star certified and International Standards for Organizations certified.
Thank you to President Tealer for hosting the first STARS Awards Luncheon at the Eastfield Campus, and thank you to our campus presidents Dr. Linda Braddy, Dr. Joe Seabrooks, Dr. Eddie Tealer, Dr. Bradford Williams, Dr. Kenneth Gonzalez, Dr. Christa Slejko, Dr. Kathryn Eggleston and all the divisions of Dallas College that contributed to our first STARS report.
Welcome Ingrid! Our new Sustainability Coordinator for Metrics and Recognition
Ingrid Alcocer Loredo joins the Dallas College Sustainability Department as the new sustainability coordinator for metrics and recognition. An alumna of Dallas College Brookhaven Campus, Ingrid was drawn to sustainability from a young age. "I had an environmental science teacher in high school who introduced me to sustainability, and from that point on, I discovered my passion for the environment." That passion was confirmed when Ingrid attended Dallas College's 2015 Sustainability Summit at the Brookhaven Campus.
In her new position, Ingrid will manage our sustainability reporting, tracking and recognition opportunities for Dallas College. Ingrid is originally from Tamaulipas, Mexico, and graduated from UNT Dallas with an M.S. in public leadership. She completed a B.S. in environmental science at Texas A&M University-Commerce and earned her associate degree from Dallas College Brookhaven Campus. Ingrid recently moved back to Dallas and lives with her Labrador retriever named Rockie.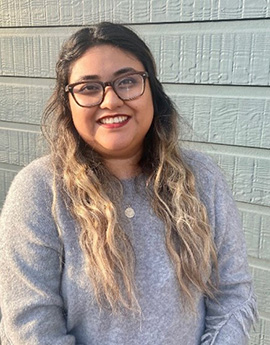 Houseplant Horti-couture
Available now! This Sustainable U Webinar Was Pre-Recorded
If you've "botany" interior plants lately, you already know gardening indoors is one of the fastest-growing trends in horticulture. Listen to Daniel Cunningham, the Texas Plant Guy, dig into the basics of indoor gardening with tips on selecting the right container, picking the right spot for sunlight needs, and proper watering and fertilizing to keep your urban jungle growing season after season!

With a holistic approach to sustainability, Daniel Cunningham is nationally regarded as a leading horticulture expert. Specializing in edible gardens, native pollinator-friendly landscapes, rainwater harvesting systems and efficient irrigation design, he conducts more than a hundred programs each year for both homeowners and organizations.

With a passion for helping the at-home gardener, Cunningham partners with local news outlets in Texas, often appearing on NBC Channel 5 as a special contributor, in addition to regular segments on local FOX, ABC and CBS affiliates. He also works as a special contributor to both the Dallas Morning News and Edible Dallas & Fort Worth magazine. Outside of his home in North Texas, Daniel has also been featured in Martha Stewart Living magazine, the New York Times magazine and Yahoo News.
Mark your calendars! 12th annual Dallas College Sustainability Summit is Friday, Nov. 4.
Mark your calendars! The 12th annual Dallas College Sustainability Summit is coming soon to our Brookhaven Campus on Nov. 4.
The theme of this year's summit is "Be the Change You Wish To See in the World."
The first 500 in-person attendees will receive two free copies of The Carbon Almanac: It's Not Too Late (one from Dallas College to keep and one from The Carbon Almanac to give away).
The challenges we're facing today may sometimes feel overwhelming and unsolvable to a single person. And that is exactly why we must persevere as individuals to do what we can to be the change we wish to see in the world. Why? Because practicing sustainability in our own lives builds hope and influences others to make positive changes in their lives.
Join Dallas College and a variety of expert presenters on Friday, Nov. 4, 2022, from 9 a.m. to 4 p.m. to learn how you can be the change you wish to see in the world. This event, hosted by Sustainable Dallas College, is free and open to the public. A registration link will be available soon. (Note: The event is currently scheduled to be held in person; however, it may switch to online if the threat level remains red through the fall.)
Follow Us on Social Media!
Follow Sustainable Dallas College on Facebook, Twitter and YouTube! Stay up to date on our upcoming sustainability events, and connect with other people passionate about creating a sustainable way of life.
Facebook
@SustainableDallasCollege
Twitter
@Sustain_Dallas
YouTube
Sustainable Dallas College – YouTube
Instagram
@sustainable_dallas