Last updated on September 30, 2019
We're so excited to introduce you to one of the winners of our fall student blogger contest, Alejandra Rodriguez! She will be blogging throughout the semester about college, her classes, her future plans and more. (See all of our student blogger posts.)
Here's a little more about Alejandra, in her own words:
"Hey all! My name is Alejandra Monique Rodriguez. I can hardly pronounce my own name properly so I go by Alie. I'm currently attending El Centro College deep in the heart of Downtown Dallas.
My field of study is baking and pastry arts. I love taking pictures and spend my time either playing video games or random arts and crafts. I have a bachelor's degree in elementary education from Southwestern Adventist University. I have quite a story to tell you about how I ended up at El Centro.
My desire for the culinary arts started while I was in high school. My parents—mainly my mother—refused to pay for my college career if it entailed being a culinary student. She claimed the food industry path "does not have real careers." I was devastated at the loss of my dream since I wasn't unable to provide financing for myself. As I attended SWAU, my father promised me, "If you can complete a four-year degree and still want to go to culinary school, I'll pay for everything."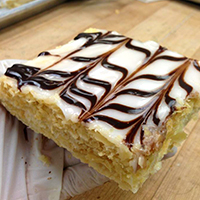 With that to motivate me, I pursued the degree of teaching. At first I was hesitant about it seeing that I'm not the first person to run up to a  newborn baby and comment on how "cute" it is. But I learned that I loved teaching and was good at it!
After I received my bachelor's, my father kept his promise, and I attended the Art Institute of Dallas. $18,000 later, I found out about El Centro's Baking/Pastry program. Unsatisfied at how the baking and pastry program was at the Art Institute, I decided to check out El Centro. I was shocked at the cost of my semester! "That'll be $550." For one class? Oh no, the whole semester! Needless to say, I quickly enrolled, and I have not regretted it since.
El Centro has tested me on all different levels of the food industry. I eagerly yearn for even more pastry knowledge as my semester continues. I hope that through the pictures I take, I can inspire you to pursue your own dream and support the wonderful program El Centro has to offer. I only wish I had found it sooner."