Last updated on November 7, 2023
Ava Stipe couldn't have asked for a better learning experience than what she received at the Santa Fe Opera last summer.
Stipe, a student in Dallas College's theater program at the Richland Campus, spent the summer as a stage crew apprentice. She worked on every show during the season, including Puccini's "Tosca," Wagner's "The Flying Dutchman," Debussy's "Pelleas et Melisande," Dvorak's "Rusalka" and Monteverdi's "Orfeo."
"It was the most beautiful learning environment I've ever been in my life," Stipe said. "It was hands-on. It was challenging, but our supervisors would teach us everything we had questions about. I was able to grow – my patience, my maturity, my work ethic. It was a lot of fun … and dangerous."
Wait, dangerous?
"When you do rep theater, you are loading in and loading out a different show every night," she said. "One of the most dangerous sets was for "Rusalka," which is the dark story of "The Little Mermaid." I was on the basement crew, and we had to move a lot of steel decks. So, you'd have a deck that weighs over a ton and you're moving them up and down. It fell on my foot once. Fortunately, it didn't break, but I was off my foot for about a week. Another time, I whacked my head into an aluminum staircase. I also had something fall on me because somebody wasn't paying attention.
"I was OK, but it is very easy to get hurt if you aren't aware of your surroundings."
Despite the bumps and bruises, Stipe gained a greater appreciation for live performances and the work that goes into them. She is expected to use that knowledge and experience when she takes part in the spring show on the Richland Campus.
The Richland Campus had one of the top college productions last spring as its performance of "Self-Injurious Behavior" earned prestigious honors from the John F. Kennedy Center for the Performing Arts. The performance earned three Kennedy Center awards, including Stipe being named one of 17 students recognized for a "distinguished achievement in stage management."
Stipe's success in that Dallas College production helped her land the coveted internship at the Santa Fe Opera. Now, after a summer being surrounded by world-class performances in Santa Fe, she is on the path to bigger and better things once she graduates Dallas College next spring.
"I'm still learning in college but being surrounded by a team of people who love what they do and care about it to the point where it is their entire life, is just something beautiful, something inspiring," she said. "It completely solidified what I want to do."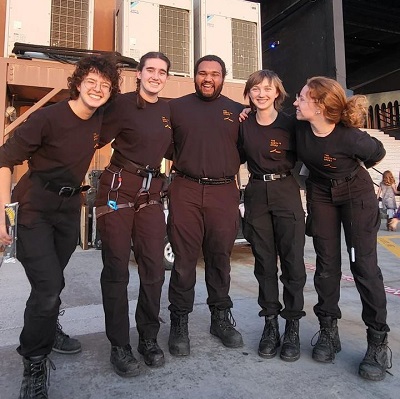 This story and others like it can be found in the Student Newsletter. Check your Dallas College email to see the latest edition.