Last updated on October 25, 2023
Asked why people should pursue a career in nursing, Vanessa Lozada had a simple message.
"You will always have a job," she said, "and you'll never be bored."
Lozada would know. She's worked virtually every nursing job on her road to becoming the director of emergency services at Texas Health Presbyterian Hospital in Plano. She now oversees 100 nurses working in emergency services at a hospital designated as a Level II Trauma Center.
None of it would have been possible without Dallas College, a place she continues to rave about years later. Dallas College provided the educational foundation that Lozada needed to pursue a nursing career, and it remains her go-to spot whenever she's hiring nurses to her staff.
"I know any nurse who comes out of Dallas College will be very well prepared," she said. "You just have that comfort knowing it's a really great nursing program with all of the professors and clinical instructors."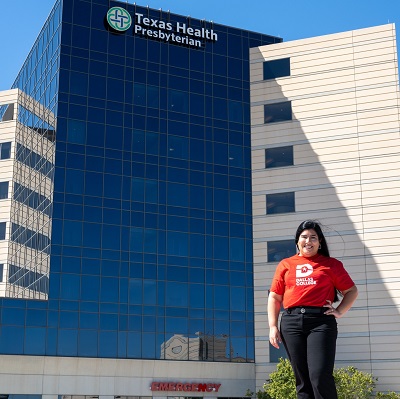 Lozada's Path
Lozada immigrated to the United States from Colombia at age 15. Her family initially settled down in New Jersey before she relocated to the Dallas-Fort Worth metroplex with her husband. At the time, she was a young, teenage mom but was determined to continue following her dreams of becoming a nurse.
She knew that hospitals such as Texas Health offered tuition reimbursement for employees, so she applied for and accepted a unit secretary job in the emergency department at Texas Health Presbyterian Hospital Plano. Even though she had no secretarial experience, Lozada knew it would provide an opportunity to further her education.
Once eligible for the tuition reimbursement, Lozada started her educational journey by enrolling in classes at Dallas College. She took prerequisite courses at the Richland and Brookhaven campuses before landing at the El Centro Campus for nursing.
Along the way, Lozada remembers how welcoming and caring the professors were in making the students path to success as seamless as possible. Specifically, Lozada recalled a public speaking course in which she gained confidence in her abilities despite having an accent as an English as a Second Language (ESL) student.
"I remember thinking it would be my least favorite class, but it was taught in such a way that it took my fear of public speaking away," she said. "It was about realizing that I have an accent, but there's nothing wrong with having an accent."
The confidence instilled during the public speaking class was similar to the confidence she gained in her nursing courses. Every step along the way proved to be the right one.
For Lozada, her experience is why she is an advocate for community colleges as being the "smart choice" for students, both financially and academically.
"It's the smarter choice because you get everything that you would anywhere else for a fraction of the price," she said. "Why go away when you can do all of it here? You can get a job right away with an associate degree, and then keep going to school. You're already making money, so you won't be paying off all of this debt. As parents, we need to tell our kids that this is the way to do."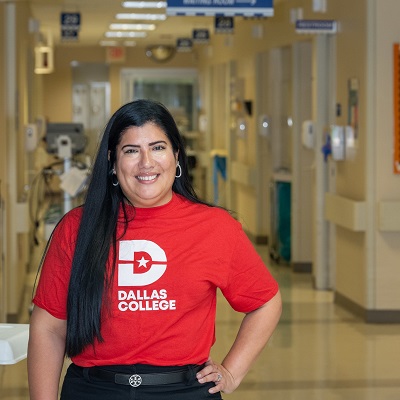 A Day in the Life
The beauty of nursing is the vast number of options available, Lozada said. Nurses could choose to work in the ER; they could work in a different part of the hospital; they could work at a doctor's office; they could work at a school; and the list goes on and on.
Specifically speaking of working in the ER, Lozada said her nursing staff sees it all. On a given day, a nurse could be responsible for four rooms and the rooms could have four patients dealing with completely different issues ranging from a stroke to being involved in an accident to a stubbed toe.
"We get so many people coming in for different things," she said. "And, sometimes 10 people can come in at once or we can have five ambulances lined up outside waiting for you. So, if you like adrenaline and things like that, the ER is the best part for that."
At the end of the day, it's about taking care of people. That's a trait every nurse should possess, and one that makes it a rewarding and fulfilling career.
"We're here to make a difference. We can make somebody's worst day a little bit better," Lozada said. "If you feel good about doing something for someone else, then you should really think about nursing because it has so many opportunities to do just that."
Dallas College alumni are encouraged to join our Alumni Network!
This story and others like it can be found in the Student Newsletter. Check your Dallas College email to see the latest edition.