Krystal Hamilton's first job in banking was as a teller at a Bank of America location. It was the perfect entry-level job at the time for a young, single mom pursuing her college studies at Dallas College's Mountain View Campus.
Hamilton didn't think the banking industry would turn into a career, though. She was an ambitious college student with dreams of becoming a radiologist … until she took a science class that included dissecting a frog.
"I was not into cutting up the frogs and all of that stuff," Hamilton said, laughing. "So, that's why I stayed in banking."
By earning her associate degree from Dallas College, Hamilton had the educational foundation she needed to start moving up in the banking world. She went from bank teller to lead bank teller at Bank of America, and then was an assistant manager at branches of banking giants including Chase and what was then Wachovia (now part of Wells Fargo).
Then, once her son reached high school, Hamilton returned to school to earn a bachelor's degree from Western Governors University, which opened more doors. She found her way to Arlington-based Texas Trust Credit Union and is now the vice president of branch operations. Hamilton oversees 10 branches and 13 branch managers at a credit union that has become the largest residential lender in the Dallas-Fort Worth area with its assets growing in value to more than $2 billion.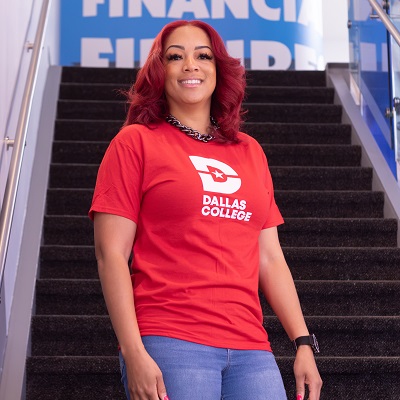 Model for Success
Hamilton has described her journey as an "amazing experience," and credits Dallas College for putting her on the right path. That's her message to anyone who may feel there is a "stigma" in attending a community college.
"I'd tell people to just give it a try. They'll eventually realize it's the smart path because it helps you," she said. "The education that I got there was exactly what I needed to be successful in my career. It was flexible, affordable and allowed me to be a single mom and work through those things while still getting my education.
"Anybody who has a stigma against community colleges would be pleasantly surprised by how you come out in a very successful way at the end."
Hamilton only has positive memories about her time at Dallas College. Outside of dissecting the frog, one of her first stories is the joy she had taking classes and walking the graduation stage with her older sister, Tamesha.
"We really enjoyed being there at the same time," Hamilton said. "And everyone was so helpful and understanding. I had to balance all of those hats — single mom, working, studying — and they made it very easy for me to be able to do that."
Now, Hamilton enjoys seeing others follow similar paths. She always has a word of encouragement when she meets a student from the Cedar Valley or Mountain View campuses who is interviewing for a job with Texas Trust and discusses the many career paths in the banking industry.
"I tell them they're on the right path because I did it," she said. "They've got the right combination to be successful. And there are so many different areas and avenues that you can go in banking. It's not just what you see in the branches. We have security. We do mortgages. We have a marketing department, PR. Anything you want to do, financial institutions have those opportunities out there for you.
"My path happened to be going the retail route because I love people, I love talking to people. But, depending on what it is you want to do, banking offers the opportunities for you to be successful anywhere. And the education that you bring here is absolutely going to be key to help you become successful."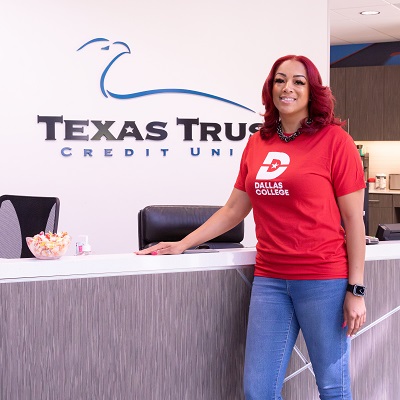 Community Driven
Much like Dallas College, Texas Trust is a community-driven company. It's come full circle for Hamilton as she earned an education at an institution committed to transforming lives and communities through higher education and is now working for a company that provides more than $2 million in funds to schools and students in the communities that they serve.
Hamilton is passionate about helping Texas Trust's 120,000-plus members build brighter financial futures and loves the company's member-first mindset.
"The great thing about Texas Trust is that everything is right here. It's just a phone call away and we can advocate for our members," Hamilton said. "A member may have been sick and that's why they got behind on their bills. Life happens and we're able to work through those things. We're actually here to make a difference in people's lives, and it's very rewarding."
That is similar to the educational experience Hamilton enjoyed as a student at Dallas College. The college continues to pride itself on being flexible and accommodating for students from all backgrounds to reach their goals. Nobody tells that story better than alums such as Hamilton.
Dallas College alumni are encouraged to join our Alumni Network!
This story and others like it can be found in the Student Newsletter. Check your Dallas College email to see the latest edition.