What was your journey like coming to Dallas College? 
After graduating high school, I thought I was going to go to a four-year university. But things didn't pan out that way. Life had a different plan, so I decided to go to a community college, so I could go in and get my first two years complete and then transfer to a university. That was my original plan. The first semester of college was great, probably my best semester. But then COVID-19 hit, and everything changed for me. Learning to adapt in a COVID-19 world was the biggest challenge I had to face since I had just started college. I was struggling to concentrate and was also working.
What are your plans and goals after graduating?
I'm transferring to the University of Texas at Arlington (UTA) for a computer science degree. I would love to get a job as an engineer since I love problem-solving.
What advice do you have for others?
Embrace change. Don't be so fixated on one thing, so you can allow the world to impress upon you what it will. You can never truly plan for growth. So, allow growth to do its thing and do your best in making good decisions along the way. 
How has your culture influenced you? 
I was born and raised in Nigeria. My culture has influenced me by providing the framework for what life could be. A lot of times, we struggle with our identity. When you're young, you're trying to figure out who you really are. But the most important thing my culture has done is given me a sense of who I am. I'm proud of where I've come from and my experiences, which has been provided to me from the Nigerian culture.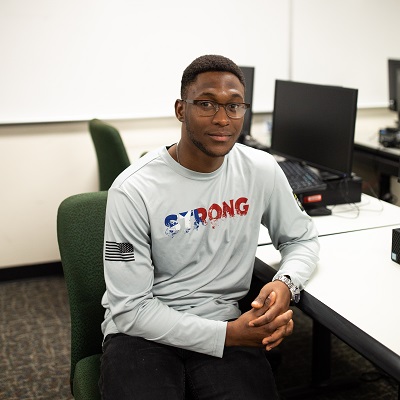 What are you most proud of? 
I used to take the bus every day to work and school at the Richland Campus. It was a lot of back and forth and adversity I was dealing with. I'm proud of the fact that I actually finished and I'm graduating. More than anything, it's just showing up every day. I have a bad habit of procrastinating. Show up every day and give it your best. I don't like to leave work unfinished. So, when I start something, I like to see it through and give it the best I can. Consistency is key. 
What encouragement would you have for others who are struggling to graduate? 
I would tell them to stay true to themself. Block out any noise. We can get caught up in running another person's race. Lock in and do the best you can. If you put in your best effort and stay consistent, then it will happen. 
What legacy do you want to leave?
I want to leave a legacy of concord and togetherness. In everything we do, we do it together. Along the way, I've had so much help. No man is an island. We all need help. I want my life to be a legacy of one that shows to not be afraid to allow yourself to be together with other people. A legacy of communion, harmony and concord. In today's world, we can be very divided. But at the end of the day, we're all human. Wherever you go, there will always be good in the world. And even if you feel alone and I know this firsthand, you're not. It's a lesson I was taught in the military. Even when you think you're alone, there will always be someone by your side.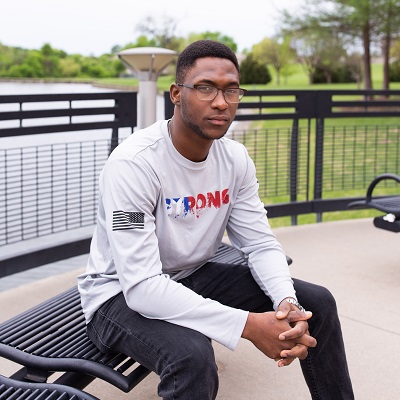 How has your military experience shaped you into who you are today? 
So, when COVID-19 hit, I was in a very confused place. I'm a big people person, so being isolated and being on lockdown was difficult and I felt that I couldn't fully express myself. I never planned on joining the military, but it really helped. When I heard about the opportunity to join the National Guard, I made the decision I was going to take the chance and see where it would lead me. Going through basic training was probably the most transformative experience of my life. I met so many people from all over the country and world, from places I've never heard of before. I saw that spark or tick in people of what makes them come alive in the people I've met in the military. It gave me a whole new perspective on life. I'm confident who I am as a person now. I'm not dilly dallying or struggling anymore. That's one of the lessons that the military has taught me. 
 
Although I appreciate the recognition of my military service, my primary goal has always been to become an engineer. While my military experience has undoubtedly shaped me as an individual, my passion for computer science and academic pursuits has been the driving force behind my hard work and dedication.
Why are you winning because you came to a community college? 
I thought I was grown and knew what I was doing when I first started at the college. Community college has really given me a buffer to grow. Then, after experiencing that growth, you can move forward because you have a better understanding of what you want to do with your life. I think that's something you can gain only at a community college. In my first semester, my closest friend was 30 and I was 18. You don't really get that at a university. Community college is so diverse. You meet people from all walks of life. If I went to a university first, I probably would have crashed and burned because I wasn't mature enough yet. Community college really gave me that buffer and time to grow and to better understand the world.