Last updated on May 2, 2023
How did you hear about the bachelor's degree in teaching at Dallas College?
We are the first graduating class for the bachelor's degree. I have my associate degree in teaching from Dallas College. I was planning to transfer to a university to get my bachelor's, but my designated school officer (DSO) mentioned the bachelor's degree for education that was about to open at Dallas College in 2021. It was the perfect time for me.
Did you know you always wanted to become a teacher?
Yes! Since I was in Brazil, which is where I'm from, I knew I always wanted to become a teacher but didn't have the opportunity. When I got to the United States in 2015, I started to study English and was ready for the opportunity to be with the kids and teach since I was here. I love teaching and seeing kids grow up and learning new things. It's always been a dream for me, and I always thought it'd be a good opportunity.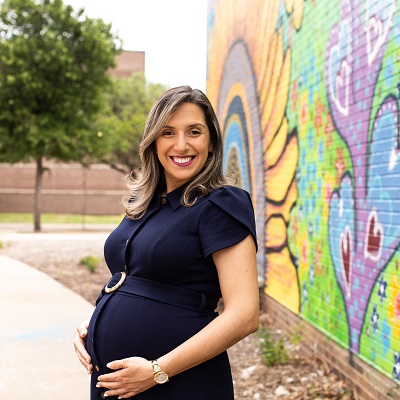 What advice do you have for international students?
Just keep going. It's hard being an international student. There are several documents you have to complete and restrictions that can keep you from doing things. We live and study here, but we're not residents, so there are limitations but it's so worth it. By the time you get your degree, you will have opportunities to find a job. There's a lot that international students can offer. We know another culture and language. We can bring so much to companies and the communities that we're in. Even though school can be overwhelming along with other things we have going on in life, don't give up and keep going. It's so worth it!
What has your journey been like as a student and mom?
It's definitely not easy. Before I had a child, I had more time to study and get things done quickly. But now with my son, it's changed everything. When I get home, I focus on him, so I don't have too much time dedicated to my studies. But my husband helps me a lot. So having someone help you in this journey is super helpful because you can't do everything at 100% since I have to divide my time between my baby and school. Now that I'm about to cross the finish line with my bachelor's degree, I'll get to do what I love full-time and still be able to provide for my family.
What advice do you have for students who are balancing being a student and a mom?
Don't beat yourself (up). The first thing that crosses our minds as moms is that we're not being a good mom if we're focused on other things like school. But remember, it's temporary. Someday, your child will probably be proud of you taking good care of them while working hard to get a degree. It's not easy, but it's possible. There were times I wanted to give up, but I thought of how this season wouldn't last forever. In many cases, sometimes when you stop, it's harder to go back to school. So just keep going! There is a light at the end of the tunnel.
What does this degree mean to you? Who are you doing this for?
This degree means that I can change a life. Teachers change lives. If I can change just one life, that's good for me. I have a lot of support from my family, and I think that I can do so much for them. But I can do so much for another child, too. A child that doesn't have support at home from their own family. I want to be that support for them. This degree gives me the opportunity to do something else for someone else.