Magic isn't just entertainment for longtime English professor Dr. Geoffrey Grimes.
"It is the mechanism for which I create a relationship with someone," Grimes said.
That's why Grimes is so passionate about spreading the impact magic can have to students and the community at large. He's been doing it for decades and his efforts have been recognized over the years. However, no honor matches the one Grimes recently earned by being inducted as the president of the Dallas Magic Clubs.
The Dallas Magic Clubs is plural because it includes both local chapters of the Society of American Magicians and the International Brotherhood of Magicians. It was created back in 1924 with famed magician Harry Houdini attending one of the first meetings and signing the club's charter.
"Next year marks our 100th anniversary, so I'm very honored to be elected to the post in our 99th year," Grimes said. "A lot of good folks have come through Dallas Magic Clubs."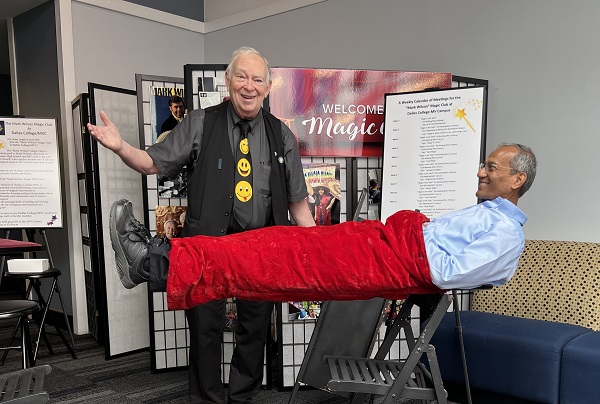 Summer Magic Shows
Outside of being named president of Dallas Magic Clubs, Grimes has been busy preparing for the annual summer magic shows put on by the Mark Wilson Magic Club at the Mountain View Campus.
The dates for the must-see shows are June 20, 21 and 22 from 6:15-8:30 p.m. each night at Mountain View's Performance Hall Foyer (east side).
"This will be our 23rd year to perform the summer magic shows," Grimes said. "It's been quite an evolution, quite a process. We've had very strong, positive support by the staff and administration. It brings to the campus people in our local community who might not have another reason to come to campus. It gives them a positive experience of what can happen on the campus here."
For Grimes, the best part of the actual show remains wowing children and adults alike. There's not a better feeling than putting a smile on children's face and seeing the parents react to the moment.
Most importantly, though, is the benefit that learning magic has on students.
"We're a service organization. It serves the interest of students and provides them an opportunity to get together over a common interest," Grimes said. "They learn socialization skills, organization skills, management skills and more. It's really helped a lot of students over the years."
*Feature and footer photos by Yuvie Styles, courtesy of Oak Cliff Advocate Magazine.