Last updated on May 23, 2023
The University of Texas Southwestern Medical Center is regarded as one of the top research institutions in the world. It's home to many nationally and internationally recognized physicians and scientists, including six Nobel Laureates since 1985, who are at the forefront of some of the most important discoveries of our generation.
Dallas College alum Dr. Mai Huynh is part of that elite team doing research at UT Southwestern. She's a postdoctoral researcher working with Drs. Zoltan Kovacs and Jae Mo Park at advanced imaging research center on development of hyperpolarized 13C and 15N-labeled metabolic probes for accessing in vivo metabolism and cellular necrosis using dynamic nuclear polarization (DNP) and parahydrogen induced polarization (PHIP), which will further develop state-of-the-art magnetic resonance imaging (MRI) technologies.
As Huynh gave a tour of the various high-tech labs inside the Clements Building at UT Southwestern, it's clear she's living her dream doing this important research. Without Dallas College, though, none of it would have been possible.
"Going to Dallas College is one of the best decisions I ever made," Huynh said. "I've always loved science, and I was able to study science and live my college dream at Dallas College."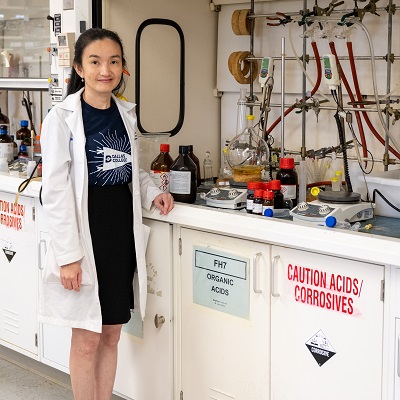 Dallas College Days
Huynh and her family immigrated to the U.S. from Vietnam. She began her higher education journey at Dallas College's Richland Campus in 2011 as an English for Speakers of Other Languages (ESOL) student. After completing ESOL courses, she pursued her science passion by landing a STEM scholarship, which covered the majority of her tuition and fees.
Huynh loved her time on campus, recalling the personal connections she made with professors.
"At some of the bigger universities, there are 100 or more students in a class," she said. "At Dallas College, the professors really take care of the students. Anywhere I go, I always suggest taking classes at community college because it was so helpful for me."
During her two years at Dallas College, Huynh had summer internships at the University of North Texas and Texas A&M University-Commerce. While at UNT for the summer of 2014, a new bacteriophage was found with a never before published DNA sequence that was named after Huynh (MaiH).
With her Dallas College educational foundation, Huynh transferred to the University of Texas at Dallas. All of her tuition and expenses were covered as she won the Terry Foundation Scholarship and went on to graduate summa cum laude with a bachelor's degree in chemistry in 2016.
She earned more prestigious honors by being named a McDermott Graduate Fellowship, which is a four-year award for outstanding graduate students pursuing leadership roles in research enterprise, and was also a 2018 National Science Foundation Graduate Research Fellowship winner. Huynh earned her doctorate in chemistry from UT Dallas in 2021.
Her doctoral research looked at the properties of carbon nanotubes, tiny, cylinder-shaped structures that can be used as ultrastrong scaffolding for muscle generation, drug delivery and other medical applications. (Carbon nanotubes are also used in some high-tech, lightweight bicycles.)
Huynh's paper won an Editor's Choice accolade in the journal Nanomaterials, a designation given to research that is likely to be of strong interest to the scientific community.
She's continuing to do more pioneering research at UT Southwestern, which is rewarding work, but she truly hopes to share her knowledge by becoming a college professor one day.
"My dream is to become a professor at one of the universities, so that way I can give back my knowledge to students," she said. "I think I could help more people."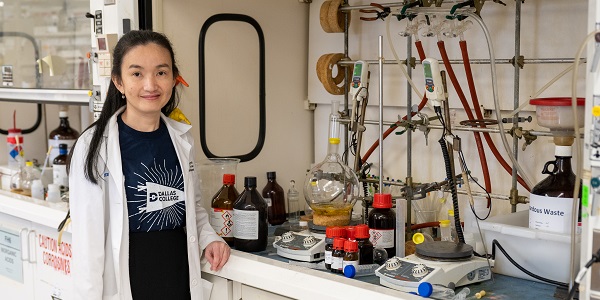 Family Ties
Finally, it's worth noting that Huynh is not the only member of her family who used Dallas College as the starting point for a successful career. Her sister, Phuong, also went the Dallas College route and is now a pharmacist in the Dallas—Fort Worth area.
That's why Huynh is always emphasizing the benefits of community college when given the opportunity.
"I always hear people say, 'If you go to a community college, you might not get a good scholarship or good job.' That's not true," she said. "I got a really good scholarship through Dallas College, transferred to UTD and now I'm here at UT Southwestern."
As she said again: "Going to Dallas College was one of the best decisions I ever made."
Dallas College alumni are encouraged to join our Alumni Network!