Last updated on February 22, 2023
Brian Daniels remembers the conversation with his advisor, Bob Stewart, that changed his life.
Daniels, now a Dallas County Promise/Rising Star case manager, had enrolled at Dallas College's Cedar Valley Campus with plans to earn a management certificate. He had been working at a tire shop changing tires for the last 10+ years, and his goal was to gain the skills needed to eventually manage the shop. Stewart had other plans for him.
"He told me I could do more … I didn't have to use my physical attributes to earn a living. I could actually use my intellect. I hadn't heard that before. I needed that push, and he gave me everything I needed. When I said 'I don't have the type of clothes I need to go to college,' he went out and bought me a suit!"
Daniels said he took to college "like a fish to water." In addition to his studies, he became active on campus and took on leadership roles like student government president and president of the African American men's leadership group, Brother 2 Brother.
He also became a part-time ambassador for the college which led him to find his calling in education. "I learned so much. That's when I really embraced higher education. Just helping students with completing their application and getting them started with financial aid, and watching them light up and see the pride on their face when I told them 'now you're an official college student.' You could see they knew from this day forward their life's going to be different. Once you get that education piece, life changes. Opportunities open up for you."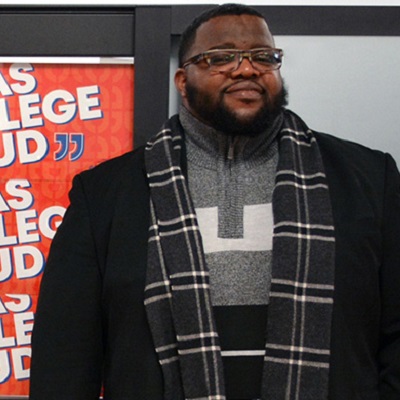 Open Doors and Opportunities
Opportunities have certainly opened for Daniels through Dallas College. He has earned not one, but four associate degrees, and he's not done yet. Daniels is in the process of earning his bachelor's degree from Dallas College in the Early Childhood Education program.
Through the years, he has done triple duty as Dallas College student, alumni and employee, working for the college in several positions, including in the testing center and in advising.
Today, as a Dallas Promise/Rising Star case manager, Daniels focuses on providing students the same level of support Stewart gave him all those years ago. It's his way of giving back.
He provides comprehensive support to help students stay in compliance with the scholarship program. That means everything from helping them navigate financial aid paperwork to figuring out their classes. Daniels also helps connect students to additional services and resources they may need, like the campus food pantries or technology such as a laptop.
"Whatever we can do to help them be successful that's what we're trying to do," he said. "We try to give them all the tools they need."
"The best thing about working here is being able to grow and being able to help people and give them hope where they were otherwise feeling hopeless."
Dallas College Is A Family Business
A proud father of five, Daniels has also watched Dallas College open doors for his family. His wife and son also both graduated with their associate degrees, and his son is now pursuing his bachelor's degree at the University of North Texas.
"Dallas College is a family business for me," Daniels said.
Daniels is working to instill his love for education in his children so that they understand how education can change lives. "Education is opportunity. It's open doors. It's a ticket to travel, to go beyond who you are in your little space and bubble. It opens you up to the world."
When reflecting on the impact Dallas College and his advisor had on him, Daniels said, "I can't not share that same experience with other students. Because I feel like I need to give back. Dallas College has literally changed my life."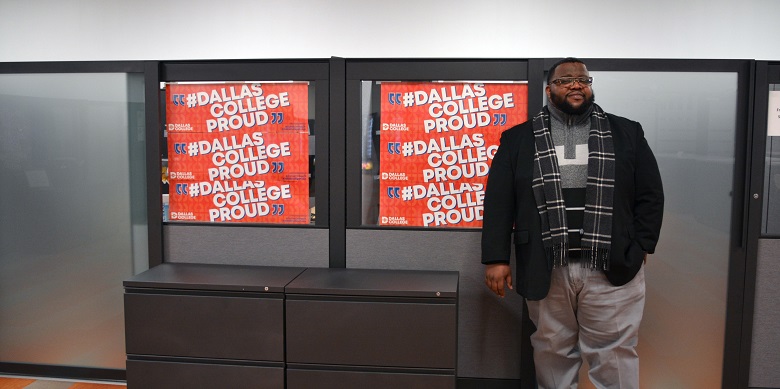 This story and others like it can be found in the Student Newsletter. Check your Dallas College email to see the latest edition.