Dallas College student Emilio Ortiz called it a timesaver.
The school's new virtual desktop was the buzz on campuses this fall as it made life easier on students and faculty members. Just ask Ortiz.
"I left an assignment at home one day, but luckily I saved it on the cloud," Ortiz said. "So, it really saved me from driving back home and making a return trip once I was on campus."
Ortiz is one of a number of students who have benefitted from similar situations thanks to the virtual desktop. Dallas College rolled out its new virtual desktop at the Mountain View Campus this fall with other campuses following suit.
It's received a big-time response for the right reasons from students and faculty as the school continues to keep pace in the ever-changing software space.
Ortiz, who is studying computer information technology, pointed to one of the biggest benefits from the virtual desktop is that it doesn't require a powerful computer. Students are able to run heavy compute and graphic intensive coding, engineering and design applications on the virtual desktop environment.
"I know some of my fellow classmates attending different courses that require a lot more graphic-intensive programs, and the fact that they don't have to buy a $1,500 or $2,000 laptop is great," Ortiz said. "The virtual desktop is great."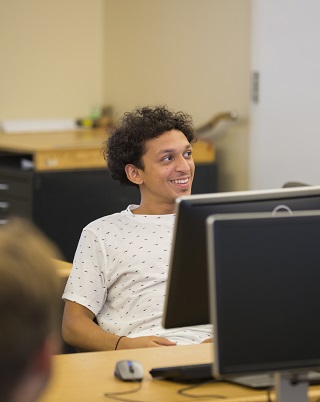 The virtual desktop environment uses OneDrive cloud storage, so files created can be saved to the virtual desktop, which syncs to the student's OneDrive account.
Assignments and documents created and saved to the virtual desktop can be shared with instructors via a direct link. In other words, there's no more trying to compress large files and share USB drives between students and instructors.
"There's no excuses anymore!" Dallas College faculty member Deborah DiStasi said, smiling. "As a faculty member, this new virtual desktop has been amazing. I know what software my students have, and I get to see it being used."
DeStasi, who has been teaching computer classes for 18 years at Dallas College, recalled the school using virtual desktops in the past but none were as easy or convenient as the latest development.
She said the newest virtual desktop can be accessed in minutes whereas previous versions may have taken hours to figure out how to use.
"It's user friendly," DiStasi said. "All they need is a general desktop and it's right there. There's four or five icons. It's not crowded. There's not a ton of different choices. It's very natural and straightforward."
Similar to Ortiz, DiStasi loves that the virtual desktop does not require an expensive, high-powered computer to run.
"I think it's an equity deal. Nobody has an advantage since we are offering all the same," she said. "That's what we need to be striving for."
And DiStasi feels the new virtual desktop has a trickle-down effect to the other resources offered by Dallas College. If students see how easy it is to access a virtual desktop, maybe they'll take advantage of another program.
"One of my students asked, 'What else does Dallas College have for us?'" DiStasi said. "That was an interesting response to hear back because now they're asking, 'What else can Dallas College do for me?'"