12th Annual Dallas College Sustainability Summit a Tremendous Success!
Amid severe weather warnings and a healthy amount of rain, this year's Sustainability Summit, which took place Friday, Nov. 4, at the Brookhaven Campus, was a wild success. Over 200 people attended in person, and over 1,000 streamed the event live.
Thank you to the sponsors of the 12th Annual Dallas College Sustainability Summit. Their generous contributions made it possible to offer this outstanding event free to the public.
Morning Keynote
Xiuhtezcatl (shoe-tez-caht) Martinez opened the show as the first keynote speaker. He recounted his experiences growing up in Colorado as a member of the Mashika people (Aztecs from Mexico City). Growing up with Indigenous teachings of interconnectedness shaped his understanding of the physical and spiritual world around him. Xiuhtezcatl knew from an early age that he had a unique understanding of the interrelation of people and the planet, and he wanted his voice to be heard.
Actively involving himself in protests and climate change initiatives, Xiuhtezcatl made a name for himself, eventually serving as the youth director of Earth Guardians (Earth Guardians). He talked of the importance of giving a voice to other youth who are passionate about protecting marginalized people and the environment.
"With the existential crisis that is the climate crisis, the environmental degradation and devastation, the intersections of racial and social justice, and the environmental catastrophes happening in our communities, we need young people at the forefront of these conversations."
Xiuhtezcatl ended his keynote with a message of hope, in accordance with the theme of this years' summit, "Be the Change." "Fundamentally, my belief is that our way forward out of this catastrophe is through the depth of our relationships … . If our relations are deep, we will show up again, and again, and again until our liberation is won."
Watch Xiuhtezcatl's full keynote on YouTube. Like Xiuhtezcatl's video and subscribe to the Sustainable Dallas College YouTube Channel to see additional recordings of the summit.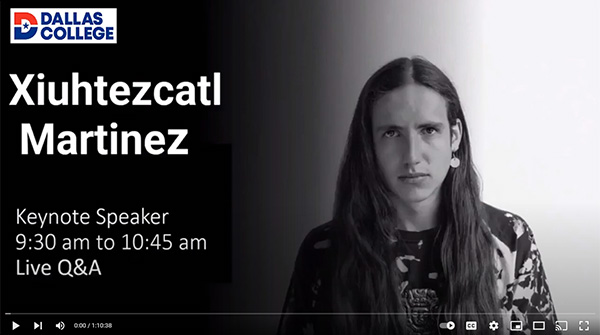 Afternoon Breakout Sessions
Throughout the day, panelists filled the classrooms at the summit to discuss different methods of sustainability with summit attendees in breakout sessions.
Breakout session options included how to be sustainable:
In the Environment
In the Community
On Your Travels
At Work
In the Home
With Your Wallet
The In the Community, In the Home and In the Environment sessions will be available on the Sustainable Dallas College YouTube channel soon.
Subscribe to the Sustainable Dallas College channel on YouTube, and you'll be alerted when new videos are added.
Thank you to all the panelists, who volunteered their time and expertise to the 12th annual Sustainability Summit. We're delighted to announce that you'll be seeing many of them in future Sustainable U webinars, so they'll have more time to discuss their programs and ideas.
Closing Keynote
Seth Godin ended the day with a prerecorded message of action. He recounted pivotal points in history that contributed heavily to today's climate crisis, resulting in a perpetual system of overdependence on nonrenewable resources. Seth explains that both system changes and individual actions will reverse this crisis.
Systemically, rules must be put into place. Seth gives an example of the significance and acceptance of school zones, crosswalks and speed limits. "When cars were first invented, there were no speeding limits. Today we know better, and people understand that rules are put into place for our own safety and the safety of others. The climate crisis needs to be addressed the same way. The time for asking people to make changes is over. The system needs to tell us to change."
Seth tells us that individually, human beings must sacrifice a little now to guarantee the survival of future generations.
"Human beings, particularly in the U.S., will give up almost anything for convenience. Privacy, money, freedom. When something is put before us that gives us a little bit of inconvenience, we are likely to resist it."
Seth ends his keynote message by asking, "What are we going to do about the climate crisis?" In alignment with the theme of the summit, "Be the Change," Seth answers: "We are going to speak up until people understand, until they see what is actually happening around us. Because it is not too late to make things better. The way we will do that is by making better things, seeing other people, by changing the systems and by caring enough to honor what came before."
Watch Seth Godin's full keynote message on YouTube. Like Seth's video and subscribe to the Sustainable Dallas College YouTube Channel to see additional recordings of the summit.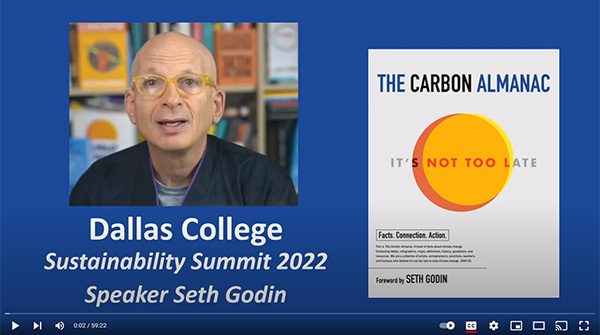 Referenced in his keynote, "The Carbon Almanac: It's Not Too Late," is a book of climate change infographics and facts that was published this summer. Godin compiled it with more than 300 contributors from around the world. He calls it his most important project to date because of the urgent challenge to counter climate change. He hopes it will help to "coordinate the actions of a billion people, to inspire and connect, and to rewire our economy" to slow climate change.
Rich with essays, graphs, cartoons, tables and resources, the almanac provides credible and authoritative information on carbon and its impact on the climate that is easy to access and share, and that people like us can understand.
The day opened with an opportunity to meet with exhibitors from a variety of DFW organizations that are committed to sustainability.
Exhibitors included:
The Carbon Almanac
Oncor
Trane
WearEmOutTees
City of Dallas — Water
City of Dallas — Urban Ag
City of Dallas — Comprehensive Environmental and Climate Action Plan
City of Dallas — Environmental Commissioners
City of Farmers Branch — Sustainability and Public Health
Dallas College — Diversity, Equity and Inclusion
DART
EarthX
Natural Awakenings
North Texas Master Naturalist Chapter
North Texas Renewable Energy Group
Texas A&M AgriLife Extension Service
Town of Addison
Women in the Environment
United Electronics Recycling, LLC
University of Texas at Dallas Mint Lab
U.S. Environmental Protection Agency Region 6
Thank you to everyone who attended, and a special thanks to the Dallas College staff who made this event possible.
Follow Us on Social Media!
Follow Sustainable Dallas College on Facebook, Twitter and YouTube! Stay up to date on our upcoming sustainability events, and connect with other people passionate about creating a sustainable way of life.