Last updated on December 1, 2022
When Kathryn Brownlee, Ph.D., professor of music and commercial music, isn't teaching students at Dallas College's Cedar Valley Campus, she can be found conducting the New Texas Symphony Orchestra (NTSO), an all-volunteer community orchestra she founded that's now in its 19th season.
"One of my big passions is community music," Brownlee said. "I think it's so important for people to keep making music. I think it makes us better humans because it helps us stay in touch with ourselves in ways that I don't think can be done in any other field."
Brownlee started the NTSO to fill a void she saw in the community. At the time, there was no community orchestra in the city of Dallas proper. Today, the NTSO provides free concerts across Dallas.
"To be able to play for people who don't think this type of music is for them, or who just haven't had the opportunity to be in a room with it, is just really exciting to me," Brownlee said.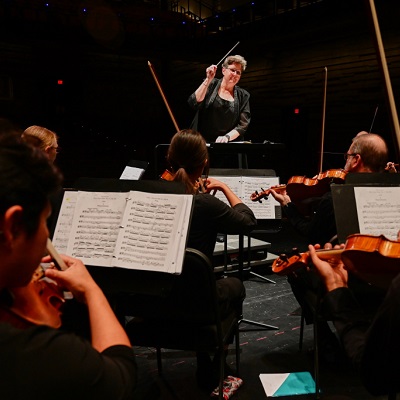 Musical Beginnings
Brownlee traces her love of music back to her days playing the saxophone in sixth-grade band. She continued band throughout high school and college, earning a bachelor's degree in music education.
What she loves most about music is "the emotional connection, creativity and being able to be creative even with something that's printed on a page. You make it yours when you play it."
In the '90s she served as the artistic director of the Oak Lawn Band and was also asked to direct the Cathedral of Hope's church orchestra. It was her work with Cathedral of Hope that inspired her to return to school to improve her knowledge of strings.
Her high school and college experience had not included strings. So, to get better at working with the instruments, Brownlee pursued her master's degree in music education with a certificate in orchestral conducting from the University of Texas at Arlington.
Working as a graduate teaching assistant at UTA, she also found her passion for teaching at the college level.
"It was there that I found my people," she said. "I found the age and the students that I really wanted to work with, so that's partly what encouraged me to go into my doctorate."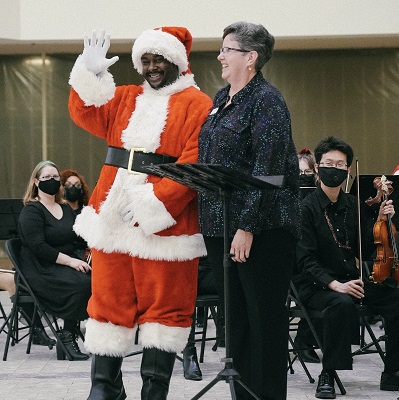 Conducting the Classroom
As she was finishing her master's degree in 2003, a friend recommended she apply for a music lab coordinator position at Dallas College's Cedar Valley Campus. In her second year, she became an adjunct professor and, eventually, full-time faculty.
A former community college student herself, Brownlee understood the benefits that Dallas College provided its students.
"I definitely have a heart for community college, for the benefits and the wonderful experiences of learning in a smaller environment and smaller classes," she said.
As for Dallas College, Brownlee loves the wide range of opportunities for students — particularly with the commercial music program, which prepares them for the workforce. One of her favorite classes to teach is commercial recording technique, where students produce their own radio jingle, learning practical, transferrable skills — from marketing and advertising techniques to directing and coaching others.
But Brownlee's lessons extend far beyond simply making music. The biggest piece of advice she always gives to her class is one that can be applied to all areas of life: "Honor where you are and be OK with where you are. Don't compare yourself to everyone around you because their path is different than yours. You're in the place where you're supposed to be."