Last updated on February 9, 2022
When Temika McCaskill joined Dallas College's culinary program, she had an entry interview with senior director Steve DeShazo before taking her first class. DeShazo asked what she wanted to get out of her education and what her goals were.
Just two days later she had a job at one of Dallas' best restaurants, working for a nationally famous chef mentor.
McCaskill's story is an example of both the tenacity and drive of Dallas College culinary students and the leadership of its instructors. But her story is just starting. A New Orleans native, McCaskill wants to bring her family's cooking heritage to Dallas with an authentic Cajun touch.
"I'm here," she says. "I'm ready. Look for me. I will be definitely making a name for myself."
Pursuing a passion at El Centro
McCaskill comes from a family of professional cooks. Her grandmother started as a school cafeteria worker before founding a catering business; her mother is a professional caterer, too, and her father was an executive chef. But young Temika initially did not follow their footsteps.
"I grew up in the kitchen with them, of course, but I took my career totally in a different direction," she explains. "Then later, after doing some self-reflecting and figuring out what makes me happy, is when I kind of veered back towards food. I got tired of doing things to make money, basically. That was not fulfilling to me."
Having already tried a number of careers, she realized that hospitality was her joy. She researched local culinary programs and quickly found her match.
"Even in my most stressful times in life, I'll cook to overcome those obstacles," she says. "So I'm like, okay, this has to be my passion. So I decided to enroll in El Centro."
Seize opportunities, gain experience
When McCaskill arrived at El Centro, DeShazo asked what her goals were. She replied that she wanted to eventually own her own business, serving the New Orleans soul food she was raised on. DeShazo arranged a meeting with a potential mentor the very next day. That mentor is Tiffany Derry, chef-owner of Roots Southern Table in Farmers Branch and star of national TV shows like Top Chef.
McCaskill smiles when she remembers her conversation with Derry. "I explained to her what I wanted to do, what I was trying to do, and my goals. She said, 'Okay, when can you start?'" The very next day, McCaskill began working at Roots, cooking at a number of kitchen stations and learning the restaurant business.
She also works events with another Louisiana-born chef, David Anthony Temple, who hosts private dinners under the name Chef DAT (as in "who dat?"). McCaskill says she'd recommend to any El Centro culinary student that they sign up for as many events, work opportunities and learning experiences as possible.
"Any event that Steve told me about, I signed up for," she explains. "Experience is the best teacher. If I failed, at least I know I tried."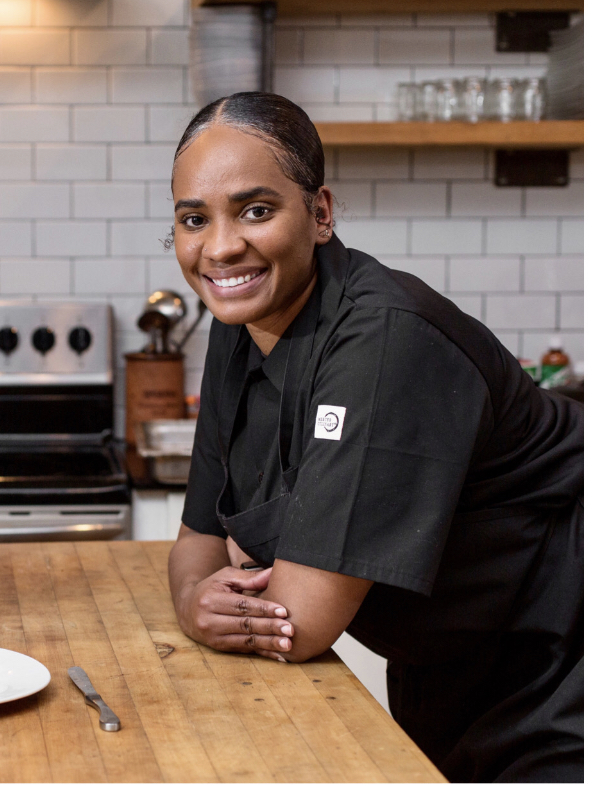 Soul food without limits
Although McCaskill says her specialty is soul food, she also stresses the diversity and variety hidden by that name.
"You can explore all different type of areas with soul food," she explains. "You can take it to any level. It's not just the typical fried chicken, macaroni, collard greens. I have fun with that." At Derry's restaurant, she has cooked recipes like deep-fried shrimp and grit croquettes. In her own cooking, McCaskill also likes to add the French influences that are so common in Louisiana.
Even traditional recipes vary based on where you're from and who raised you. For example, there's the difference between Derry's gumbo recipe, served at Roots, and McCaskill's version. Derry was born in Beaumont, Texas, just 250 miles from New Orleans, far enough to have its own style of food.
"It's good, but it's different," McCaskill says. "But that's the way her mother learned. I learned differently. Chef DAT – his gumbo is different. Everybody from Louisiana's gumbo is different. Chef DAT is more from the Baton Rouge area. Although it's like an hour and 15 minutes, their food is different."
McCaskill looks forward to the day when she'll get to present her version to Dallas. She's exploring all options: a restaurant, food truck, catering service, private events or possibly even education. She's motivated, which is why she chose El Centro's fast track program and why she's working to build her brand on social media.
She strongly recommends that similarly motivated future chefs enroll at El Centro.
"It's smaller and more intimate so you actually get experience," she says. "They have the best instructors. They motivate you, they support you, they encourage you. Anything you need, it's available." And she adds, about the newly remodeled Webb Chapel culinary campus, "Everything you can imagine in that industry is there."
McCaskill expects to complete her culinary program in the spring and start a new business in the middle of 2022.
"Even if it's something as small as a food truck," she says, "I just want to bring that NOLA flair to Dallas." 
Update: In February 2022, shortly after this post was published, McCaskill won a PepsiCo Uplift Scholarship for Career and Technical Certificate Programs. McCaskill tells any students considering applying to go for it: "Not only should you apply yourself while on your journey, but you should apply for every scholarship that helps you secure that journey."