Last updated on October 8, 2019
Thousands of students walk through the doors of our seven colleges each year, and between them all, there are thousands more reasons why. Because of that, sometimes we like to take a little time to cast some light on a specific program, why those students chose it and how it's helped them on their own personal road to success.
For the month of July, our focus is on the Emergency Medical Services education you can get at DCCCD. Here's what some of our graduates had to say!
Why Were You Interested in EMS/EMT Training?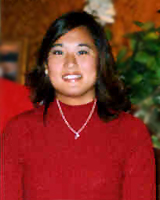 Maggie Brosowske: "I always wanted to be a firefighter. My uncle was a firefighter/paramedic in Chicago, and I always really wanted to be one too. I actually started out in the nursing program at Midwestern State University, but what I really wanted to be was a paramedic. I had already earned my EMT-basic certificate at another community college and a certificate at North Texas Fire Academy when I went to Brookhaven College to earn my Paramedic certificate."
Jessica Heydrick: "Getting my paramedic certification was more of a stepping-stone for me to get both medical experience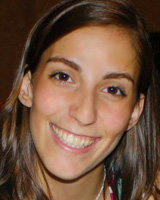 and have a job skill while I'm in college. I'm one of seven kids and was home-schooled all 12 years. In my senior year of high school, I took all dual credit courses through Richland College. Then I spent a semester in south Texas learning Spanish and working in a bilingual day-care center, went back to school and got my EMT training, and now I have a scholarship to earn my bachelor's degree to SMU."
Aju Matthew: "What interested me most about this program was that it allowed me to do what I like the most — help people. It also helped me to challenge myself in different ways and push myself to the limit."
Meredith Rima Garee: "I really didn't think of being a paramedic when I started Brookhaven's certification program; I just thought it would help me get a job as I went through nursing school. But then I just fell in love with it and decided to become a paramedic after all. I love the fact that whether it turns out to be a true emergency or not, somebody needed help and I get to be that person. I love that I get to bring a little calm to the chaos."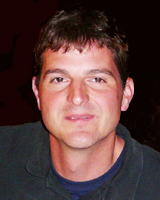 Dave Williams: "After more than a decade in the restaurant business, I wanted something more for my life, a career that could benefit the community and one that my family and I could be proud of. A child of the '70s, I was raised on TV's 'Emergency!' and 'CHiPs.' The excitement of a career in public safety had allured me throughout most of my adult life. Several of the restaurants I worked at were in close proximity to fire stations, so I would watch the engine or ambulance roll by all the time and wonder what I was missing."
How Did EMS/EMT Training Help You Be Successful?
Maggie Brosowske: "Brookhaven's program overprepared me, if that's possible, for the registry exam. Richard Campbell's tests were so hard that when I took the National Registry test (for paramedic certification), it was actually easier than one of Richard's tests!"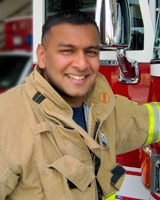 Aju Matthew: "The education I got from Brookhaven was one-of-a-kind. The instructors had real-life experience, good knowledge of the subject and have been in this field for a long time. Their experience, combined with the curriculum, really helped me to get a head start."
Meredith Rima Garee: "Our instructors at Brookhaven really, really cared about what they're teaching; it's obvious that they love their jobs and are passionate about what they do. They know it's knowledge-based training — that their students can make a difference between somebody living or dying. You can tell that they want to graduate students who can hold up not only the reputation of the program, but of the whole profession."
Dave Williams: "I took every opportunity to chat with folks already in the field, and it quickly became apparent that the El Centro/UT-Southwestern program was among the best in the country. I was blown away by the clinical contact I would receive during my education, not to mention the diverse strengths and backgrounds of the faculty."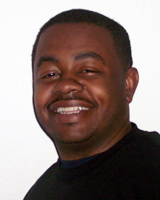 Chris Washington: "When I first got into the Paramedic program, it was pretty tough. Going from business to a medical field, I had to change my whole way of thinking. But once I got the hang of it, I really enjoyed it.
"The best part of my education was the clinical rotations while I was in school. Dallas has some great hospitals — from Parkland to Baylor to St. Paul, which is now UT Southwestern — and you're able to see and do a lot of things you can't in a smaller setting. That real-life experience was the most important thing in my education."
How Are You Applying Your EMS/EMT Training Now That You're Out in the Field?
Maggie Brosowske: "The skills that I learned in the classroom, I use in the workplace all of the time."
Jessica Heydrick: "The biggest thing for me was to get experience: getting to work at Parkland and Baylor and ride with Dallas Fire-Rescue and the opportunity to work with so many patients. Working in emergency medicine and helping with traumas was an incredible experience — and I'm more sure than ever that I want to be a doctor.
"The most important thing I learned was that you can achieve your goals if you put your heart and mind into it. If you do something because you love it, you will definitely succeed. I never saw myself at the position that I am right now, but the education I got helped me to get here."
Chris Washington: "To be good at this job, you have to have great people skills because you talk to people on a daily basis. Sometimes you're yelled at, but you've got to realize that people in different situations treat you the way they feel at the time. If their mother or children are hurting, they're emotional."
Aju Matthew: "You've got to have patience. And you've got to be open-minded — you see a lot of things on this job that most people just don't see, and you have to be prepared to be above all that."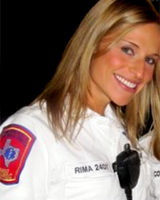 Meredith Rima Garee: "I love so many things about my job. When you show up for a call, you never know what you're going to walk into; it keeps you on your toes. I also love that I work as a part of a team — I don't work for the fire department, but we interact with a lot of public service agencies."
Dave Williams: "As I settled into the hectic life of attending paramedic school and working nights to support my family, I never once doubted that it would all be worth it. Becoming a paramedic forever changed the way I looked at the world and my fellow man and has added great meaning to my life. Attaining my certificate through the program at El Centro/UT Southwestern advanced my early career through instilling competence and an appreciation for the profession in a way few of the other institutions could."
Want to learn more about these alumni? Check out the Student Success Stories section of the DCCCD website.
Ready to get your medical career started?
More Info About Emergency Medical Services/EMT and Paramedic Training