Last updated on September 29, 2021
Last year's celebration of the 50th anniversary of Earth Day was muffled by the quarantine restrictions. This year, Dallas College is making up for it with fun and informative Earth Day events.

Dallas College begins its celebration one day early, on April 21 at 3 p.m., with a live, drive-in concert in the North Lake Campus parking lot featuring Vocal Trash. Vocal Trash is described as "Music with a message: Think … before you throw it away!" Join this green-minded ensemble for its catchy jam on Wednesday.

At 4 p.m. on April 22, Earth Day, student Ferdinando Castro Gonzalez will host the Instagram Live event "51st Anniversary of Earth Day — Young Leaders Promoting Sustainability Around the World." The event's student panelists are:

Ramsey Cook, environmental engineering major and sustainable cities minor, Georgia Tech
Olivia Brookshire, nutrition major and health studies minor, Texas Woman's University
Anna Bartholomew, sustainability solutions master's program, Arizona State University
Oriana Silva, chemistry and French major, Dallas College and University of North Texas
Check Out New Local Environmental News Webcast

Dallas College's commitment to sustainability does not begin and end with Earth Day but is a year-round focus. We are pleased to announce that Dallas College will be the title sponsor for a new, monthly live program called "Green Source on the Air."

The live show kicks off on Earth Day at 6 p.m. Programming will include current and local environmental topics and guests hosted by Green Source DFW Director Wendel Withrow. Visit GreenSourceDFW.org the week of April 19 for invitation and log on details. The show will include live interviews and audience Q&A.

Dallas College students, staff and faculty are invited to pitch their environmentally themed announcements and show ideas to Wendel Withrow (wendel@GreenSourceDFW.org) or GSDFW editor Julie Thibodeaux (julie@GreenSourceDFW.org).
Upcoming Events
All the events below are no charge, but we do ask that you register in advance.

Exploring and Visualizing Sustainability
Tuesday, April 20
Noon to 1 p.m.
Register
Community-Based Air Quality Research: Filling in the Blanks
Tuesday, April 27
Noon to 1 p.m.
Register

All About the Agriculture Academy
Tuesday, May 4
Noon to 1 p.m.
Register

Improving Indoor Atmospheres: Building Wellness and Sustainability
Tuesday, May 11
Noon to 1 p.m.
Register

Trail and Bikeway Network in North Texas: Other Ways To Get Around
Tuesday, May 18
Noon to 1 p.m.
Register

Contribute Your Time for Global Good: Beginners Welcome
Tuesday, May 25
Noon to 1 p.m.
Register
Featured SDG Video No. 15: Life on Land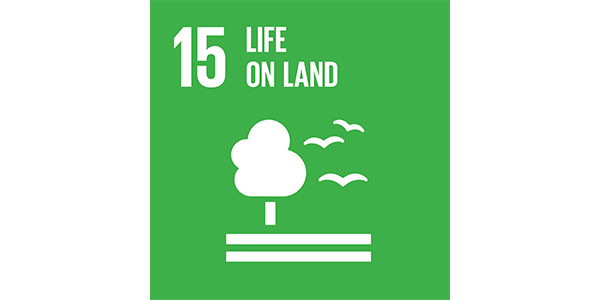 Sustainable Development Goal No. 15 calls for us to protect life on land by:

sustainably managing forests
combatting desertification
halting and reversing land degradation
halting biodiversity loss

Learn what the Texas Trees Foundation and its partners are doing in Dallas County to provide trees across Texas that help clean air and water, reduce the urban heat island effect and bring communities together.