Last updated on August 22, 2023
Dallas College has everything an aspiring entrepreneur or small business owner needs to lay a foundation for success. Just ask Ebbah Realzola, who founded a general contracting business, MEXZIM Corporation, and was recently named an entrepreneur of the year 2023 Southwest Award finalist by EY.
Ebbah has seen firsthand the impact that Dallas College can make as she's mentored students through a fellowship program and helped her business grow through the college's partnership with the Goldman Sachs 10,000 Small Businesses program.
As she described Dallas College students, "Very, very smart, hardworking, eager to learn and always wanting to advance themselves.
"The quality of the students that we get through these internship programs is just top notch."
The same can be said for the type of impact Ebbah and her company received by going through Dallas College's partnership with the Goldman Sachs 10,000 Small Businesses program. The program is designed for small businesses to link learning to action as owners gain practical skills in topics such as negotiation, marketing and employee management.
Ebbah said the program helped her company navigate the tricky waters during the COVID-19 pandemic, and ultimately led to her quadrupling in revenue size.
"As business owners and entrepreneurs, sometimes we feel like we know everything since we started our own business," she said. "But one of the most life-changing experiences going through the program is realizing that we can always learn from others. It exposes some of your shortfalls."
Among the shortfalls Ebbah saw in her business was resource allocation. Once she addressed those issues, her business went to the next level by growing its clientele base.
"The resources and the tools that you get from just going through that program are so, so impactful to your business," Ebbah said. "The program helped me repivot and rework the business model that I had, and it helped me survive COVID."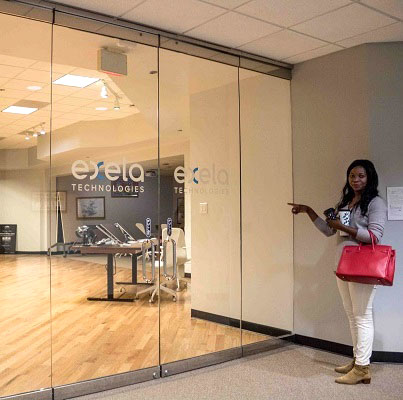 Why Construction?
MEXZIM is a general contractor specializing in commercial construction interior finish-out services for office buildings, warehouses, distribution centers, fulfillment centers, manufacturing facilities, retail and medical facilities. It's about optimizing the usability of spaces.
As MEXZIM's website states, "We help our customers by taking stress off their shoulders on commercial construction interior projects."
Being in the construction industry has been a rewarding career for Ebbah, and she encourages any aspiring entrepreneur to learn and enter the field. There is no better place to start a construction career than Dallas College's state-of-the-art Coppell Center.
"There's always going to be construction," she said. "I would tell students that it is a great way to start a career and then also a great way to go into starting your own business. Once you learn about the trade, it's easier for you to transition from being an employee of a construction company to owning your own business as a general contractor."
Ebbah went on to say that Dallas College is doing it right by offering a number of short-term certifications that allow students to break into the field quickly rather than requiring a two- or four-year degree. For instance, a commercial electrical technology certificate can be completed in two semesters.
"That's one of the things that I really love about Dallas College," she said. "They care about the community, and they also care about building students and taking them into the workspace quicker than most of the colleges around."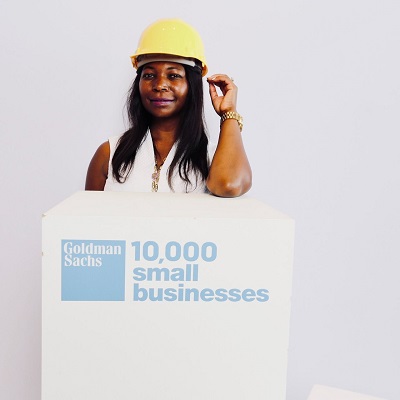 Message to Women
As someone who runs a minority-owned and women-owned business in a male-dominated industry, Ebbah wanted to share a message for Dallas College's female students who dream of following in her footsteps as a business owner one day.
"Don't be afraid. The sky's the limit," she said. "Even in the most male-dominated industries, you can break into it. Channel the minority shortfalls you are facing and prove to your counterparts that you can work as hard as they can, and then you can also achieve and build better results.
"Not only can you do construction, but you can also do technology. You can go into engineering and architecture. The sky's the limit. Push yourself and dive right into it."