Last updated on August 16, 2023
Everything is still a little surreal for Alyssa Fox these days. She sometimes does a double take when she hops on the subway and sees her face on a poster, or even featured on the Gershwin Theater entrance in the heart of New York City.
But, when you're the star of "Wicked," one of the longest-running shows in Broadway history, you've reached celebrity status.
"Every time I see a 'Wicked' sign, I'm like, 'Hey, that's me! That's my workplace,'" she said. "It's advertised everywhere. I've never had anything like that before. But, to see how big 'Wicked' is and to be a part of something that is so big, it is special."
Fox took over the lead role of Elphaba in the Broadway production last March. It's an iconic role, originally played by Idina Menzel, and is now in the hands of a proud Dallas College alumni.
In fact, Fox doesn't know if she'd be in the position she is today without Dallas College's theater program. This is the place where she found and developed her passion for live theater, memorably being cast as Gertrude McFuzz in the Richland Campus' 2006 production of "Seussical: The Musical."
"The show was completely sold out every night. We had to turn people away at the door," Fox said. "It was a wonderful production."
Fox expanded on her time at Dallas College, saying: "I remember going to my musical theater class and it was my favorite class. Our teacher, Wendy Welch, was so wonderful and really inspired me to pursue this thing that I was finding I had a great love for.
"The people there were just so passionate about theater. After we got done with 'Seussical,' I was like, 'I'm addicted to this. Let's keep going with this. I really, really enjoy this.' It really fostered a sense of, 'This is what I want to do with my life.'"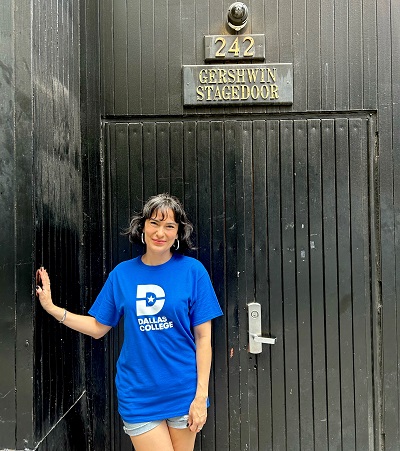 Chasing the Dream
Fox moved on to a four-year university after spending 1 1/2 years at Dallas College. However, she grew frustrated at the four-year school, specifically seeing her student loans pile up. So, in 2008, Fox decided to go all-in chasing her dreams of making it to Broadway.
With only $500 in her bank account, Fox headed to New York for the first time in her life when she saw "Wicked" was hosting an open audition.
"I was unhappy at the time and needed to do something to change this," she said. "So, I just went for it. I went on Playbill.com, saw the cattle call for 'Wicked' and flew up and stayed with my best friend who had a small apartment in New York."
Fox, along with about 500 other aspiring performers, stood in the rain outside the casting office to audition. When she entered, she sang eight measures a cappella of "Astonishing" from the musical "Little Women" and landed a role … a year and a half later as the Elphaba understudy for the "Wicked" production in San Francisco. There were plenty of trying times working odd jobs in the 18 months between the audition and understudy gig, but Fox never wavered in her belief that it would work out eventually.
"Things are scary when you're in that situation," Fox said. "All you really think about is how I'm going to get by day to day. I took a big risk, and it could've gone very badly. But I kept going because that was something in my heart that I needed to do to be happy. It was a risky choice to do that, so I'm really happy that it did work out."
Fox is now among the top Broadway stars. She spent the majority of her time as the Elphaba standby on the "Wicked" national tour and then as the standby for the Broadway show. She also had a stint as the Elsa standby for Broadway's "Frozen."
For Fox, though, Elphaba has been the perfect role and she's enjoyed adding her personal twist to it too.
"I identify with the character of Elphaba a lot, especially thinking about what we've been talking about – struggling to reach a goal and taking risks," Fox said. "The journey of Elphaba is very close to my heart because it kind of reflects me as a human. I do try to bring a lot of myself into the role and make it my own. It's been going on for 20 years, but my show is different for me."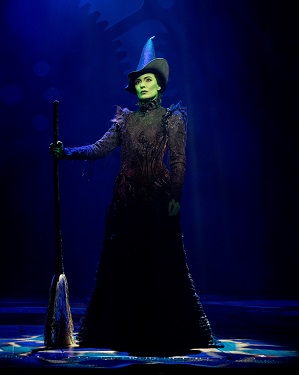 Inspiring Others
Fox hopes her story inspires everyone throughout the Dallas College community to chase their dreams and follow their passion. Whether it's following in her footsteps to Broadway or working on Wall Street, Fox believes anything is possible, especially for those who have the grit and perseverance that comes with being a community college product.
"I never would have gotten to where I am today if I hadn't had the passion that I do. I also wouldn't have gotten to where I am today without the community that I experienced at the Richland Campus," Fox said. "Specifically, Dallas College got me into an academic mindset but with this other flavor of art that went with it. I feel it was just a wonderful community to foster that passion that I already had with other people who were passionate about the same thing."
Fox went on to say that she learned more in her 1 1/2 years at Dallas College than anywhere else. That's how instrumental and influential the Dallas College experience can be for students.
And, that's why Fox joined a long list of others who dismissed the notion of there being a "stigma" attached to community colleges.
"That stigma is wrong because there are so many paths you can take to success," she said. "A four-year university is incredibly expensive, and it knocks people out with student loans the rest of their lives. I would tell anyone that I loved my time at the community college. It was one of my highlights."
One of the highlights along a journey that eventually ended on Broadway.
Dallas College alumni are encouraged to join our Alumni Network!