Last updated on June 29, 2023
Luz Valle had built a nice little home business making wedding invitations. She was well known throughout the Hispanic community, but her business plummeted during the COVID-19 pandemic. Large gatherings such as weddings were essentially shut down with social distance guidelines and ordinances.
Those were difficult days for Luz. It's still not an enjoyable subject to broach. But Luz is finding some good from a bad situation as she embarks on a new journey, a new career with the help of Dallas College.
"When we have bad times in life, it's easy to forget who we were," she said. "We need to remind ourselves who we were before those hard times. We need to remember everything we have accomplished and use that to lift ourselves back up."
Luz, who is originally from Mexico, is doing just that by returning to school for the first time in 25 years. She took her first college classes on the Eastfield Campus last spring, and is excited to continue pursuing an associate degree this summer. In fact, she's enjoyed being back on campus so much that she already has her sights set on earning a bachelor's degree from a four-year university and possibly a master's degree.
By the end of her educational pursuit, Luz hopes to go from making wedding invitations to becoming a health care administrator.
"I feel that health care is geared toward helping people, and I love to help people," she said. "My business was a way to have a job where I could care for my kids, but right now they're in college and high school, so they don't need me around as much."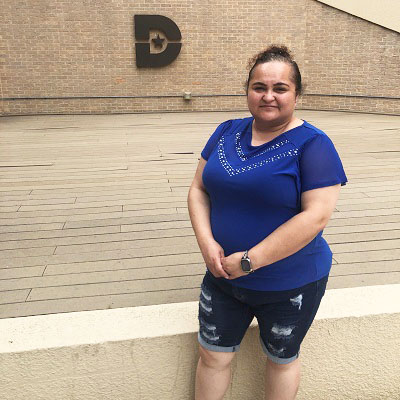 Family Affair
Luz and her college-aged son, Kevin, are both enrolled at Dallas College these days. It's been an enjoyable experience for the two so far.
"It's something you really only see in the news," said Kevin, who is studying invasive cardiovascular technology.
"I was hoping it would happen. My mom has always wanted to go back to school and study, but she was always scared to do so. So, it's really inspiring for me. I'm guessing a lot of people are scared to show their parents in the same space at school, but it truly is inspiring and exciting for me."
In fact, Kevin always told his mom that he would help her go back to college one day. Now, he's following through on that promise.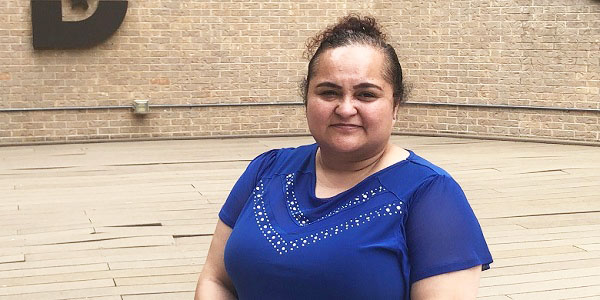 Why Dallas College?
Asked what his message would be to prospective students, especially nontraditional students such as his mom, Kevin didn't take long to formulate an answer.
"This is the best place for them," he said. "It's the most welcoming space that I know of. Your parent will feel welcomed here. You shouldn't be scared of having your parent here. Our parents need to advance just like how they've let us grow into the people we've become. Our parents should grow and become a better version of themselves, too."
Luz has nothing but good things to say about her experience at Dallas College. She started as an English as a second language (ESL) student, and is becoming more fluent by the day. She's also taken advantage of Dallas College's Ascender program.
As the Ascender program describes itself, it is a "familia" that helps students on their academic journey. Luz can attest to the benefits of it.
"The people involved with the program are very nice," she said. "Any question or any problem with classes, they help me a lot.
"Before I went to the Ascender program, I just wanted to get my associate degree. After I went, I now want to get my bachelor's degree and maybe even my master's."
This story and others like it can be found in the Student Newsletter. Check your Dallas College email to see the latest edition.