Last updated on May 18, 2023
Last month, six students from Dallas College's Interactive Simulation and Game Technology Program returned from the SkillsUSA "Interactive Application and Video Game Development" competition with gold medals around their necks.
The team placed first in the state of Texas for their game design and will advance to the National Championship in June.
It's just one of several recent recognitions that students in both the gaming and engineering programs at Dallas College have received.
And one of the biggest cheerleaders for these students is Savitha Pinnepalli, department chair, School of Engineering, Technology, Mathematics and Sciences.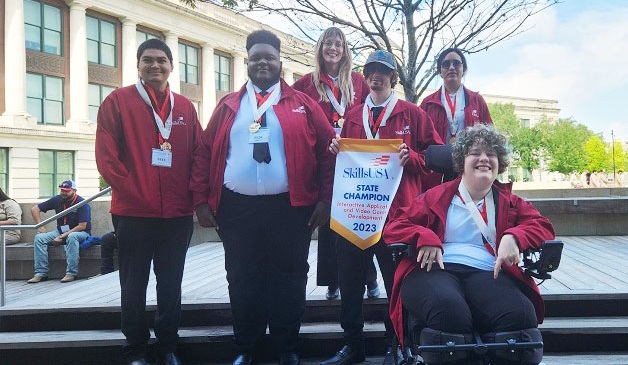 A Billion Dollar Industry
In her role as department chair, Pinnepalli has helped expand opportunities for students in Dallas College's Interactive Simulation and Game Technology (Game Design) program, including introducing four new stackable certificates in programming, art, design and animation.
"They're all 18 credit hours. And they're stackable certificates, so students can get a certificate and continue towards their AAS degree," Pinnepalli explained.
It's no surprise that the game design program is a popular one amongst students, with around 500 enrolled in the program. Pinnepalli has also helped connect students with the local game industry, coordinating video game mixers that bring in industry professionals to share more about their experience.
The goal is to help students not only gain the technical skills needed to design video games, but to also understand the business side of what could turn into a lucrative career.
"The game industry is a billion-dollar industry," Pinnepalli said. "We help students understand the business aspect of it — how much investment is needed and how much personnel is needed to make their dreams come true."
Innovation in Engineering
Dallas College engineering students have also celebrated recent success, with one team taking first place in the national American Society of Mechanical Engineer's (ASME's) Cricket Wicket Knockdown Challenge, where they were tasked with knocking down "wickets" by designing and building a device to launch a ping pong ball.
Pinnepalli has worked to make sure Dallas College's engineering curriculum is aligned with four-year university requirements, establishing articulations with several universities, including Angela State University so that students will be able to easily transfer their engineering classes.
In addition to making sure its classes transfer seamlessly, Dallas College has also partnered with Angelo State to offer scholarships for engineering students looking to transfer to the university.
"Our students can apply for a $10,000 scholarship, and we have up to 10 such scholarships," Pinnepalli said.
In March, eight engineering students had the opportunity to travel to Angelo State University where they stayed overnight in a dorm, toured the engineering labs and participated in an engineering challenge — all to get a feel for the full four-year experience.
Dallas College engineering students also have plenty of opportunities for hands-on engagement here at Dallas College — from robot-building contests to a capstone project where first-year engineering students design sustainable homes.
On May 3-4, the hallway of Wichita Hall on the Richland Campus displayed the students' sustainable home designs, showcasing their creativity and innovation as they put their knowledge from the classroom to use in real-world applications. From a partially underground home, to one with a green roof covered in vegetation, and even houses with attached wind turbines, each design was a unique take on affordable, energy- and water-efficient homes.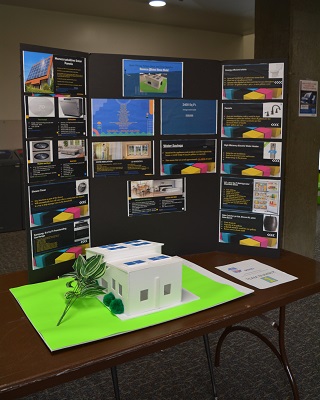 Advocating for Women in STEM
Pinnepalli also has a personal passion for supporting and uplifting women in STEM. "Engineering and IT is a male dominated field," she said. "To break the ceiling, women need a little extra in terms of equity and opportunities."
One of the way Dallas College is building these extra opportunities is through its Women in Engineering club.
The club provides additional education and development by bringing in speakers and providing hands-on activities for them to practice their skills. But most importantly, it's a space that allows the women to share their experiences and provide support for one another.
Bushra Dweik serves as the faculty advisor for the organization. "Being a woman in engineering whenever I went to university, I would be the only woman in my class. So, I understand how the girls in my class feel," Dweik said. "I'm trying to empower them and give them more confidence. I feel like this club has helped them have that confidence."
As for Pinnepalli, her role as department chair can be summarized into one word: Support. She helps ensure all students, whether in engineering or gaming, have what they need to be successful at Dallas College and beyond.
"It's not about me. It's about growing Dallas College, and student success is number one," she said. "I'm just here to help students achieve their dreams."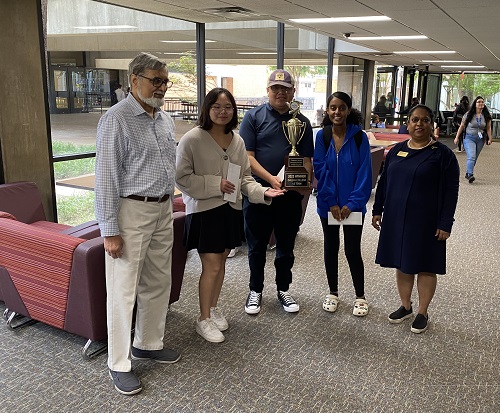 This story and others like it can be found in the Student Newsletter. Check your Dallas College email to see the latest edition.