There were plenty of what ifs going through Pricila Cano Padron's mind when it came to joining Dallas College's inaugural class to pursue a bachelor's degree in education.
"It's a scary thing because it's a brand-new program," she said.
It didn't take long, though, for those fears to subside. Cano Padron had an enjoyable experience earning her associate degree from Dallas College, and that continued in her pursuit of a bachelor's degree.
Cano Padron described the bachelor's program as "amazing," and she's loving it even more as it's helped her land a full-time teaching job in the fall. Cano Padron has accepted a fourth-grade teaching position in the Richardson ISD, the same school district that she attended.
"Everything has been positive. I do not regret my decision to stay here at all," said Cano Padron, who will share her story as the student graduation speaker for the 9 a.m. ceremony on Saturday, May 13.
"It's helped me so much and provided me with my first big, real job. The professors, staff, everyone has been amazing. It's been a wonderful ride. This is coming from someone who grew up saying I would not go to community college."
With that being said, Cano Padron hopes to help break that same community college stigma she had growing up. As she's learned firsthand, Dallas College is a place that transforms lives and communities through higher education as students chase their dreams.
As she now says, "Community college is amazing. I don't see why there's a stigma toward it."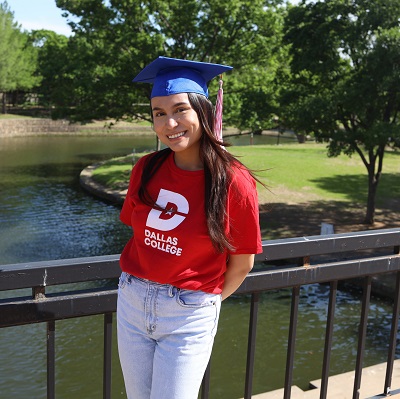 Passion for Teaching
Cano Padron always knew she wanted to become a teacher, pointing to a transformative time in her life as a middle school student when her mom was diagnosed with leukemia.
Her parents had immigrated to the United States from Mexico and spoke little English. That meant 12-year-old Pricila had to serve as a translator at the hospital and on doctor's visits. It was a trying time for the family.
However, Cano Padron remembers the support she received from the teachers and staff at Richardson ISD. How her teachers helped her and her family through one of their most difficult times is what Cano Padron hopes to do for students facing similar adversity.
"I just felt the biggest support team came from these schools, these teachers, these people from the district," she said. "There are teachers who will bring you down, but there are also teachers who will bring you up. I hope to be one of those teachers who supports students and loves them and helps them through it all."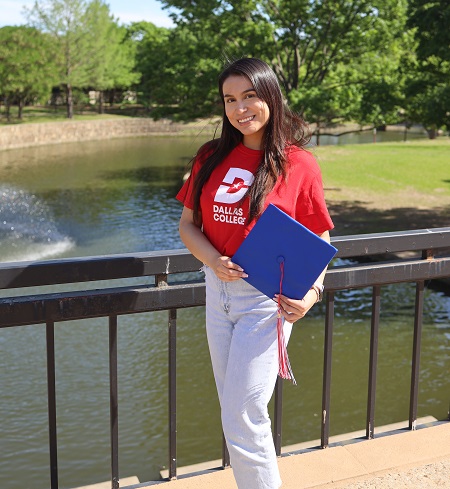 Role Model
Teachers are role models by nature, something that suits Cano Padron. She's seen the impact she's made on her family already as a first-generation college graduate and hopes that only grows in the future.
"I have younger cousins who are now looking up to me and going to college," Cano Padron said. "It's a beautiful thing the impact that one person can have in the family. This is definitely a proud and amazing moment for my parents to watch me go from kindergarten to now."
It's a proud moment for Dallas College, too, as it celebrates the historic moment of awarding bachelor's degrees for the first time to the inaugural class of 125 students.
Dallas College was the first community college in the state of Texas approved to offer a bachelor's degree in education. Knowing the positive impact students such as Cano Padron will have in the community is the reason the college started offering the program.
This story and others like it can be found in the Student Newsletter. Check your Dallas College email to see the latest edition.