Last updated on March 23, 2023
When did you experience a shift in your mindset to be more confident?
When I moved to Texas, I became an introverted person. But soccer helped me grow out of that and become more social. During my junior year in high school, soccer didn't seem like the right choice for me at the time. I wasn't comfortable showing who I truly was. When I met Coach Adrian at Dallas College, he made me feel confident in myself. He explained that his team needed someone like me and that I seemed like a leader to him. That's when my confidence started to build.
Where do you think your lack of confidence came from?
During my junior year in high school, I told myself I wasn't going to go back to playing soccer. It just didn't seem right to me. But my mom told me that no matter what, she would always be there for me if I needed to confide in her. She also told me that I didn't have to be someone else if I didn't want to or if I was uncomfortable, I should be able to put that thing to rest. But I wanted to prove to her that I could be stronger mentally and physically, which is why I've continued to play soccer.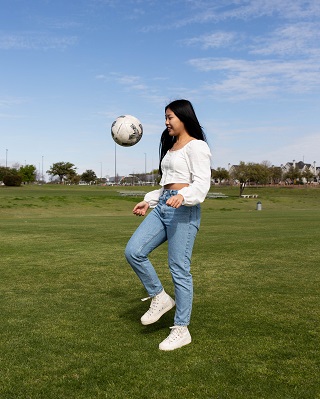 What advice do you have for girls and women?
As I've been building my own confidence, I've found that celebrating small victories really helps. You should celebrate every win, no matter the size. Whether it's lifting an extra five pounds since the last time you went to the gym or if you got up and went to school, you should be able to be proud of yourself for doing those things.
Do you feel that you work harder because you're a female and a minority?
As an Asian woman who plays a male-dominated sport, it is hard to see victories that women have made. Especially with the World Cup or the She Believes Cup. I've seen a lot of stigma around that simply because it is women playing sports. I think if society had stopped comparing us to men, we would have been able to get further along without having to work as twice as hard. And as for minorities, we should be proud to represent our cultures because it makes us who we are. So, I think persevering and putting in the hard work to make ourselves stronger definitely will continue to help us move further.
What is it like being a student-athlete?
Honestly, I had a difficult time adapting to the student-athlete balance. In high school, there's always a routine. But in college, you go more at your own pace. Learning how to manage your time definitely helps. A pro being an athlete is being with your teammates who are now like family to me. I always feel motivated by them to keep going and to do better. Playing soccer in college has definitely made me feel that I am capable of doing more, and I'm grateful for that.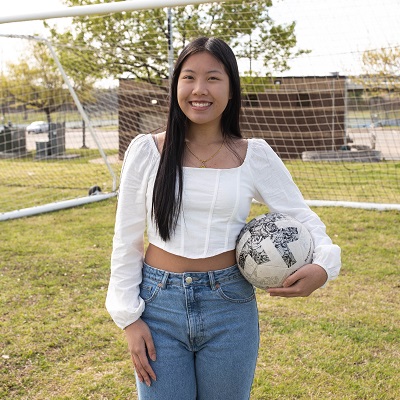 What makes you interested in majoring in computer science?
Since I've been young, I've always wanted to make my own way of learning my native language, which is Laos. I grew up learning it, but at some point in my life, I've lost touch with it. I'm inspired to make something like Quizlet, but just for languages to make it easier for others to learn. Thankfully, there is a great community created by girls for other girls who are learning to code. I think with all the right resources now, it's definitely easier to get into the field of computer science and other male-dominated industries.
What legacy do you hope to leave?
There is a Brazilian soccer player, Marta Silva, who is known for wearing bright red lipstick during the World Cup a few years ago. She wore that lipstick as a symbol of empowerment. For me, I want that same type of legacy. I want girls to express themselves without doubting that they should do something. I would love for other female athletes to get their nails done or wear lipstick when they're playing because they're doing it for themselves and nobody else. It's a form of expression that should be celebrated. I want girls to know that other girls will support that and help them express themselves. That's why I enjoy doing my nails because it makes me feel confident and feminine when I represent myself as an athlete.