Last updated on February 9, 2023
Vonda Bailey didn't need a long deliberation to issue her judgment about the negative stereotypes surrounding community colleges.
"I do not agree with the 'stigma' whatsoever," she said. "And that's why every time I speak about my college experience, I always start with, 'I attended a community college first.' People are like, 'Wow, you did?' I'm like, 'Yeah, and it was one of the best experiences of my life.'"
Dallas College agrees on the ruling and sentiment, waiving its right to appeal as Bailey becomes another success story who traces her educational roots to the school.
After graduating from Carter High School in Dallas, Bailey went to Dallas College's Mountain View Campus, stacking up credit hours for two years and then earning a bachelor's and master's degree from the University of Texas at Arlington. She went on to graduate with a law degree from Texas Southern's Thurgood Marshall School of Law.
Now, after several years of running her own practice, she's become "Judge Vonda Bailey." Bailey was elected judge for the 255th Family District Court in Dallas County. Her new courtroom is the corner suite on the fourth floor of the George L. Allen, Sr. Courts Building in downtown Dallas.
"It's a great honor to become a judge, especially since I was born and raised here," Bailey said. "To see people like Dr. Parker (Jasmine Parker, Dallas College's senior director of diversity, equity and inclusion), and different people in the community who were my teachers, my dentist … being able to serve them in this position is amazing."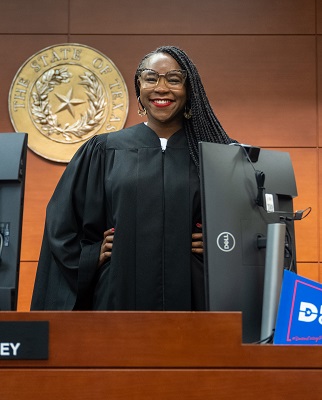 Inspiring Others
For Bailey, being a Black woman in a position of power is more of a responsibility than a sense of pride. As we kick off Black History Month, she welcomes the idea of becoming a source of inspiration for younger generations who could see themselves in her shoes one day, similar to those who influenced her journey.
"I'm happy for myself but, for me, what I'm doing is a testimony for someone else," Bailey said. "It just so happened that it's my story being written, but I do believe that what I'm doing is encouraging someone else.
"Along the way, we all get discouraged and might say, 'Maybe I'm not worthy enough to go to law school.' Well, I would want people to read my story and see, you know what, I can do this. I can get it done."
At a young age, Bailey looked up to famed lawyer Johnnie Cochran as he defended O.J. Simpson during his murder trial in the mid-1990s. At Texas Southern, she loved attending a law school named after Thurgood Marshall, the first Black Supreme Court Justice.
"Having 'Thurgood Marshall' on my diploma makes me feel like I have big shoes to fill," Bailey said, smiling. "I'm spending every day trying to fulfill the things that he did, not necessarily on his level — he's the man — but I want to do my part in giving back."
Impacting Lives
So far, so good in her desire to give back on multiple levels.
As a judge, her role is serving and being a resource for the community.
"When people come to court, whether it's a Child Protective Services (CPS) situation, a custody situation or a property issue where you have to divide the property in a divorce, you're a resource," she said. "Whatever that individual case needs, as the judge, you're supposed to see what it is that you can help them do within your knowledge and the realm of the law."
From a personal standpoint, Bailey is giving back to a number of causes close to her, including creating a scholarship for her law school. She and a fellow classmate formed the Bailey-Clarke Bar Scholarship to award current third-year students financial assistance with their Texas Bar related expenses. To date, they have awarded more than $50,000 in scholarships.
Bailey likes being in a position where she is able to make an impact on the trajectory of someone's life.
"You can do things that change somebody's life, positive or negative," she said. "Especially in a position like this, you can get too focused on the law. This is what the law says. But what can we do in our discretion that could actually benefit or help these people? Maybe a child who is acting out at school or doesn't feel like they have anyone they can trust or depend on, they meet me in a courtroom, and they see themselves 20 years from now in my chair. So, when I think about empowerment, it's how you look to other people and how you assist other people."
What's next?
Bailey is just beginning her journey as a judge.
Is her dream to one day follow in the footsteps of Thurgood Marshall? Or go the TV route and become the next Judge Mathis? Hey, Bailey has a popular YouTube show with more than 400,000 subscribers called "Support Court with Judge Vonda B" that educates people about support laws in Texas.
"That's an idea!" Bailey said, laughing at the TV suggestion. "I've always loved TV. Even as a little girl, I told my grandmother that I wanted to be on TV. I love Oprah. I could see myself doing something like that later on."
For now, though, it's about making the most during her term as a judge. As she described, she's a millennial with the mindset that the "sky's the limit."
"I don't know where this journey is going to take me, but I will tell you I'm very excited to see where it lands me," she said. "I know wherever it lands me, it's going to elevate me to be able to help people and give back on a greater scale. I'm really big about service."
Join the Dallas College Alumni Network.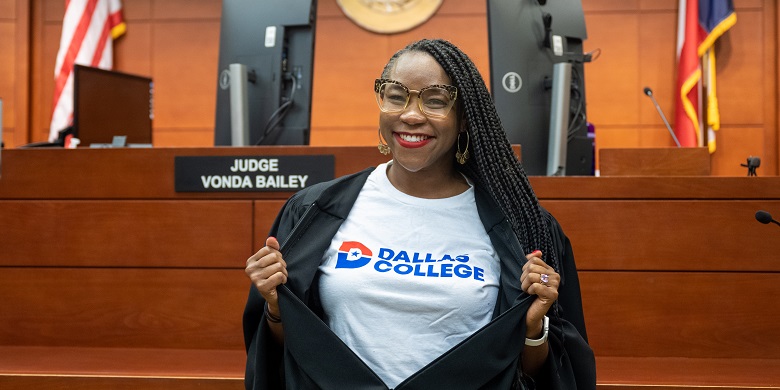 This story and others like it can be found in the Student Newsletter. Check your Dallas College email to see the latest edition.