Seventeen trillion.
That's how many Doritos Locos Tacos have been sold since they hit the market in 2012.
For Ngoc Trinh, a Dallas College alum who was part of the Frito-Lay team that invented the product, it's still mind-boggling how much of an impact it's had on the world.
"We've done a lot of activations, but none to the level of what the Doritos Locos Taco did," she said. "It really came from culinary inspiration and has become one of our biggest innovations. The impact and footprint that it's had on the world — literally, selling trillions of tacos — is the biggest reach anyone could have from a culinary perspective."
That reach is why Trinh remains so passionate about her career as an executive research chef for Frito-Lay. She's been with the company for 13 years and continues to create new flavors and snacks for consumers worldwide to enjoy.
Whether it's the Doritos Locos Tacos or cappuccino-flavored potato chips, the idea of bringing new tastes and flavors to the market never gets old. Along with the Doritos Locos Tacos, other products that Trinh helped develop include Lay's Sweet Southern Heat Barbecue potato chips, Doritos Tangy Ranch potato chips, Stacy's Simply Bruschetta Pita Chips and pizza-flavored SunBites crackers.
As Trinh said, "Knowing that there's someone in Saudi Arabia eating a pizza snack that I created, opening up the bag and smelling it, saying, 'I've never had pizza before. Now I get to have pizza in a snackable form.'
"To me, that's the coolest thing on the planet."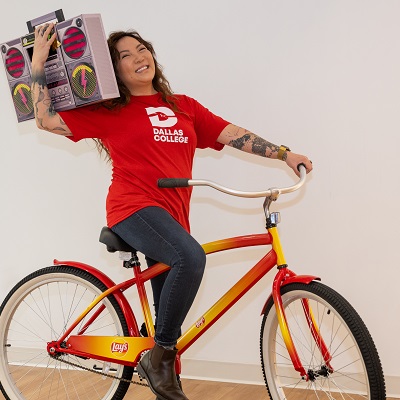 Path To Dallas College
Some people are born into families with strong college allegiances, usually name brands such as the Texas Longhorns or Texas A&M Aggies. Ngoc Trinh, though, grew up in a Dallas College house.
Trinh's parents immigrated to Texas from Vietnam in the early 1980s, and immediately enrolled in the then-Dallas County Community College District (DCCCD). They understood the importance of obtaining an education as a refugee in the country.
"My dad went from refugee to electronics engineer through DCCCD," Trinh said. "All of my family — my uncles, extended family — graduated with associate degrees from DCCCD. I continued that legacy."
Trinh started attending Dallas College's Brookhaven Campus as a dual-credit student at R.L. Turner High School in Carrollton. Her initial plans were to become a dentist, and she enrolled in Baylor University's dental program.
However, she quickly realized her passion for food outweighed any desire to become a dentist. That meant a difficult conversation with her parents, but she enrolled in Dallas College's culinary program in 2002.
"I never thought about culinary until I started doing the dental program at Baylor," she said. "My passion for food was too strong, and I worked in food service throughout high school. When I was 14 years old, I was scooping ice cream for customers."
It runs in the family, too. Even though her parents pushed her toward the medical field, Trinh's grandparents owned restaurants in China and Vietnam. Now she's a doctor of food, if you will.
"It's in my blood. It really is innately who I am, I was born to do this," Trinh said. "As much as my parents wanted me to pursue medicine and become a dentist or a doctor, cooking is my passion."
Trinh pauses and laughs, "Now, I don't recommend dropping out of medical school to anyone. You've got to do it for the right reasons."
It worked out for her.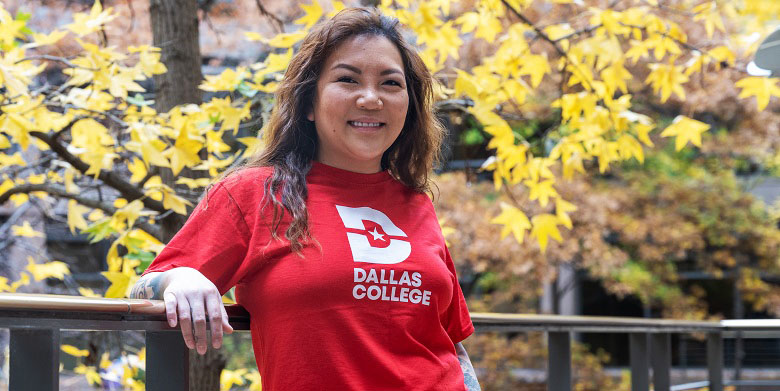 Cooking Inspiration
Trinh draws inspiration for her next great product from experiences over the years. This is a woman who has traveled the world, visiting six of the seven continents (she's never been to Africa) and dozens of countries.
But the root of her inspiration always comes back to family. At a young age, she remembers her mom filling up the grocery cart with fresh ingredients. After all, her mother used to grow the family's own food in their home and was now living as a refugee in a new country.
"She had to recreate what she knew and loved," Trinh said. "She used totally different ingredients, different cooking materials. But she never bought packaged ingredients.
"So, where I am today, I take those fresh ingredients and translate them into what is now our amazing snacks and foods."
Frito-Lay Days
Trinh was working for Wolfgang Puck's restaurant in Dallas when they catered an event for Frito-Lay executives. That's when Trinh's talents were noticed, and she soon joined the Frito-Lay team. It didn't take her long to make her mark, helping produce the famed Doritos Locos Taco.
She also swept all five flavors for Quaker instant oatmeal, including apple walnut and berry. The strangest flavor for Trinh was creating Lay's Cappuccino Potato Chips.
"It was so weird, but it worked," she said, smiling. "The inspiration comes from cappuccino and pina colada, and it really translated well on the chip. We use amazing scientific algorithms and culinary inspiration to design these flavors to fit."
Trinh describes it as "culinology," a blend of the culinary arts and the science of food. It all traces back to her time at Dallas College.
"The culinary program had a blend of professors, ranging from those with decades of experience in the industry to military backgrounds to science backgrounds," she said. "They had such a wealth of knowledge, which really translated for me into this deep knowledge for foods and flavors and science.
"If I had not pursued this education, I wouldn't be where I am today."
Now Trinh is using her talents to please hundreds of millions of consumers a day. In reality, though, Trinh views her job much like someone who runs a restaurant. If a restaurant owner visits Vietnam, they may take some of that culinary inspiration and incorporate it into their menu.
"We just do it on a bigger scale," Trinh said. "I've gone from serving 300 people at a time to serving 300 million."
And sometimes that 300 million turns into 17 trillion. Trinh tries to have at least one Doritos Locos Taco a year to remember the impact that flavor has had.
And the search for the next big flavor remains ongoing.
"We are totally working on it," she said. "We're constantly using trends and culinary logic to create the next big thing. Spice is not going away, spicy is continuing to grow, so you'll see it in our products, and you might even see it in something sweet.
"And we're doing some wacky stuff with everything from jalapenos to cheesecake."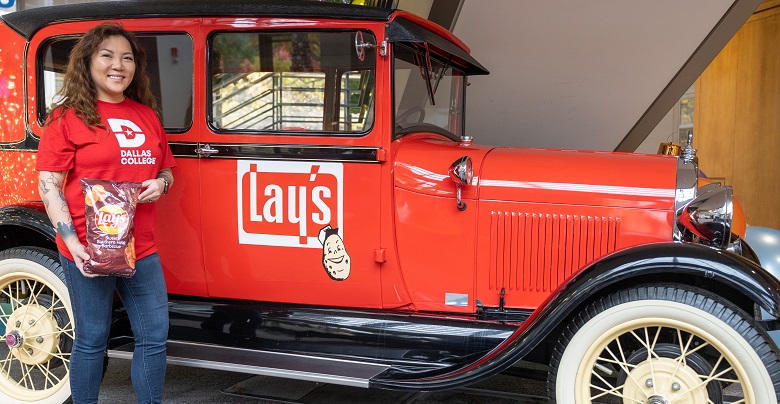 Dallas College alumni are encouraged to join our Alumni Network!