Last updated on October 5, 2022
In the spirit of Hispanic Heritage Month, Dallas College is highlighting Hispanic-owned businesses around our campuses.
For instance, a short drive from the Mountain View Campus is ABC Party HQ, which has become legendary in the piñata world. The man behind the Oak Cliff store is Carlos De La Fuente.
De La Fuente and other Hispanic businesspeople near our campuses offered insights, tips and advice for the Dallas College community.
Mountain View Campus
ABC Party HQ
Location: 1414 W. Davis St., Dallas, 75208

The business: ABC Party HQ is a piñata establishment that fabricates and customizes piñatas for whatever occasion a customer is celebrating. Most of the requests are for cartoon characters or political figures.
The person: Carlos De La Fuente has been in the Oak Cliff area since third grade and has spent most of his life running a family business. De La Fuente's father had a farmers market cart, which still operates to this day out of ABC Party HQ's parking lot.
The advice: "Don't let anybody knock you down. It's going to be hard. I'll be honest — nine out of 10 times you're going to fail, but you only need that one thing to triumph."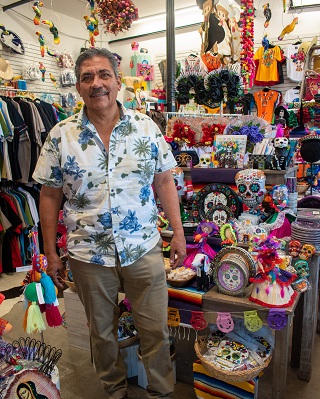 Richland Campus
Sueño Modern Mex-Tex
Location: 800 W. Arapaho Road, Richardson, 75080
The business: Julio Pineda developed this Mexican restaurant with the help of those closest to him, including his father Aureliano Pineda (executive chef) and cousin Cristian Lujano (bar director).
The person: Pineda's family immigrated to the United States when he was 5 years old, and they have been chasing the "American Dream" since. In fact, "sueño" means "dream" in Spanish. "America is the land of opportunities," Pineda said, "and I am a living example of that."
The advice: "First and foremost, believe in yourself. Don't let someone else bring you down. You will fail but your comeback will be 10-times your best."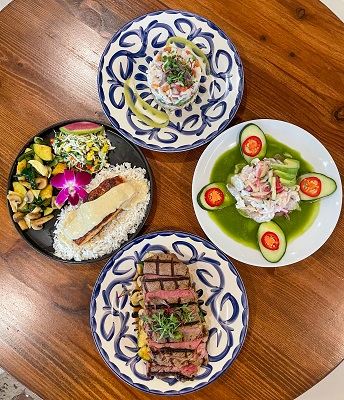 Brookhaven Campus
The Vale Group
Location: 4100 Spring Valley Road, Suite 250, Farmers Branch, 75244
The business: The Vale Group is an insurance agency that understands "the importance of protecting what matters most in life." It opened in 2012 and has helped countless families and businesses with insurance needs, tax services and financial services.
The person: Edgar Vale studied finance and business administration. Vale takes pride in his company employing both English and Spanish speaking employees to better serve the community. "I feel proud that we can help other Hispanics achieve their dreams through our services and consulting," he said.
The advice: "Fight for your dreams. Surround yourself with people who are positive and look out for your best interest. Build a winning team and continuously invest in yourself through education. ¡No hay límites de lo que podemos lograr!"
Eastfield Campus
Fairway Independent Mortgage Corporation
Location: 375 Cedar Sage Drive, Suite 250, Garland, 75040
The business: Jennifer Salazar is a senior loan officer for Fairway Mortgage. She is responsible for bringing in all her own clients and business, helping home buyers obtain a loan to purchase their home.
The person: Salazar is an SMU graduate who recently earned a certificate in disruptive strategy from Harvard Business School. Technically, loan officers only need a high school diploma, but Salazar believes her educational background has helped "advance her brand."
The advice: Salazar encouraged any aspiring businessperson to employ bilingual team members to assist Spanish-speaking clients, especially in an industry such as hers that includes the biggest purchases in a person's life. As she said, "If a team does not have a Spanish speaker, many clients depend on their child to interpret the information. Kids and teens do not know how to explain interest rates, house payments, down payments, etc. We never want a client to feel underserved because they do not know English."
North Lake Campus
CIMA Logistics
Location: 2300 Valley View Lane, Irving, 75062
The business: CIMA Logistics is a logistics and transportation company focused on the oil and gas industry with a specialization in frac sand logistics and transportation.
The person: Blake Nava is one of four owners who recently participated in Dallas College's Goldman Sachs Small Business program. He takes pride in being part of a Hispanic-owned business, saying: "I feel it's important to give other Hispanics opportunities to build their careers, personal and professional knowledge, and to build a community focused around family and friends."
The advice: "As an entrepreneur, it is important to understand what makes up a business and how the money flows. Get a well-rounded education around business and do not be scared to try new things that are possible of failing. That is the best way to learn and experience growth."
Cedar Valley
Ruiz Financial Solutions
Location: 1221 W. Belt Line Road, Cedar Hill, 75104
The business: Ruiz Financial is described as your "one stop solution for all your bookkeeping, financial consulting and tax preparation needs."
El Centro
Twisted Trompo
Location: 1211 Commerce St., Dallas, 75202
The business: Twisted Trompo is a favorite lunch joint for those stationed at our El Centro Campus. The family-owned taco shop started in 2008 with a single location inside the Chevron at Bachman Lake and opened its downtown doors in September 2018.