Thirty-eight percent of the students currently enrolled at Dallas College are first-generation college students, according to student information profile data. As we participate in the National First-Generation College Celebration on Nov. 8, Dallas College students and alumni share their experience of being the first in their families to attend college.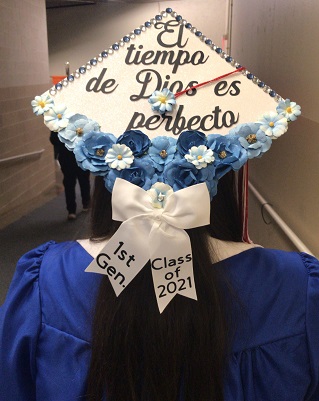 Karrington Bennett
As a first-generation student and a woman of color, I've had to face some barriers, but I've been given a lot of resources and opportunities at the same time. A lot of students come here and find out it wasn't what they thought it would be or it's just a struggle for them. That is why I love sharing my experience because I can show other students like me that it's possible. You don't have to come from money, or your parents don't need to have degrees for you to be successful.
I am an advocate for higher education. Education gives you freedom, regardless of where you come from or the struggles you've faced. Obstacles actually help make someone a better student. While some people have had things handed to them their whole life, those who have struggled have gone through more experiences that better mold the person they have become.
Orlando Silva
My mom didn't finish elementary school, and my dad didn't finish high school. So, I didn't have the influence of someone telling me to pursue higher education. But they did encourage me to have a hunger for knowledge. There was this one time I was trying to do my math homework and my mom was apologizing to me because she told me she couldn't help me. But she expressed how she believed in me. That time will always be engraved in my memories.
I take pride in the fact that I've learned a lot of things on my own, such as applying for college and learning about financial aid and scholarships. I have a great sense of independence because of all that. Even though it would have been nice to have someone who has gone through the college process to help me, I'm learning to embrace this journey of learning on my own and finding the right resources and people to help me. For me, I grew up in an urban neighborhood that wasn't the best. So, when I go back to visit my parents and neighbors, I like visiting the kids in the neighborhood especially because it gives me an opportunity to inspire and encourage them to stay in school. I want to be the role model I wish I had.
Aaron Doyle
I've never been to college before. When I was in high school, I didn't have the interest. And I would have been the first person in my family to attend, so I didn't have anyone to help me because nobody knew how to enroll. So, I wanted to start with community college. It sounded like it would be an easier transition instead of a university. And it was. I chose the path of least resistance.  
Senquae Cox
It's a mindset in which you have to adapt to make your goals happen. In my own journey, I've had to grow in a lot of ways. It was a lot of mental strength I had to acquire throughout the entire process because I had to sacrifice a lot. There were many times I had to miss out on some things, but I know I'm paving the way for even better opportunities for my kids. I take great pride and joy in knowing that I'm the first one in my family leaving legacies filled with education and job opportunities.