Cedar Valley President Joe Seabrooks hopes the "Sneaker Lab" will walk students straight into success.
"The level of engagement, the way it was described to me, was we don't have anything like that," Seabrooks said. "The potential future implications of a program like this are huge. We have a lot of young people who are not sure if college is for them, if higher education is a good investment, so these types of discovery experiences allow students to gain access to people in the profession and tap into talents and skills they may not know they even had."
The "Sneaker Lab" was hosted over four days last month, running Aug. 2-5, and gave students the chance to design and market their own Air Force 1 concepts with hands-on training and virtual meetings with Nike executives.
Four teams were formed with three or four students on each team, and they competed to determine which team best served their client. Seabrooks was a client, as well as fellow Dallas College employees Rolanda Price, Ryan Thornton and Nasko Arsov.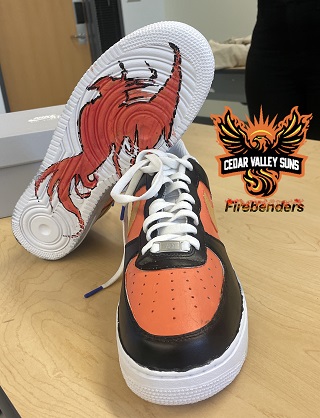 And the winner is …
In the end, it was the Circuit Breakers team – with Seabrooks as a client – that emerged victorious. The Circuit Breakers were led by two now-Dallas College and Kathlyn Joy Gilliam Collegiate Academy graduates in Marjorie Lopez, who has continued her studies at North Texas, and Brianna Hall, who is at Howard University.
The Circuit Breakers' Air Force 1 design, dubbed the "Firebenders," was inspired by the Cedar Valley Suns mascot and incorporates the Phoenix. As legend goes, the Phoenix is a mythical bird that cannot be truly destroyed.
"At first, I was like, 'Is this rigged?' But then I saw the dynamic team's presentation and they were hard to beat," said Seabrooks, who is getting a case made to showcase the shoes in his office.
More importantly, Seabrooks said, are the opportunities presented throughout the four-day event. The students were able to listen to executives in the shoe industry about how they reached their positions. And they were able to see the wide array of careers available.
Getting students involved
The "Sneakerhead" population is only growing these days, and experiences of this nature shows ways students can get involved with one of their passions directly or indirectly.
"The Sneaker Lab is a very exciting concept because it teaches all of the opportunities, all of the careers, all of the disciplines that go into us being able to buy a pair of shoes off the shelf," Seabrooks said. "Everything from the designers to engineers to scientists who determine why this particular shoe would work for Kevin Durant off his size and abilities, and to customize that for him.
"Then you go into sourcing materials, how it's manufactured, the contracts and the process involved to make that happen, to retail outlets and finding the right price point. People have invested their whole lives to figure this stuff out."
For Seabrooks, given the success from the inaugural Sneaker Lab at Cedar Valley, it's something he'd love to see become a collegewide initiative.
Looking ahead
In Seabrooks' vision, every campus would run its own Sneaker Lab with a schoolwide champion crowned at Conference Day. Call it the "Chancellor's Cup."
Among the underlying factors to make this even more worthwhile, Seabrooks said, is who the campuses could include as "clients" for the different teams to design shoes for.
"You could have state representatives, city council members, principals, CEOs," Seabrooks said. "Just imagine who our students could see and hear from if we had five teams at every campus."
At the end of the day, it's about engaging students in unique ways and showing them that higher education is worth their time. As Seabrooks put it, the next generation is all about having two or three "side hustles" and Dallas College has to showcase that it can help at least one of those "side hustles" to prospective students.
"How do we at Dallas College tap into those interests long enough to convince them that if you spend time with us, we can help one of their side hustles be more stable, more lucrative, more sustainable," he said. "If I had a magic wand, the first thing I'd do is pursue the Chancellor's Cup here at Dallas College.
"I'd love Chancellor Lonon to consider it."