Count Eric Hernandez among the many students who were happy to return to Dallas College this week.
Hernandez is finishing up the welding technology program this fall on the Mountain View Campus and is excited for what this semester has in store.
"I was ready for classes to start," Hernandez said. "Welding is just so comforting and satisfying for me."
Hernandez is a first-generation welder and already has a job lined up at a Waxahachie shop once he completes the program.
Dallas College prides itself on transforming lives and providing education that works. Hernandez is one of the many examples of that coming to life with similar stories expected as the 2022-23 academic year unfolds. Projections show Dallas College serving approximately 125,000 students taking both credit and noncredit classes this academic year.
Whether students are finishing up or just getting started, Day One always brings a renewed energy to every campus.
Take Rene Lopez, for instance. Monday marked a historic day for his family as he officially became a first-generation college student on the Brookhaven Campus.
"I chose Dallas College because of so many factors," he said. "It's cheaper to come here, and it's close to where I live. We are also planning on moving, so I can always change my classes."
As of now, Lopez would like to join S.W.A.T., although that is subject to change throughout his college journey.
"I know my goals, but I'm not sure that's the goal I want to stay with," he said. "This opportunity can transform my life by giving me more opportunities, I guess that sounds cliché."
Lopez plans to study hard, earn his associate degree and then apply to the police academy. He said the Brookhaven Campus is a maze of buildings, but he's been able to find everything he needs.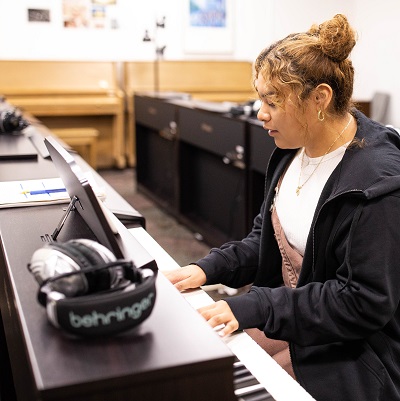 New Dreams
With more than 300 academic and technical degrees and certificates, Dallas College provides an opportunity for students to pursue a variety of careers.
El Centro student Nery Garoz took his first classes at Dallas College as a student enrolled in the P-Tech program at Adamson High School in the summer of 2017. He completed core courses, along with earning a couple of certificates, but an apprenticeship at JPMorgan Chase motivated him to pursue an associate degree in business administration. This is his first semester taking classes toward his new major.
"[The people at JPMorgan Chase] inspired me to come back to college since I want to be just like them," he said.
After earning his associate degree, Garoz would like to finish a bachelor's degree in business. Eventually, his goal is to work as a "know your customer" analyst or KYC.
For now, he's just excited to be back on campus and around some of his favorite instructors. Garoz said it's the people at Dallas College who are the reason why he's looking forward to this semester.
"Everyone is really nice," he said. "Now that I have more self-confidence, I can go after it."
International Flare
Dallas College is home to almost 12,000 international students and they all had interesting journeys to Dallas College.
El Centro student Travis Dale Skyers is originally from Jamaica, went to high school in Florida and is now studying apparel design. He hopes the degree helps him build his current company — Beauty in Chaos.
His goal is to turn his business into a vocational training company that will allow people the opportunity to try out different vocations while gaining hands-on experience. Skyers is already a certified personal trainer and a personal chef and will add another layer to the business with his fashion endeavors.
"I've always been fascinated by the fashion industry, but the fact that now I'm learning first-hand experience in a safer environment is what I'm excited about," he said. "I'm happy to make mistakes, errors and learn from it."
International student Moya Djigbenou is also excited to start at Dallas College. Ultimately, she'd like to attend the University of North Texas and study marketing.
For now, she's focused on making the most of her Dallas College experience. Djigbenou is the youngest of six children, born and raised in Ivory Coast, West Africa. She studied English for more than two years in Ghana and is now taking classes at the Brookhaven Campus.
Dallas College is transforming her life.
As she put it, Dallas College is "providing the quality education that I need and giving me the opportunities I need to afford that education — such as scholarships, good professors and quality programs and classes."