Last updated on October 6, 2021
Dallas College is committed to providing no- or low-cost sustainability education to its students, employees and community. There is no charge for the virtual conferences shown below.
Global Sustainability Conference
Dallas College is an official Host Institution of the Association for the Advancement of Sustainability in Higher Education's (AASHE's) annual Global Sustainability Conference! So, what does this mean for you? It means you get to attend for free! (That's a $125 value for students.) 
Through this three-day event, you will have the chance to explore live interactive sessions, tune in to captivating keynote presentations, and engage in networking opportunities with thousands of other sustainability professionals and campus-change agents. 
Find out how to register for free to attend this three-day event (student login required).
11th Annual Dallas College Sustainability Summit

Dallas College will host its 11th annual Sustainability Summit on Friday, Nov. 5, bringing together students, employees and community members to learn about social responsibility and how to cultivate civic engagement – the focus for this year's summit. Register today. 

The keynote topics include:

How respect for self and others improves civic engagement and civil discourse
Civil discourse – how we can move beyond our seemingly intractable wars of ideas
Additional topics to be explored are:
Why Voting Matters
How Service-learning Benefits Both the Givers and Receivers
Can Mindfulness and Compassion Training Increase Responsiveness and Resilience to the Climate Crisis?
Media Literacy: How to Spot Misinformation Online
Reflective Structured Dialogues
Sustainability for Self: How to Have the Time and Energy for Civic Engagement
Three Questions that Can Transform the World

Students, employees and community members seeking more civil discourse in today's society and a return to civic engagement will be especially interested in attending. Produced by Dallas College's Sustainability Office, the goal of the annual summit is to also provide no-cost learning opportunities to community members in the three primary areas of sustainability: equity (people), environment (planet) and economy (prosperity).

"Civil discourse is the ability to listen to all sides of an issue and find common ground. This skill is key to developing strategies that will not only sustain our environment but also strengthen the fabric of our society so that efforts to solve the world's most vexing problems succeed," said Georgeann Moss, senior director of sustainability at Dallas College.

The American University's Project on Civil Discourse has defined civil discourse as "truthful, productive, audience-based, about listening and talking and about each person's own responsibility. It is not mere politeness, an exercise in martyrdom, about telling other people who they are or purely performative."
Civil discourse is crucial in creating an equitable and sustainable society.

Get more information about the Sustainability Summit.
TRACS Summit Explores Reasons to Have Hope for the Future on Nov. 8-9
Dallas College also is host to this year's Texas Regional Alliance for Campus Sustainability (TRACS) Summit on Nov. 8 – 9. The theme of the event is "Hope for the Future." It will provide educational opportunities for students, faculty, staff and community members on five specific Sustainable Development Goals that address hunger, health, education, inequality and climate change. As the name implies, the sessions and speakers will be focused on solutions and why they have hope for the future.
The keynote speaker is Bina Venkataramn, author of "The Optimist's Telescope." She teaches in the program on Science, Technology and Society at MIT and is a fellow at New America. A former journalist for The New York Times and The Boston Globe who also served as senior adviser for climate change innovation in the Obama White House, she is now director of Global Policy Initiatives at the Broad Institute of Harvard and MIT. Venkataraman is an alumna of Brown University and the Harvard Kennedy School. She grew up in Ohio and now lives in greater Boston.
These two events were intentionally scheduled back-to-back to allow us to keep the mojo going. This is the first year the TRACS Summit is virtual, allowing people across the state of Texas to attend. Dallas College is able to offer registration at no charge through the generous support of our sponsors.
Get more information about the TRACS Summit or register today.
Other Upcoming Events
October 2021 Sustainable U Webinars

Tuesday, Oct 5
Noon to 1 p.m.

Solutions for Light Pollution: There Is Darkness at the End of the Tunnel

Frank Cronin, Austin Community College, professor

The misuse and overuse of light causes light pollution, which wastes money and energy, harms human health and devastates wildlife. Unlike other types of pollution, light pollution has solutions that are easy to implement and deliver immediate and lasting results.

Register for this Oct. 5 event.

Tuesday, Oct. 12
Noon to 1 p.m.

Owenwood Farm and Neighbor Space: Building Community and Sustainability in East Dallas

Justin Barringer, Director of Social Outreach and Executive Director of Diapers, Etc.
Owenwood Farm and Neighbor Space is White Rock United Methodist Church's second campus. The undeveloped land at Owenwood was once baseball and soccer fields. But as the neighborhood changed, so did the needs of their friends and neighbors. When neighbors needed a space to play, the land was available. Now their neighbors need access to fresh food, diapers and necessities that aren't usually provided by government assistance programs. And they are working to bring affordable local organic produce to the community and other necessities. In the middle of a food desert, Owenwood Farm actively works against injustices as they provide opportunities for connection and food access to neighbors in 75218 and 75228.

Register for the Oct. 12 event.

Check out more upcoming Sustainable U webinars.
Spotlight on SDG #10 – Reduced Inequalities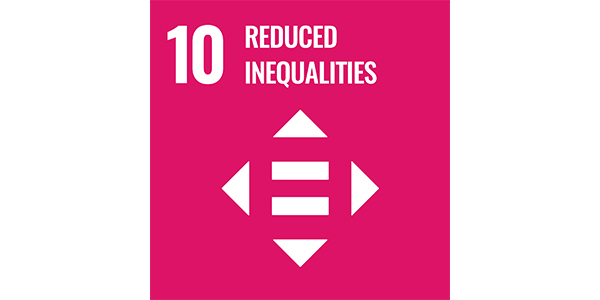 Dallas College Chancellor Dr. Joe May explains how higher education helps reduce poverty, provide access and opportunities for careers, train people for jobs that pay a living wage and give families security in this two-minute video.
Take the Pledge