By Cherie Yurco
In recognition of National Disability Employment Awareness month, we are sharing the inspirational story of North Lake alumni Ray Cerda, Jr., and his "unexpected" life.
Ray's life took a dramatic turn in high school. A gifted athlete and class president at Irving High School, he thought he knew how his future would unfold. Then, an accident left him a quadriplegic. Through hard work and determination, Ray had a successful career in Parks and Recreation until his retirement in 2018.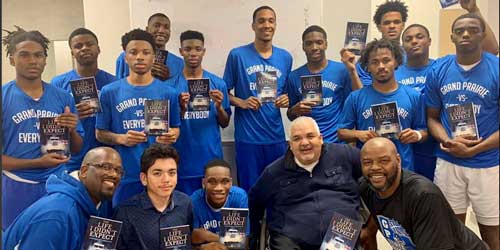 His Book
He's since written a book, "The Life I Didn't Expect: Facing Adversity and Winning." And, prior to the pandemic, he'd become an in-demand public speaker. As he slowly and cautiously resumes speaking engagements, he especially enjoys reaching out to young people, who may, at first, feel uneasy around him.
Ray says he wishes that people meeting him would not focus on the chair. "Everybody tends to look at the wheelchair and not the person," he says. "Look at the individual, look at who I am."
In his book, Ray describes his journey and the many challenges he had to overcome to finally reach his goals. As Irving director of Parks and Recreation he oversaw 370 employees and an $18 million budget. "I was successful because I held myself to high standards. I made sure my work was done on time. I was always the first one in the office and the last to leave," he says.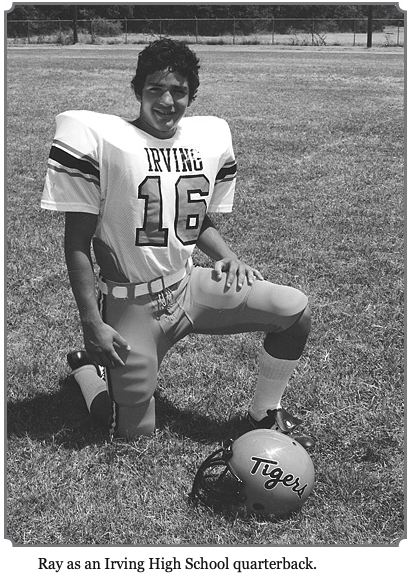 Ray shares lessons learned from the early months of rehabilitation, as a teenager, when he grew up quickly. "Don't take life for granted. My whole life changed in a matter of seconds," he says. "You are not invincible, no matter how popular, athletic, good looking, smart or connected you are."
Some Things You Can't Control
There will be some things in your life that you cannot control, he explains, and then, you'll just have to do your best. "The things that used to take me seconds or minutes now take much longer," says Ray.
Though high school was challenging after the accident, with the help of tutors and note takers, Ray was able to graduate with his class in 1982. That summer he began what would become his life's work.
"I applied for the part-time track and field coach position at the Irving rec center," he says. "Chris Michalski, who hired me, didn't look at my chair. He gave me an equal opportunity and that's all I ever wanted."
Life as a Dallas College and UTA Student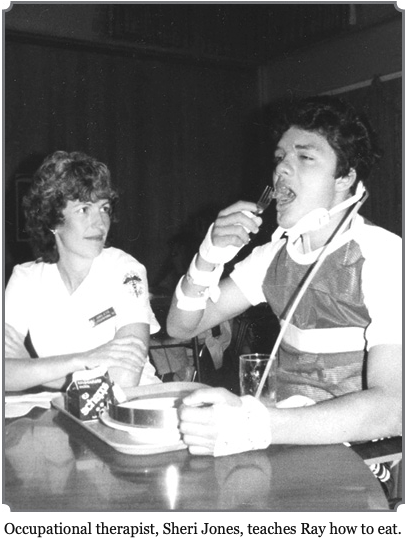 In the fall, he started classes at Dallas College North Lake Campus. He says the small campus was wheelchair accessible and fairly easy to navigate. He even took a work study job in the advising center. Starting at North Lake made the college transition easier and saved money.
Ray graduated with an associate degree in Arts and Science and transferred to the University of Texas at Arlington (UTA) for his final two years of college.
UTA proved to be more of a challenge. "Parking was a nightmare," recalls Ray. Other students, oblivious to his situation, would park too close to the handicapped spots. He wasted precious time trying to find one that worked, or worse, he would get blocked in. Plus, the distance between classes meant that he was often late.
UTA did give him one opportunity he thought he'd never have again—a chance at sports. "I got involved in wheelchair athletics," he says. Ray joined the track team and even received a varsity letter. "It was therapeutic because I still had a passion to compete at a high level."
Overcoming Anything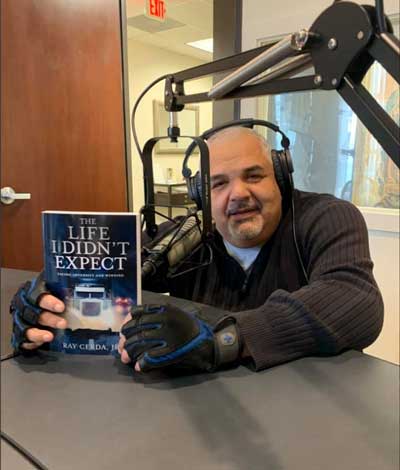 Once he finished college, Ray sought a full-time job. "I went through 15 interviews in three years of not getting anything," he says. "At times, I could sense the people interviewing me were just doing it so they could check it off their list. Talk about character building! Every time you fail, it's how your respond that builds your character." He finally found his first full-time job with the city of Grand Prairie as an assistant supervisor at a rec center.
Ray says that he hopes his book will inspire and motivate anyone who is going through a difficult time in their life. "You can overcome anything that is placed in front of you," he says.