Last updated on September 11, 2020
Written by Cherie Yurco
When most people think about sonograms, they think of babies. But there is a whole lot more to the field of sonography than fetal ultrasound; just ask El Centro College graduate Ashley Gaspard. Though Gaspard only recently graduated with her degree in Diagnostic Medical Sonography in December 2019, she has already published an academic paper in the Journal of Diagnostic Medical Sonography. Her article, "Sonographer's Role in the Screening, Diagnosis and Treatment of Dialysis Graft Fistula Pseudoaneursms," deals with the use of sonography in the diagnosis of injuries in dialysis patients.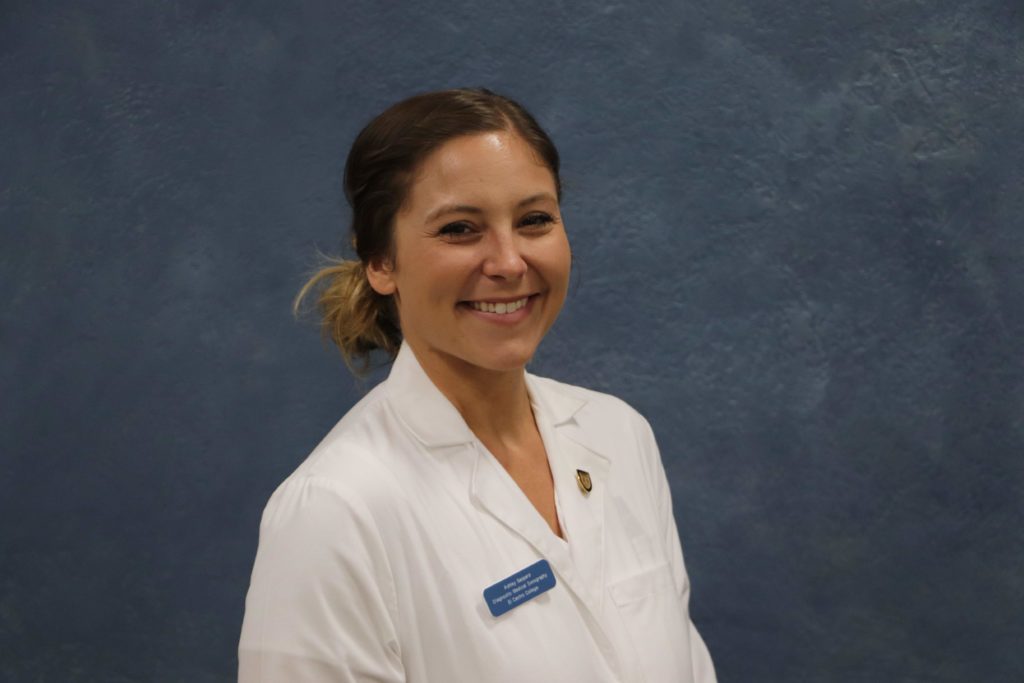 Gaspard was working in retail when her mother suggested she look into health care. "I was about 25 at the time and lacking ambition," she recalled. "I knew I didn't want to go into nursing, but sonography sounded interesting. Like most people, my first thoughts were about OB/GYN sonography. Then, I realized there are so many different directions you can go in—vascular, cardiac, general."
She liked that she could work as part of a team, but at the same time, be independent. And the patient care and critical thinking appealed to her. "You are using your body and your mind at the same time, plus the pay is good for an associate degree," she said.
After obtaining an associate degree, sonographers must pass at least one registry exam in order to work as a sonographer. Gaspard is a registered diagnostic sonographer and a registered vascular technician.
Though the sonography program is challenging, instructors like program coordinator Lynn Schluns mentor students to help them succeed and launch their careers. "The El Centro program is recognized; it's a great program for students—and inexpensive. I felt very comfortable throughout and the instructors were so supportive," said Gaspard.
Gaspard's article started out as an assignment from Schluns. Students were required to research a topic they had observed during clinical rotations. They presented the topic to instructors and classmates, then to around 30 sonographers already working in the field. The following semester, students were required to submit an article to one of the scholarly sonography journals.
Gaspard currently works PRN (pro re nata), meaning "as the situation demands." Though she would eventually like to have a full-time position, for now, she likes the flexibility of PRN work. The pay is slightly better, but there are no health benefits.
Working PRN gives Gaspard a feel for two different environments: an OB/GYN office and Texas Health Resources. Each sends her a schedule of available hours every month and she books the hours she would like to work. While she enjoys talking with the expectant parents at the OB/GYN office, she is also playing an important role in directing patient care at the hospital.
"Sonographers have a lot of responsibility," said Gaspard, who added that one of the most demanding parts of the job is physical. "At school they taught us ways to prevent repetitive motion injuries. You need to apply pressure, adjust the bed, stand up, sit down. Injuries to the wrists, shoulders, back and neck are common. I'm five-foot-two and my biggest problem is my lower back."
It's clear that Gaspard loves her career. In a typical day, she performs five to 20 exams. Before starting, she prepares the machine, warms the gel, makes sure the room is stocked with supplies, and reviews patient histories. From obstetric to vascular sonography, Gaspard said, "I do a variety of exams, which keeps things interesting. I write my report and speak with the radiologist or doctor, if necessary. Both environments can be pretty busy. By the time I get home I am tired, but I love staying busy!"