Last updated on September 29, 2021
The Covid-19 crisis is (and most likely will continue to be for some time) the headline story of any publication you consume these days. News broadcasters, podcasters, social media influencers, newsletter writers and even one-on-one conversations with friends and acquaintances generally start with a discussion about some aspect of the novel coronavirus that has spread to every continent except Antarctica.
"Can we still talk about climate?" Joel Makower, chairman and executive editor of GreenBiz Group, Inc. asked his audience in the GreenBuzz newsletter on March 30. His conclusion was this: "Doing any less will risk another existential global crisis, one for which there will be no vaccine."
We agree, which is why we are still talking about climate and launching the "Renew Texas '25" pledge campaign in this April 2020 edition of the Sustainable DCCCD Newsletter.
We hope that you and yours are safe and healthy – physically, financially and emotionally.
Note: You are receiving this newsletter because you have either attended one of our sustainability events or you signed up to get sustainability-related news from DCCCD.
In this issue:
Take the Renew Texas 2025 Pledge today
Celebrate Earth Day's 50th anniversary
Foodscaping: Grow Your Own Food in Your Front Yard
Sustainable Development Goal 3: Good Health and Well-being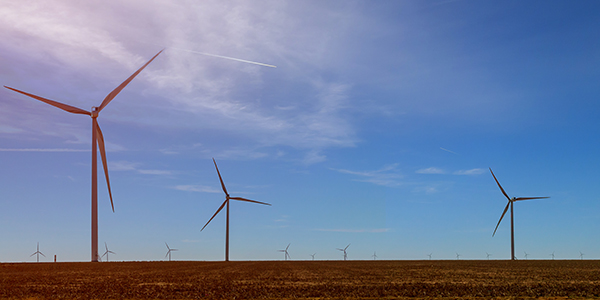 Take the Renew Texas 2025 Pledge Today
DCCCD believes that higher education has a responsibility to educate our students, employees and community members about the benefits of switching to 100 percent renewable energy electricity. That's why we are launching the Renew Texas 2025 public awareness pledge campaign today.
DCCCD has made the commitment to switch to 100 percent renewable energy electricity when our current contract comes up for renewal on May 31, 2021.
We are inviting you to make that same commitment. Take the Renew Texas 2025 pledge.
Imagine the greehhouse gas emissions we would avoid spewing into the atmosphere if every individual, business and corporation in Dallas County switched to 100 percent renewable energy electricity by 2025.
Scientists have told the world's governments that they must reduce greenhouse gas emissions on the planet by about half by 2030 (and then to net zero by around 2050) to avoid worst effects of the climate crisis. For more information, view the special reports from Intergovernmental Panel on Climate Change.
Working together, we can achieve that goal.
There is no single "silver bullet" that would quickly and easily stop greenhouse gas emissions and draw down carbon dioxide and other greenhouse gases from the atmosphere. However, we know that electricity production creates 25 percent of heat-trapping emissions globally. Therefore, we also know that speeding the world's migration to a clean economy that runs on renewable energy is a worthy goal.
According to Project Drawdown, the transition to a clean economy can be accomplished by:

Enhancing Efficiency – through technologies and practices that reduce demand for electricity generation, in buildings and industry
Shifting Production – by moving away from fossil fuels, as quickly as possible.
Improving the System – through flexible grids for transmission and effective energy storage that makes it possible to better balance electricity supply with demand.
Will you help Dallas County shift production by making a pledge today to switch to 100 percent renewable energy electricity? (If you've already made the switch, let us know that too!)
Are you up for the challenge?
Benefits of Using 100 Percent Renewable Energy Electricity
For more information about these benefits, visit dcccd.edu/renewtexas2025.
Endless Supply
No Greenhouse Gas Emissions
Improves Health
Creates Jobs
Economic Development
Economic Benefits
Economic Security and Energy Independence
Saves Water and Increases Reliability
Creates Business Opportunities
Uses Local Assets
Customer Demand
Accountability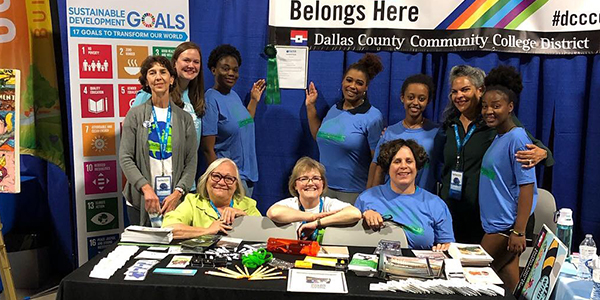 Celebrate Earth Day's 50th Anniversary!
By Dr. Maria Boccalandro
This year marks the 50th anniversary of the first Earth Day celebration, which took place in 12,000 colleges, universities, primary and secondary schools and hundreds of communities across the United States. Much progress has been made since April 22, 1970, but we still have much more to do.
The biggest celebration of Earth Day in North Texas occurs each year at EarthX at Dallas' Fair Park. DCCCD has been a sponsor of EarthX every year since it moved to Fair Park. Traditionally DCCCD exhibits student, faculty and employees' sustainability projects at the EarthX Expo. Last year we had more than 120 DCCCD volunteers showcasing our beautiful "hands-on learning" in eight booths that won two awards!
This year the Expo (exhibits) have been canceled because of the Covid-19 epidemic. However, the EarthX Conferences will still take place and are being offered at no charge online.
We invite all of you to participate in this free, virtual event. You'll see and hear inspiring speakers who are working on incredible projects that are good for people, the planet and our prosperity! You'll get ideas for what you can do personally and professionally to ensure that you and your children enjoy an even better quality of life than your ancestors. Join EarthX League to be notified of the activities.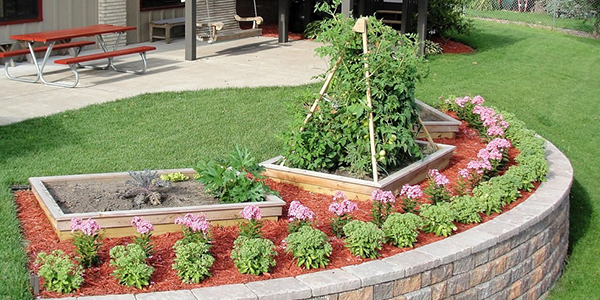 Foodscaping: Grow Your Own Food in Your Front Yard
Learn how to grow fresh fruits and vegetables in your front yard (or back yard) through our first Sustainable U Pop-Up Lunch and Learn webinar. See several examples of how to switch out coleus for kale and begonias for beets in any space you have available, while achieving a beautiful, aesthetically pleasing design and abiding by city codes.

Tuesday, April 28
Noon – 1 p.m.
Free webinar by Dr. Kara Casy, Dallas County Community College
Sustainable Development Goal 3: Good Health and Well-being
The current COVID-19 outbreak has everyone on edge, with a new focus on health and wellbeing unlike anything we have ever experienced. DCCCD is working closely with local government officials and following Dallas County's lead to ensure the health and wellbeing of our students, employees and community members. By listening and sharing accurate information, we can act together to address this impact and lessen the blow to our community and humankind.
As we focus on washing our hands, social distancing and respiratory hygiene, it's imperative to also focus on our mental health. DCCCD's team of counselors are licensed professionals and are highly qualified specialists with master's or doctoral degrees. They offer crisis intervention; brief, solution-focused counseling; and referrals to other agencies or services for students and employees of DCCCD.
Learn how DCCCD is supporting this goal.
Find out how Dallas County is supporting this goal.
Subscribe to Our Newsletter
Want to receive news like this in your inbox? Subscribe to our sustainability newsletter.