Last updated on September 24, 2019
Are you interested in a law enforcement career but don't know where to start? Do you want to serve and protect the community? Studying criminal justice at one of the colleges of DCCCD can prepare you for a variety of careers. Students will learn valuable skills that translate to working in a variety of settings such as corrections, probation, government and private security.
What Degrees and Certificates in Criminal Justice Are Available Through the Colleges of DCCCD?
What Are the Physical Requirements for Criminal Justice Careers?
There are no physical fitness requirements to study criminal justice. However, you should be prepared for multiple tests measuring fitness and strength if you decide to apply for law enforcement jobs.
Can I Transfer to a University After Completing My Associate Degree In Criminal Justice?
The Associate in Arts degree with a field of study in Criminal Justice is designed for you to easily transfer to a four-year institution if you choose to do so. If you are interested in earning a degree at a four-year university, please visit transfer services. However, most awards and certificates are designed for direct entry into the workforce.
What Are Some Possible Career Paths in Criminal Justice?
You may be surprised how many career options are available to students who study criminal justice. Some of these include:
Corrections officer
Police officer
Animal cruelty investigator
Security guard
Probation officer
Private detective
What Are Some Careers That Are Not in Law Enforcement?
You want to study criminal justice but you don't want to go into law enforcement? You may want to consider the following careers:
Social worker
Substance abuse counselor
Court reporter
Investigator
Paralegal
Can I Take Criminal Justice Classes Online?
Yes, there are several courses offered online! Be sure to check out the class schedule before registering to see if the course you need is offered online.
Do I Have What It Takes to Work in the Criminal Justice Field?
Not everyone is cut out to work in the criminal justice field. If the following characteristics sound like you, you are on the right path and should pursue a degree in criminal justice. Of course, there are other characteristics that may not be listed.
You're compassionate. No matter what field you decide to work in within criminal justice, you will interact with people from all walks of life. You need to be able to relate to the situations of others.
You're a people person. In this field, you will be meeting and interacting with people in a wide variety of situations. You will need to be able to and carry on a conversation with strangers.
You have great communication skills. Verbal and nonverbal communication are key to any job, especially law enforcement.
You can remain calm in difficult situations. In the criminal justice field, you will find yourself in all kinds of scenarios. Being able to remain calm is important.
You enjoy serving the community. Serving others is the heart of criminal justice. Whether it's fighting a battle for someone who doesn't have a voice or saving the life of a stranger, it's important to have a desire to serve the community.
What Are Students Saying About the Criminal Justice Program?
Dave Fuentes: "What I like most about the criminal justice program is it gives you the opportunity to be in law enforcement. Before I went to Eastfield Police Academy I always thought you had to be hired by a law enforcement agency and go through their academy. Thanks to DCCCD you can go through the academy and get hired onto an agency.

"The instructors were very helpful. If you didn't understand something specific they were always willing to provide additional help either during class or after training. They provided their contact information if you needed any additional assistance. They were very approachable but at the same time very discipline oriented. If we did something wrong or were joking around they made it clear how important it was to get everything done right because it could cost you your job, your life or others' lives."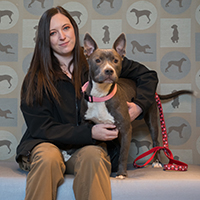 Courtney Gustafson: "I was working a full-time job at the SPCA of Texas while trying to raise a four-year-old son, and DCCCD offered classes that fit my busy schedule. I attended Law Enforcement Academy at Cedar Valley College part time during the evenings and received my TCOLE certification in about 10 months.
"My instructors prepared me to become a law enforcement officer in the evenings, and I was able to go to work during the day and apply what I had learned into my investigative training. In my down time I was immersed in studying and physical training to keep my mind and body sharp. I love that DCCCD made it possible for me to achieve a dream I had been chasing for years by providing classes I could attend while maintaining a full work schedule."
How Much Will It Cost to Complete My Criminal Justice Degree?
At just $59 per credit hour, Dallas Community Colleges have some of the most competitive tuition costs in the state! Head to our website to calculate your in-county tuition cost. (Not a Dallas County resident? No worries — we've got a calculator for that, too.)
Ready to Get Started?
To get started in credit programs in Criminal Justice, complete the admissions process and meet with an academic advisor.
A guided pathway will help you earn college credentials and build a career. Check out the Criminal Justice and Public Safety guided pathway.
While you're here, you should also consider checking out our previous programs of the month.