Last updated on October 10, 2019
Electrical engineering technology is a good major because it prepares students for current trends in the workforce. The program at Dallas Community Colleges was originally known as the semiconductor manufacturing program; however, that recently changed. The program evolved in 2015 when it became apparent that, while machines manufacture computer chips now instead of people, those machines now need a trained workforce to maintain and repair them.
"There's a little bit of history with this (field). It's different from what it used to be," said Dr. Kory Goldammer, who heads the program at Richland College. "As a result, semiconductor (manufacturing) changed. Previously, the program focused on teaching students to make semiconductor chips, but now machines do that. They need people to maintain and repair the equipment."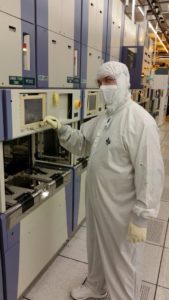 And that's where the new and improved semiconductor manufacturing program comes in. Through a partnership with Texas Instruments, Richland now trains students to become electrical engineering technicians. To meet the interests and demands of the workforce, a new name was born: Electrical Engineering Technology – Semiconductor Manufacturing Pathway. In two years, students can be trained to enter a competitive job market as commercial, industrial or electronic technicians.
An Electrical Engineering Technology Degree: Worth It?
Yes, electrical engineering technology is a good major! Students in the program can get electrical engineering technology internships to gain on-the-job experience and potentially move into full-time positions. For example, this past summer, Richland student Clint Day completed a three-month Texas Instruments internship which helps students graduate with the competencies that can make them employable. Day's work was impressive, and his internship was extended to December. Day also won the "TI Intern Challenge" academic honor over students from the Massachusetts Institute of Technology and the Georgia Institute of Technology.
"It was fun competing with the four-year schools. For me, it was a pride thing. And it made a good impression on my boss because I was the only person from a community college who was competing. I was a sleeper," Day said.
This version of the program at Richland is new, but it's showing a lot of promise. "The degree plan has been in place for only four semesters, which means that this is the first semester we should expect EET students to begin receiving their degrees in any significant numbers," said Goldammer. So far, 10 Richland students have been hired by Texas Instruments.
Start a Promising Career — Apply Now to Become a DCCCD Student
How Much Do Electrical Engineering Technicians Make?
After completing the program at Richland, you will qualify for most entry-level jobs that require an electrical engineering technology degree. Electro-mechanical technicians in Dallas and north Texas make an average starting salary of about $36,000. That salary has a lot of potential to increase over time, particularly as you gain experience and credentials — the annual mean wage for electrical and electronics engineering technicians in Texas is about $62,000.