Last updated on October 9, 2019
This post is written by Ezra Calado, a DCCCD student blogger and Richland student.
So I had to audition. Auditions were relatively short and intimidating. I mean, having one person auditioning with you was cool but having 15 people watching you and taping you even if it was a mere 30 seconds was pretty scary. But the director (who I did not know was the director at that time) was surprisingly nice and made me feel comfortable. Overall, it was a fun audition. I had no idea what I was expecting or whether I was going to get cast or not.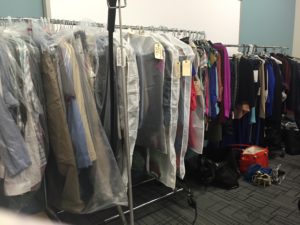 I got cast! I had a call from a wardrobe specialist, asking me what my size was (I was like hmm… uhh… but body positive vibes shone right through) and then another call from the production manager with a few more details.
My day started at 8 a.m. with a drive to DCCCD headquarters. I arrived with my wardrobe in one hand and an open mind because I still did not know all the details. Upon arriving, there was equipment and bright lights everywhere. I was getting sucked in all the magic of the filming when I got a photo release and a contract waved in my face. So I signed my life away and got seated for hair and makeup. The makeup artist was so great, my face had definition and my hair had volume. I felt fabulous.
Action! After getting approval, the crew was ready for my little scene. I felt like a fly on the wall being so observant of everything that was happening, I just wanted to Snapchat it all. I struggled with my facial expressions and appearing believable… but thank goodness for retakes and a great crew. After my scene, I ended up staying for lunch and the next scene at the coffee shop. Coffee shop, as in a makeshift set that very much looked like one from the outside. But to my disappointment, no cute baristas and no lattes. But you won't believe that when you actually see the ad.
Standby. Also known as "hold until the director says action"… probably my favorite word all day because I got to hang out by the snack cart and indulge in the yumminess. Filming is no joke, you get hungry pretty quickly!
Filming the DCCCD ad was a great experience, it was fun and I definitely found a new appreciation for everyone involved in the production. I just couldn't imagine how many hours it really involved especially when the scenes were less than a minute. That was my short-lived acting career in a nutshell. Make sure to catch me in the new DCCCD ad!