Last updated on October 8, 2019
As a non-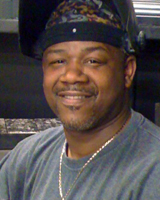 traditional student, Bruce Parramore worked as a truck driver while taking Welding classes at Eastfield College. Within four months, Bruce went from truck driver to full-time welder within the same company.
Bruce's decision and subsequent commitment to making his career path change is why he's our student of the week!
Bruce said, "What I like about welding is that you get the chance to create something, and because it's metal it lasts just about forever. It's also really fun, and now I work on a lot of home projects I would never have been able to do before.
"The Welding instructors at Eastfield are great. If you've got a problem, they'll come show you how to fix it and get it right. I was working on a project that I couldn't make work, and Phil Suderman came over to help me figure it out. The next thing you know, I had it down like science. If you see someone do something who knows how to do it right, you're going to be able to get it down too.
"If you're doing something you like and can make a decent living at it, you can't beat that."
More Information about Welding Classes and More at Dallas County Community Colleges
Learn more about Welding classes at Dallas County Community Colleges.
Find more information about construction programs available at DCCCD. We offer programs in construction management, electrical technology and more!
Find more information about some of the technical/mechanical programs available. You can learn about things ranging from auto body technology, engineering technology, video technology and more.