Last updated on September 24, 2019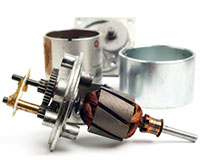 Repairing the engines of motorcycles, boats and lawn mowers can be a good job.
It also can be enjoyable. If you like working with your hands and taking things apart, you'll benefit from the Engine Technology program, offered at Cedar Valley College.
Engine Technology Degree and Certificate Options
The Engine Technology program includes:
Marine equipment (boat) mechanics repair and adjust the electrical and mechanical equipment of inboard and outboard boat engines. Small engine mechanics service and repair outdoor power equipment such as lawn mowers, garden tractors, trimmers and chain saws.
Motorcycle mechanics work on motorcycles, motor scooters, mopeds, dirt bikes and all-terrain vehicles. Besides repairing engines, they may work on transmissions, brakes and ignition systems. Mechanics often service just a few makes and models of motorcycles. That's because most work for dealers that service only the products they sell.
Careers and How Much They Pay
Find out more about career possibilities as a small engine mechanic.
Be sure to contact the Engine Technology program at Cedar Valley College to get answers to any questions you might have.